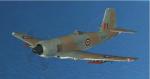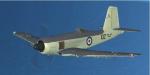 9.23Mb (1658 downloads)
This is an update for FS2004 of the Aphasim Blackburn Firebrand. I have updated the flight dynamics, added a trim gauge and a nav/GPS switch to the panel, changed the GPS, and changed the view zoom. This is the whole aircraft. It has a working VC.
Posted Jan 21, 2010 10:30 by Bob Chicilo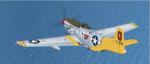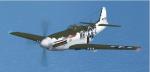 12.69Mb (4985 downloads)
This is an update for FS9 of the Alphasim P-51 Mustang. I have updated the flight dynamics, changed the 2D background slightly, changed the GPS, added a nav/GPS switch to the nav panel, and added two other gauges. This aircraft is much easier to fly than the original. If you want realizm, stick with the original aircraft. This is the whole aircraft.
Posted Jan 17, 2010 12:16 by Bob Chicilo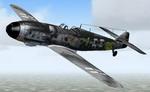 0.77Mb (1872 downloads)
FS2004 Messerschmitt Bf109G14 DG The Me/Bf109 fighter plane designed by Messerschmitt and built in Germany. The Bf109G2 aircraft built by the Danube Aircraft Factory also in Budapest 1942. The G6 version was in 1943 and the G10 with water-metanol injection engine was in 1944. The last version was the G14 by Hungary. The Bf109 served the Hungarian Airforce 101. Squadron (Puma)from 1 May 1944 to September 1944. 609 sample was built in Hungary. MSFS designed by Tom Miller, panel bitmap by Christian Zeil. Mods for FS2004 works by George Csillag.
Posted Jan 16, 2010 19:40 by GCs
0.20Mb (1691 downloads)
FS2004 KVASZ VI. 1914 One of the Hungarian Flight founder on Rakosmezo area, North-East of Budapest 1900's area. The VI.was the 'Postyen',competition's location 1914. Kvasz was at a disadvantage with 35HP Anzani-motor, but He was 4. on the score-competition in this way. The Hungarian Flight is 100 years old. The first Hungarian designed - builted plane's start was in 10.Jan.1910. by Janos Adorjan in Budapest. 45 gliders, 50 engine planes designed builted in Hungary from 1910 to 1970. MSFS designed by Joe LoGrasso. Mods for FS2K4 works by George Csillag.
Posted Jan 14, 2010 11:44 by GCs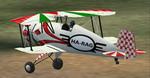 0.60Mb (1119 downloads)
FS2004 MSrE M-21 HARAG HA-RAG A Hungarian aerobatic plane by Jozsef Szegedi from 1936. The Hungarian Flight is 100 old. The first plane started in 10.Jan.1910. About 45 gliders and 50 engine planes designed, builted between 1910 - 1970 in Hungary. FS2K designed by Gerry Rivera. Mods for FS2K4 works by George Csillag.
Posted Jan 13, 2010 16:32 by GCs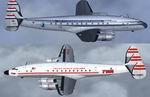 9.24Mb (1624 downloads)
FS2004 Lockheed L-749 Models Update This archive contains the following modifications to the L-749 Constellation base pack models: (1) Separately mapped right hand surfaces of center fins (repainters please note); (2) Engine texture maps for Jetstack models; (3) Moving VC, rain effects; (4) Parts texture layout for repainters. By Manfred Jahn.
Posted Jan 5, 2010 04:36 by Uploader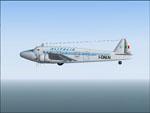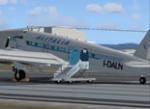 7.51Mb (2883 downloads)
FS2004 "ONLY"-Savoia Marchetti SM95CALITALIA With Fiat G12 was one of the first airliner of ALITALIA, the new Italian company after the War. This type of aircraft entered in service in July 1947 on the route Roma-Oslo The last flight in September 1954,due to the enter in service american DC4, more modern, cabin pressurized and modern avionics. Model,aircarft,texture and panel by F. Giuli. Gauges different authors
Posted Dec 31, 2009 12:32 by FRANCESCO GIULI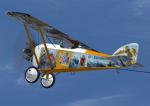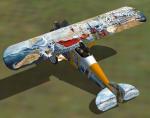 1.58Mb (484 downloads)
The St Georg was built in 1927 by Svetozar Vlajkovic in Belgrade. For this Borkum livery you need the file sms_sg.zip from Zoran Sivcev, Luka Midic and Goran Savic. Handdrawn illustration by Ingo Schwan.
Posted Dec 29, 2009 08:16 by Ingo Schwan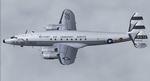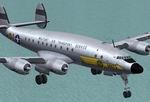 11.57Mb (1847 downloads)
Three military Lockheed L-749 / C-121A Constellations MATS Textures. These repaints represent 48-612, an early all-silver snub-nosed C-121A with "MATS ATLANTIC" titles ca 1949, 48-614, a polished silver and white VC-121A ca. 1955, and 48-609, a "photoreal" texture alternative for an aircraft already present in the Lockheed L-749 base pack (required). By Manfred Jahn
Posted Dec 14, 2009 05:06 by Paul Atreides


3.53Mb (1115 downloads)
These are repaints (textures only) of David Eckert's excellent Stearman Kaydet, file name stear04.zip. Two textures included, Dream Catcher and Dream Catcher II. Thanks to David Eckert, Mark Smith, and Dennis Seeley for their excellent work on the original model. Repaint by L.T. Davis.
Posted Dec 11, 2009 01:40 by L.T. Davis