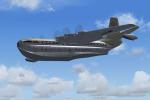 4.15Mb (4520 downloads)
FS 2004 Saunders Roe SR-45 "Princess" This is the FS 2004 version of my previous FSX model of the :Princess". The SR-45 first flew in 1952 and was one of the largest flying boats ever built. It was overshadowed by the upcoming land based 707 and DC-8 so only one was finished and test flown. This is a FSDSv3.51 project compiled with Makemdl into FS 2004. It has the usual animations, specular shine, DXT3 textures, reverse thrust, and turbine smoke that turns on and off as a function of throttle position. The VC is based on a photo and has animated flight and engine controls. There is no 2D panel. There are two liveries, the factory paint and the proposed BOAC livery. By Paul Clawson
Posted Oct 11, 2009 23:10 by Paul Clawson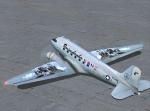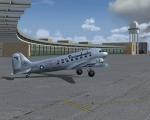 3.77Mb (1256 downloads)
The Douglas DC-3 is an American fixed-wing, propeller-driven aircraft whose speed and range revolutionized air transport in the 1930s and 1940s. These textures only for the default DC-3 remember the Berlin Airlift and Rosinenbomber in 1948/1949, organized by the Western Allies.
Posted Oct 4, 2009 06:05 by Ingo Schwan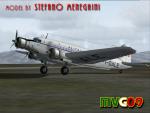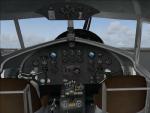 29.16Mb (6103 downloads)
This is an FS9 (FS2004) release, but it will also work with only minor display errors in FSX. The Fiat G.12 was an Italian trimotor military/civil transport plane of the 1940s and early 1950s designed by the prolific engineer Giuseppe Gabrielli. This archive installs different MDLs for five different types of Fiat G12. They each have custom animations, sounds, engines, cockpit layouts, gauges, flight dynamics and on screen handling notes. All components are closely based on the original manuals. A detailed history and explanation of how to fly the five different versions of G.12 is included. Seven different liveries are supplied: Two Regia Aeronautica, one post war Italian Air Force (AMI), one Avio Linee Italiane (ALI), one Airone and two Alitalia ("Alcione" and "Regolo"). Models by Stefano Meneghini, liveries by Manuele Villa, flight dynamics and handling notes by FSAviator.
Posted Oct 1, 2009 03:30 by Manuele Villa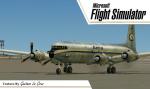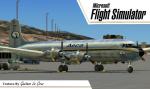 19.25Mb (8860 downloads)
This is the DC-6B of CalClassic Group,this paint is the YV214T of Aeca ( Ex-Aero Ejecutivos), Model by CalClassic, panel by Francisco Silva, Texture by Gustavo La Cruz.
Posted Sep 25, 2009 02:24 by Gustavo La Cruz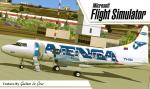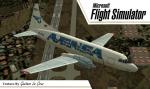 13.21Mb (7307 downloads)
This is the Convair 580 of Greg Pepper,this paint is the YV-83C of Avensa, Model by Greg Pepper. Panel by David Reed. Texture by Gustavo La Cruz
Note:
May require a zip utility such as
Izarc
- if Windows unzip utility reports as invalid
Posted Sep 25, 2009 01:36 by Gustavo La Cruz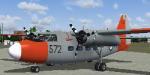 0.75Mb (1734 downloads)
The repaint represents Sea Prince WP308 based at RNAS Culdrose, Callsign: 572 Late fifties dayglo orange. You need to have installed German Navy Hunting Percival Pembroke mk54. Painted by Jaap de Baare as a request.
Posted Sep 16, 2009 16:35 by admin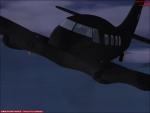 19.15Mb (2585 downloads)
FS9/2004 1938 Alcor C.6.1 Junior Transport by Rarewings.com: Designed with FSDS3.5.1 and FSDSTweak . It has full working virtual cockpit with back-lite gauges. Limited 2-D panel, custom sounds. The plane has reflective glass and metal textures. This package comes with three paints schemes, Plain black, Bonaza Airlines and TAA Airlines. The Lockheed spin-off Alcor designed this slippery aircraft with two menasco 6 cyl 250 hp engines laid on their sides.2 creww 8 passangers with a top speed of 220mph had alot of interest but the one test example crashed into San Francisco bay after aileron flutter at high speed. Flight Dynamics by Airwrench and Brian Horsey.
Posted Sep 15, 2009 23:27 by Patrick Dyer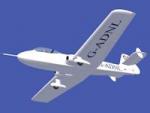 1.30Mb (2142 downloads)
FS2004 - Miles M77 'Sparrowjet'. Single seat racing monoplane. Mr. Fred Dunkerley's M5 Sparrowhawk, rebuilt with two Turbomeca Palas turbojets.The first flight was made at Shoreham Airport on December 14th 1953. The aircraft was destroyed in a hanger fire in 1964. Recast cockpit using new information. v0.3 By Edward Cook
Posted Sep 9, 2009 10:10 by Edward Cook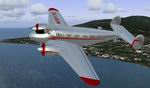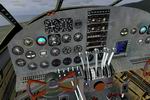 36.40Mb (5835 downloads)
FS2004 simTECH Flight Design Beech 18 Package. This is the full commercial version that was formerly a payware add-on. Now this is freeware and fully functional as it was as a commercial add-on. Set in a full extractor with all original liveries this will install the aircraft to your default FS9 aircraft directory. There will be no support on this add-on, all copyrights still apply. By Tom Wood/simTECH Flight Design Ltd. 37.2MB
Posted Sep 8, 2009 23:28 by archive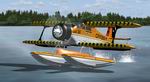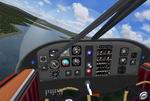 30.09Mb (7902 downloads)
FS2004 simTECH Beech Staggerwing D17 Package - Float & Wheel Versions included. . This is the FS2004 version of the simTECH Flight Design Beechcraft Staggerwing D17. This is the full commercial version that was formerly a payware add-on. Now this is freeware and fully functional as it was as a commercial add-on. Set in a full extractor with all original liveries this will install the aircraft to your default aircraft directory. There will be no support on this add-on, all copyrights still apply. By Tom Wood/simTECH Flight Design Ltd. 30.1MB
Posted Sep 8, 2009 23:28 by archive