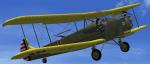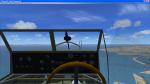 1.93Mb (1823 downloads)
The Huff-Daland company which was acquired by the Keystone Aircraft Corporation produced several bomber designs for the USAAC. The B-6A model entered service in 1927. This is a native FSX Acceleration model. It has the usual animations and .dds textures. The VC is based on a real photo and has working gauges and animated flight controls. The gauges are back lighted for night ops. There is no 2D panel. By Paul Clawson
Posted Oct 28, 2010 14:46 by Paul Clawson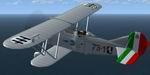 2.21Mb (2825 downloads)
This is a complete remake for FSX of my CR32 biplane (Jan 2006 for FS 9) featuring a new (photographic) panel, model, two textures, minipanel and virtual cockpit. The Fiat CR 32 was characterised by its elegance and superb manoeuvrability . During the years before the ''world war II'' was flown in the "Squadriglia Folle" italian aerobatic team .
Posted Oct 28, 2010 09:24 by Giovanni Quai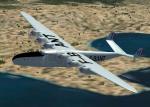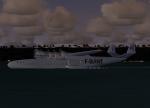 8.65Mb (3092 downloads)
FS2004/FSX Latecoere 631 Flying Boat In 1936 the French Air Ministry issued a specification for a large transport flying-boat capable of carrying 40 passengers over 6,000 kilometers against a 60kmh headwind. Construction of the Late-631 started in March 1939 in Toulouse but was interrupted by the outbreak of war. The prototype was captured by Germany during their occupation of France in World War II, and subsequently bombed by the Allies. After the war 9 more were constructed. The last Latécoère 631 was withdrawn from service in 1955. GMAX by A.F.Scrub.
Posted Oct 27, 2010 07:29 by A.F.Scrub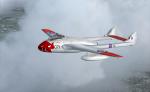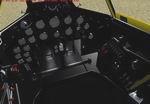 22.43Mb (10765 downloads)
Native FSX acceleration model of the DeHavilland DH 100 F Mk3 Vampire. Modelled gauges, bump mapping, specular shine. Two paint schemes, one for VT812 of 601 squadron RAF and one for 17071 of the Royal Canadian Air Force
Posted Oct 23, 2010 03:15 by Robert Richardson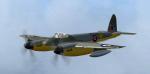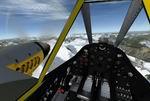 14.11Mb (7549 downloads)
New FSX acceleration model of the DeHavilland Hornet F1 and the prototype Sea Hornet F 20. When using Prototype Sea Hornet textures toggle the redundant spoiler key and the tailhook and launch lugs will show/hide
Posted Oct 21, 2010 12:23 by Robert Richardson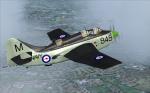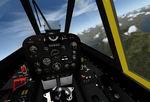 18.60Mb (8944 downloads)
New FSX acceleration model of the Fairey Gannet AS 1 classic British sub hunter, Textures for 796 squadron Royal Navy FAA and 816 squadron Royal Australian Navy
Posted Oct 21, 2010 11:55 by Robert Richardson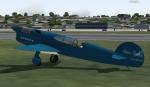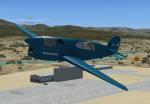 4.60Mb (1960 downloads)
FS2004/FSX Caudron C561 Vintage Racing aircraft The extremely refined C.561 was the end of a famous and successful line of racers designed by Marcel Riffard and his colleagues at Avions Caudron in the 1930's. The fuselage was a totally new design providing a flush hood for the cockpit doing away with the windscreen entirely. Consideration was given to attempting to raise the World Air Speed Record with the C.561 but this idea was abandoned along with development of the 8 litre engine.GMAX model by A.F.Scrub
Posted Oct 17, 2010 06:21 by A.F.Scrub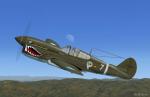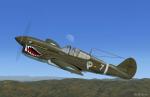 11.68Mb (3488 downloads)
This is Robert Hawk's P-40 Warhawk modified For Flight Simulator X. This is Brig. Gen. Scott's Aircraft He Flew with the famed AVC Flying Tigers as a fighter pilot working with the American Volunteer Group in China during WWII under General Claire Lee Chennault, Robert L Scott shot down 22 Japanese aircraft. Brig. Gen. Robert L. Scott (ret.) worked and mingled with visitors to the Museum of Aviation in Warner Robins, Georgia, This aircraft has a new Panel and new flight dynamics. Textures and Updates by Mark Rooks of RDG Aircraft . Package Includes Pictures and History of AVG Pilot Robert L Scott and his " Old Exterminator "
Posted Oct 17, 2010 02:39 by Mark Fireball Rooks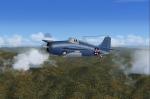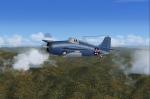 18.24Mb (3269 downloads)
This is Robert Hawk's repaint of J R Lucariny's FS9 Grumman Wildcat Modified For FSX. The Grumman F4F Wildcat was an American carrier-based fighter aircraft that began service with both the United States Navy and the British Royal Navy (as the Martlet) in 1940. Although first used in combat by the British in Europe, the Wildcat was the only United States Navy or Marine fighter in World War II 1941-42 in the Pacific Theater besides the brief appearance of the F2A Buffalo. With a top speed of 318 mph (512 km/h), the Wildcat was outperformed by the more nimble 331 mph (533 km/h) Mitsubishi Zero, but its ruggedness and tactics such as the Thach Weave resulted in an air combat kill-to-loss ratio of 5.9:1 in 1942 and 6.9:1 for the entire war. Modifications and textures by Mark Rooks of RDG Aircraft. 2d panel. No VC.
Posted Oct 13, 2010 20:34 by Mark Fireball Rooks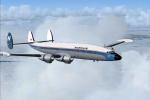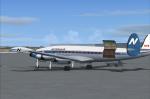 4.86Mb (809 downloads)
This repaint - textures only - is for the L1049H model of the Constellation Group around Manfred Jahn, in both Pax and Cargo Version. CF-NAM was delivered to National Airlines in 1957 as N7134C. It was purchased by Nordair in 1964 together with other Connies. The Connies were used on domestic flights to the North of Canada, but also on cargo charters to Europe. Sold to Canairelief in 1969, they were ferried to Sao Tome off the West African Coast for use on the Biafran Airlift. CF-NAM and CF-NAL are surviving there in derelict condition. The cargo version has a cargo net and different night lighting.
Posted Oct 11, 2010 15:10 by Joachim Liethen