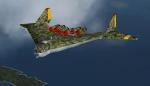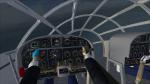 15.64Mb (791 downloads)
FSX/Acceleration/P3dV3/FS2004 Upgrade for Kazunori Ito's Arado E.555-1 WWII concept long range bomber. The modified model has now a VC regarding Ito's 2D panel and an additional repaint in camo. The only change on the exterior model is the animated turret. (Original text Wikipedia: The Arado E.555 was a long range strategic bomber proposed by the German Arado company during World War II in response to the RLM's Amerikabomber project. The E.555 designation was applied to a series of long range jet bomber designs of various sizes, powerplant, crew and weapon load configurations. As design studies only, no aircraft were developed or constructed and the entire E.555 project was cancelled at the end of 1944). Kazunori Ito is my idol for twenty years. It is a pity that he was forced to stop to continiue with his great hobby in building an incredible high amount of interesting aircrafts. Honouring his work but beeing afraid that this very rare and special aircraft will be lost for actual or newer simulators like Acceleration or P3Dv3 I allowed myself to upgrade this futuristic beauty with a VC and configured with FSX/P3d compatibel gauges. Original model and 2D panel by Kazunori Ito, virtual cockpit implemantation for a 3 men crew by Erwin Welker
Posted May 3, 2020 03:05 by Erwin Welker

0.56Mb (89 downloads)
Indian Airlines DC-3 for the native FSX DC-3 Model. Note: Only texture file is included.
Posted Apr 16, 2020 14:10 by Kalyan Mukherjee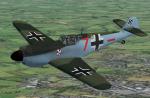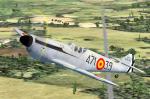 10.99Mb (1043 downloads)
FSX/FS2004 HA-1112 M Buchon In 1942, the Spanish government arranged a manufacturing licence with Messerschmitt AG to build the Bf 109G-2. Spain produced its own models with different engines.. The final variant was the HA-1112-M1L Buchón (Pouter). It first flew on 29 March 1954 with a 1,600 hp Rolls-Royce Merlin 500-45 engine and Rotol propeller, both purchased as surplus from the UK. This engine had a chin intake, that altered the lines of the Bf 109's airframe. Due to their longevity, Buchóns have appeared in several war films masquerading as Bf 109Es and Gs. GMAX mdl by A.F.Scrub.
Posted Apr 14, 2020 11:13 by A.F.Scrub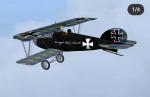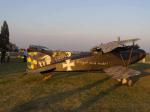 2.32Mb (229 downloads)
This is an updated texture package for my previous "Kurt Wolff Albatros D.V (Fictional Paint Scheme From The Red Baron Film)" The original required tweaking, but is now more authentic to the airplane in the movie. If you already have the texture, I have included instructions on how to replace it. If you don't, you will require A.F Scrub's Albatros D.V (Ernst Udet) aircraft.
Posted Apr 3, 2020 11:58 by TheHawkerHurricaneMan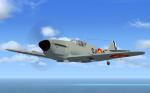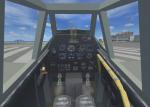 15.15Mb (788 downloads)
FSX/FS2004 HA-1112 K In 1942, the Spanish government arranged a manufacturing licence with Messerschmitt AG to build the Bf 109G-2. The DB 605A engines, propellers, instruments and weapons were to be supplied from Germany. This proved impossible. In May 1951, a developed version, the HA-1112-K1L, was produced in Spain with the improved Hispano-Suiza, HS 17-12Z engine installation. Its three-bladed de Havilland Hydromatic propeller earned it the nickname Tripala ("three blades"). GMAX mdl by A.F.Scrub.
Posted Mar 30, 2020 06:04 by A.F.Scrub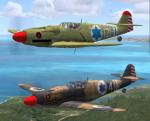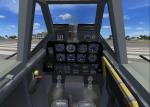 19.66Mb (744 downloads)
FSX/FS2004 Avia S-199m Israel. The Avia S-199 is notable as the first fighter obtained by the Israeli Air Force, and used during the 1948 Arab-Israeli War. The type proved unreliable and performed poorly in combat. The type scored victories over its opponents, including the Spitfire. The Avias were mostly withheld from service by the end of October, at which time only six remained operational. The S-199 continued making sporadic sorties until mid-December. GMAX mdl by A.F.Scrub.
Posted Mar 19, 2020 03:25 by A.F.Scrub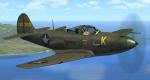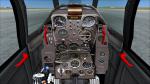 1.55Mb (928 downloads)
After uploading the package I've discovered a minor graphic shortcoming in the brown vc, which somewhat disturbs the pilot's view at the panel. As I've invested a lot of time in designing the vc I want it to be perfect, so here is a correction. Very easy installation, just delete the old panel folder and replace it with the new one. By Michael Pook.
Posted Mar 17, 2020 03:44 by Michael Pook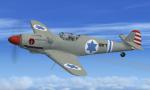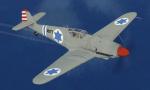 3.69Mb (231 downloads)
Textures only for A.F. Scrub's Avia S-199. Aircraft not included; requires the Avia_S199.zip file. This is painted as an aircraft flown by the Israeli Air Force in 1948. Repainted by R.E. Wyman.
Posted Mar 16, 2020 02:27 by R.E. Wyman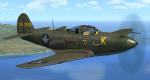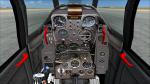 55.74Mb (1800 downloads)
The P-39 was the principle American fighter when WWII broke out When the United States entered World War II, the Bell P-39 was its primary fighter plane. By war's end, nearly 10,000 had been produced in nearly 48 variants, making the "Airacobra" one of Bell's most successful aircraft ever. This is a major panel update for the Airacobra featuring a completely reworked virtual cockpit and 2D panel with animated yoke. I've tried to design the panels as close as possible to the real P-39 panel, now with almost 100% authentic look and gauge configuration. Original CFS2/FS2004 model by Simtech, converted to FSX by A.F.Scrub. The package features 7 fine liveries by Simtech and different authors. New virtual cokpit and 2D panel by Michael Pook. Exhaust smoke added as well. The model may work in FS2004 and P2D (version3).
Posted Mar 15, 2020 12:20 by Michael Pook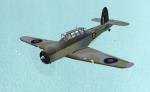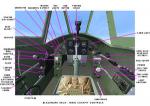 16.95Mb (897 downloads)
FS2004/FSX Blackburn Skua. The Blackburn Skua was a British-built Royal Naval dive bomber and fighter. The first prototype flew in 1937 fitted with a Bristol Mercury radial engine. It first enered service in 1938 - by then all subsequent production of 190 were fitted wth the Bristol Perseus engine. Armament conisted of four wing mounted machine guns and one rearward facing m/c gun on a flexible mount in the rear cockpit. Provision was made for the fitting of a 500 lb bomb on a carriage swinging forward when required. Instead, up to 8 x 20 lb or 4 x 40 lb bombs could be carried on under-wing racks. Although reasonably sucessful initially, it soon proved an easy target to later fighters and so were withdrawn from front-line service in 1941. They were then used as advanced trainers and target tugs until struck off in 1945. Modelled by Dave Molyneaux.
Posted Mar 14, 2020 10:05 by uploader