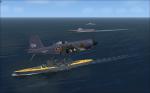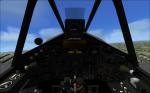 26.77Mb (1014 downloads)
Alphasim's Blackburn Firebrand IV in FSX native. This is a mew set of models derived from Scrubby's FSX O/H, and my attemps at un-snarling the FS9 original. Materials updated, a new VC back to it's original state, 3D prop to bling up that, and custom armament options for 60lb RP3's, MkXVIII torpedo and 20 mm cannon.Armament from saved flight only, flights provided from RNAS Ford. A period task group is included; CV HMS Indomitable, BB King George V, CC HMS Kenya, DD HMS 'C' class, with revised effects that turn off when stationary. Works in FSX and P3D up to V4.*. Big B-Z to Phil(Virtavia.com), Scrubby, Stuart and Colin G.
Posted Feb 16, 2020 01:33 by LLS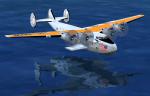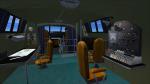 14.08Mb (1790 downloads)
FSX/Acceleration/(P3dV3)Flying boat Boeing 314 PAA Pacific Clipper. The Boeing 314 was a longrange passengeerer flying boat. Four engines a 1.600 hp allowed a speed up to 300 km/h. Only 12 units were buildt between 1938 and 1941. The luxury interior included dining room, smoker compartment and sleeping cabins. The original FS2004 model was buildt by Mike Stone and works also with the common repaints. Reworked model by inserting a virtual cockpit plus other interior is done by Erwin Welker
Posted Feb 9, 2020 03:13 by Erwin Welker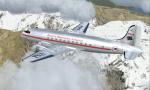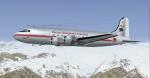 4.70Mb (195 downloads)
FSX/FS2004 Pacific Northern Airlines DC-4 textures for Jens Kristensen JBK Douglas DC-4 V3. Pacific Northern textures by Gary Harper.
Posted Feb 2, 2020 21:06 by Gary Harper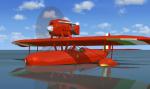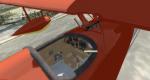 20.10Mb (879 downloads)
Porco Rosso's SAVOIA S-21 From the 1992 animated movie Porco Rosso. Based on the SIAI S.21, an Italian racing flying boat built by SIAI for the 1921 Schneider Trophy race. In the animated film 'Porco Rosso', the main protagonist's plane is referred to as Savoia S.21. However, it does not resemble the real S.21.
Posted Feb 2, 2020 09:35 by Gary D Shetter III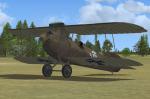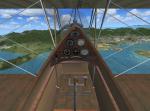 9.45Mb (904 downloads)
FS2004/FSX Phonix D.I WW1 fighter. The Phönix D. I biplane was intended as a replacement for the Hansa-Brandenburg D. I. Although it was produced in smaller numbers (120 D. I, 45 D. II, and 48 D. IIa fighters) than the Aviatik D. I and did not begin entering service until October 1917, the Phönix D-series fighters are generally considered the best fighters designed and produced in Austria-Hungary. GMAX mdl by A.F.Scrub.
Posted Jan 28, 2020 16:28 by A.F.Scrub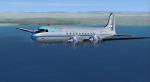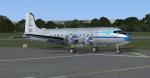 4.61Mb (183 downloads)
FS9 EL AL DC-4 textures for Jens Kristensen JBK Douglas DC-4 V3. EL AL textures by Gary Harper.
Posted Jan 18, 2020 09:51 by Gary Harper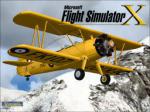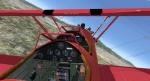 47.25Mb (3582 downloads)
FSX Native PT-17 Stearman. This is Dave Eckert's beautiful PT17 Stearman converted to FSX native (with permission) for FSX, P3D, and P3Dv4. Includes the Eagle Field scenery upgraded to FSX standard. By Dave Eckert / Ed Akridge.
Posted Jan 14, 2020 02:15 by uploader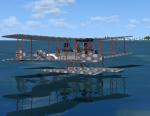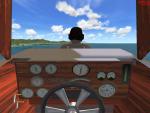 7.92Mb (551 downloads)
FS2004/FSX Gotha WD-11 float biplane. The WD-11 was large twin-engined reconnaissance and torpedo-bomber seaplane, It was powered by two 6-cyl 172 hp Mercedes D.III engines, and had a max. speed of 120 kph (75 mph). It could carry a 1598 lb Whitehead torpedo, and saw service in the North Sea and Baltic. 12 units were built. GMAX mdl by A.F.Scrub.
Posted Jan 12, 2020 08:06 by A.F.Scrub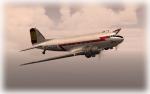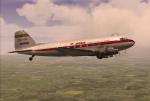 220.22Mb (1824 downloads)
The first Douglas DC-3 planes that flew to Iberia had been military transports of the C-47A version. The first DC-3 that were used in Spain were three devices that were lost and landed by mistake in the Protectorate of Morocco. For two decades this plane would be the most important part of the air transport system in Spain, both civil and military. All the planes that arrived at the airlines were C-47 military, with the floor reinforced The internal configuration of the DC-3 was 21 seats, although the strong existing demand then forced the installation of folding seats, which increased the capacity to 25 seats, although sometimes it reached up to 28, which was the maximum capacity . The file contains two real models, with liveries used between 1953-1963 and 1963-1966. Based on the Manfred Jahn and team DC3/C47
Posted Jan 6, 2020 05:01 by JALopezR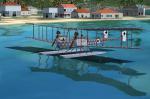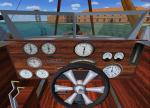 10.13Mb (631 downloads)
FS2004/FSX Gotha WD-14 Wasserdoppeldecker reconnaissance and torpedo bomber, 1916 Large twin-engined torpedo bomber seaplane, built by Gothaer Waggonfabrik A.G. in 1916, powered by two 6-cyl 230 hp Benz Bz IV engines. Max. speed was 80 mph, and it could cary a 1598 lb Whitehead torpedo. It saw service in the North Sea and Baltic, and was later used for long distance marine reconnaissance and as minelayer. 69 units were built. GMAX mdl by A.F.Scrub
Posted Jan 1, 2020 10:06 by A.F.Scrub