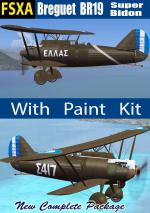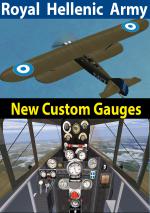 23.50Mb (529 downloads)
FSXA BREGUET 19A2/B2 Super Bidon complete package with paint kit.This is a full update of A.F.Scrub model with new custom made gauges for V.C. and 2D panels.There are 2 models(with closed & open canopy)and two liveries and historical info and photos.The first liverie is the A Br.19 GR (Grand Raid)Super Bidon(no.1554)that was build espacialy for Greece, with a 550 hp Hispano 12Hb and bearing the name ELLAS (Greece) On June/8/1928 it flew around the Mediterranean Sea covering 12.000 Km in 20 days with crew of 2,the 1st Lieutenant Evangelos Papadakis and Colonel Christos Adamides. Greece had a total of 53+ aircraft of the type.All Tested in FSXA.By Hellenic Arcraft/Yiannis Katehis Tsetsas 2017.
Posted Oct 25, 2017 08:47 by YIANNIS KATEHIS TSETSAS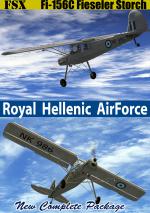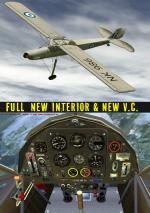 32.12Mb (1551 downloads)
FSXA Fieseler Fi-156C Storch upgraded complete package,of the Royal Hellenic Airforce.This was the only airplane of the type that was delivered by the British in 1946, probably captured during the retreat of the Germans from Greece. It brought the name "(Daedalus)" on the engine cover. Limited data exist on its use by the Hellenic Air Force.Model by Tim Piglet Conrad Piglet's Peculiar Planes. New FSX VC and 2D panel,new exterior and interior details, repaint and upgrated for FSX in this complete package by Hellenic Aircraft/Yiannis Katehis Tsetsas 2017.
Posted Oct 20, 2017 13:49 by YIANNIS KATEHIS TSETSAS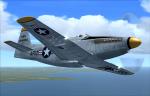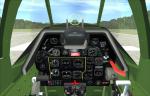 4.82Mb (712 downloads)
This is a VC and FDE update for the North American P-51 H, recently posted by A.F. Scrub. It adds more gauges and some eye-candy to the VC and fixes the inaccurate gauge positioning of most gauges. In additon, I've altered some parameters and added a "flight tuning" entry in the aircraft.cfg (e.g. the aircraft extremely pulled left during take off), reconfigured the smoke effect and added VC light for night flights. Easy installation. New updates by Michael Pook. Required file: "mustang_p51h_v2.zip".
Posted Oct 19, 2017 12:44 by Michael Pook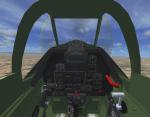 21.41Mb (1272 downloads)
FS2004-FSX-St Ed Mustang P51H version2 The ultimate version of the Mustang was the P-51H, which was the fastest Mustang variant to see service and one of the fastest (if not the fastest) piston-engined fighters to enter production during the Second World War. However, it was destined never to see any combat, having entered service too late to participate in the final action against Japan. GMAX mdl with new VC by A.F.Scrub
Posted Oct 18, 2017 03:13 by A.F.Scrub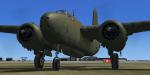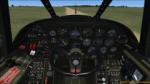 193.61Mb (2478 downloads)
Douglas A-20 Havoc Rel v1.0 for FSX/P3D Only (Will NOT work in FS9) by Milton Shupe, Tom Falley, William Ellis, Nigel Richards, Roman Stoviak, Huub Vink, SteveB. Original Pilot figures by Jan Visser and Bill Ortis. Thanks to GLH for his early research and work on the aircraft.cfg data. Thanks to Huub and SteveB for allowing use of two each of their texture sets. Great stuff! Links to more of their paints included. Pkg incl 4 models, 20 model variants, authentic sounds by Nigel Richards, custom Flight Model, and great paints for each model. Contents: FSX aircraft: A-20C, A-20G, P-70A1, P-70A2 Effects: two The paint kits for this package are available at Sim-outhouse uploaded by Wellis. http://www.sim-outhouse.com/sohforums/local_links.php?catid=8 More Paints by Huub Vink: http://www.sim-outhouse.com/sohforums/local_links_search.php?action=show&userid=14&sort=d More Paints by Steve "Stalin" Baldwin: Thread showing SteveB's paints progress: http://www.sim-outhouse.com/sohforums/showthread.php/95258-Douglas-A20-Havoc?p=1088048&viewfull=1#post1088048 Other aircraft paints by Steve: http://www.sim-outhouse.com/sohforums/showthread.php/107002-My-Repaints Milton Shupe October 12, 2017
Posted Oct 13, 2017 19:54 by Milton Shupe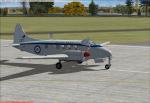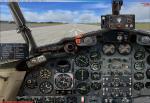 23.07Mb (1532 downloads)
The freeware De Havilland DH104 Dove for FSXSE , was original for fs2002 then fs2004 and never worked on FSX till today . The Dove first flew on 25 September 1945. From summer 1946 large numbers were sold to scheduled and charter airlines around the world. Model by Derek Palmer
Posted Sep 25, 2017 16:02 by Stefaan Adriansens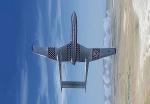 12.22Mb (476 downloads)
Files that adds missing FSX Sound Cone data to the Sound.CFG for the XP-54 Racers. Also adds a Modified Startup sound for the Allison powered machine.
Posted Sep 15, 2017 23:06 by James Banks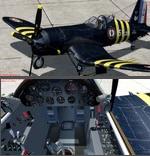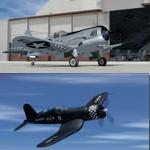 55.55Mb (3380 downloads)
FSX/P3D 3/4 Chance Vought F4U-7 Corsair package. Liveries include US Marines, Blacksheep, VMA, VMF, French Navy, Royal Navy. The Vought F4U Corsair is an American combat aircraft that made it's name in World War 2 and Korea. The aircraft was so popular that Vought was unable to meet demand and called in additional manufacturing by Goodyear and Brewster. Original fantastic ALPHA BLEU CIEL model converted to FSX native format by LLS. VC converted to FSX native with P3D v4 panel adaption by Chris Evans using gauges from Milton Shupe. Tested in Prepar3D V4 and 3.4 and should be OK also in FSX. Zip preview for images. Assembled for FSX Acceleration and P3D 3 & 4 by Chris Evans.
Posted Sep 12, 2017 11:06 by chris evans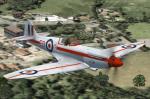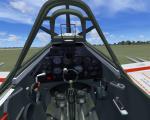 18.89Mb (914 downloads)
Fs2004/FSX/FSX St Ed Spitfire F 21 With the Mk 21 the elliptical wing gave way to a new one with blunted tips and changes to the flaps and ailerons. The wing was made even stronger and carried four 20mm cannon. The fuselage was redesigned and the whole airframe was heavier than previous Spitfires, meaning the undercarriage had to be made more robust. The wheels were now fully covered by undercarriage doors in flight . This is the contaraprop variant from No 41 Squadron R.A.F., flown in the Blackpool races 1947. GMAX model by A.F.Scrub
Posted Sep 11, 2017 09:15 by A.F.Scrub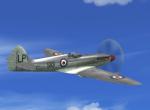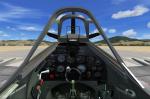 18.56Mb (703 downloads)
Fs2004/FSX/FSX St Ed Seafire Mk 45. With the Mk 21 the elliptical wing gave way to a new one with blunted tips and changes to the flaps and ailerons. The wing was made even stronger and carried four 20mm cannon. The fuselage was redesigned and the whole airframe was heavier than previous Spitfires, meaning the undercarriage had to be made more robust. The wheels were now fully covered by undercarriage doors in flight . The Mk 45 was the naval variant with tailhook but fixed wings. This is Seafire Mk.45 LA 486, 583/LP, of No 771 NAS, 51st Miscellaneous Air Group, RNAS Lee-on-Solent, summer 1950 GMAX model by A.F.Scrub
Posted Sep 11, 2017 07:56 by A.F.Scrub