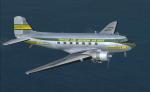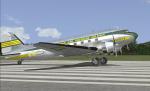 18.24Mb (204 downloads)
FSX/P3D Chicago and Southern DC-3 textures for Manfred Jahn and team Douglas C-47 V3.14. Second livery. Chicago and Southern textures by Gary Harper.
Posted Feb 29, 2020 21:57 by Gary Harper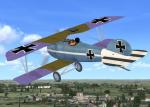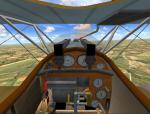 11.70Mb (900 downloads)
FS2004/FSX Albatross DIII Development of the prototype D.III started in late July or early August 1916. Following the successful Albatros D.I and D.II series, the D.III utilized the same semi-monocoque, plywood-skinned fuselage. but adopted a sesquiplane wing arrangement broadly similar to the French Nieuport 11. The upper wingspan was extended, while the lower wing was redesigned with reduced chord and a single main spar. "V" shaped interplane struts replaced the previous parallel struts. GMAX mdl by A.F.Scrub.
Posted Feb 26, 2020 09:42 by A.F.Scrub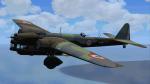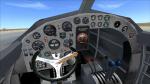 25.60Mb (580 downloads)
This is the late model of the inter war Amiot medium bomber, which was used by the French airforce in the early days of WWII. The Amiot 143M entered service in July 1935, with deliveries continuing in 1936 and 1937. About six were going to be delivered to the Spanish Republican Air Force at the beginning of the Spanish Civil War. There is no evidence, however, that these obsolete French bombers flew over Spain during the Civil War. This is an FSX update with new and much more realistic panels. Original model by Paul Clawson, modified for FS2004 by Shessie of SOH. Exhaust smoke added. New virtual cockpit, new 2D panel and exhaust smoke configuration by Michael Pook. The model may work in FS2004 and P3D(Version3)
Posted Feb 26, 2020 04:59 by Michael Pook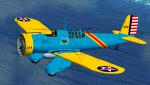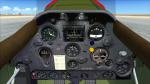 25.12Mb (530 downloads)
The Curtiss A-12 Shrike was a radial-engined derivative of the A-8, which was the first monoplane attack aircraft to serve in substantial numbers with the US Army Air Corps. It was the main aircraft of Army attack aviation strength throughout the early to mid-1930s. However the A-12 was rapidly made obsolescent by advances in aviation technology and its service with front-line units of the Army Air Corps was quite brief. By the late 1930s, it had been relegated largely to training units. Except for 20 export versions which were sent to China, the A-12 took no part in aerial combat during World War 2. This package is an FSX update for the FS9 version by Shessie and his team of SOH. It features an entirely new virtual cockpit and 2D panel. The original version was designed by David Wooster and his team and this model is also partly based on the FSX version by Paul Clawson. All credits go to the designers mentioned above. New panels and smoke effect by Michael Pook. The model may work in FS2004 and P3D (version3).
Posted Feb 26, 2020 01:57 by Michael Pook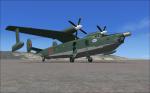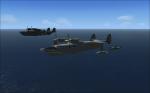 29.45Mb (1401 downloads)
Be-12 Chaika (Seagull NATO:MAIL). Yes, It's Vlad's evergreen amphibian from 2002. Prehistoric in computer terms, this has to be one of the most downloaded freeware models on the interwebz-thingy. It's got some shape issues, no interior glass, and ...well, it's elderly. It sat for along time, then Arno comes through with yet more features for MCX which permitted fixing backwards animations. I applied wrap textures to bare material area's, so it's all the same colour, some new paintwork, Piglets AN-32 VC and ivchenko props. A set of AI models is included Lo and behold It's a perfectly cromulent model of a faithful old friend. Author - Vladimir Zhyhulskiy, Kiev, ca.2002 C.E.(by 'pooter standards, a fossil!) Whereever you are, Vlad, thanks! FSX native updates and whatnots, Y.T. near human dystopia, 2020 VC-AN-32 (Bonzer, that is) Tim 'Piglet' Conrad
Posted Feb 26, 2020 00:03 by anon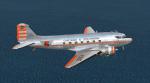 20.76Mb (174 downloads)
FSX Chicago and Southern DC-3 textures for Manfred Jahn and team Douglas C-47 V3.14. Corrected tail number. Chicago and Southern textures by Gary Harper.
Posted Feb 20, 2020 00:00 by Gary Harper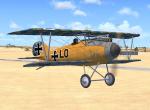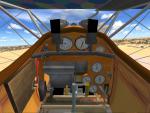 9.20Mb (1203 downloads)
FS2004/FSX Albatross D.Va. The Albatross D.V. entered service in May 1917 and structural failures of the lower wing immediately occurred. The D.V's sesquiplane wing layout was even more vulnerable than that of the D III. The outboard sections of the D.V upper wing also suffered failures, requiring additional wire bracing and the fuselage sometimes cracked during rough landings. Owing to these problems, the D.V offered very little improvement in performance to the Albatross D III. GMAX mdl by A.F.Scrub
Posted Feb 17, 2020 04:47 by A.F.Scrub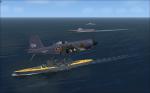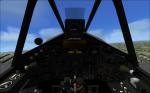 26.77Mb (928 downloads)
Alphasim's Blackburn Firebrand IV in FSX native. This is a mew set of models derived from Scrubby's FSX O/H, and my attemps at un-snarling the FS9 original. Materials updated, a new VC back to it's original state, 3D prop to bling up that, and custom armament options for 60lb RP3's, MkXVIII torpedo and 20 mm cannon.Armament from saved flight only, flights provided from RNAS Ford. A period task group is included; CV HMS Indomitable, BB King George V, CC HMS Kenya, DD HMS 'C' class, with revised effects that turn off when stationary. Works in FSX and P3D up to V4.*. Big B-Z to Phil(Virtavia.com), Scrubby, Stuart and Colin G.
Posted Feb 16, 2020 01:33 by LLS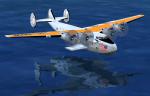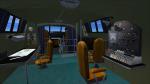 14.08Mb (1605 downloads)
FSX/Acceleration/(P3dV3)Flying boat Boeing 314 PAA Pacific Clipper. The Boeing 314 was a longrange passengeerer flying boat. Four engines a 1.600 hp allowed a speed up to 300 km/h. Only 12 units were buildt between 1938 and 1941. The luxury interior included dining room, smoker compartment and sleeping cabins. The original FS2004 model was buildt by Mike Stone and works also with the common repaints. Reworked model by inserting a virtual cockpit plus other interior is done by Erwin Welker
Posted Feb 9, 2020 03:13 by Erwin Welker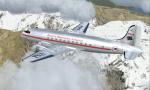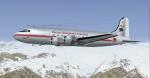 4.70Mb (161 downloads)
FSX/FS2004 Pacific Northern Airlines DC-4 textures for Jens Kristensen JBK Douglas DC-4 V3. Pacific Northern textures by Gary Harper.
Posted Feb 2, 2020 21:06 by Gary Harper