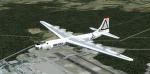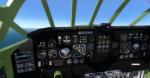 135.57Mb (3201 downloads)
FSX native B-36 Peacemaker. Built by consolidated Vultee (Convair) in the late forties, The Convair B-36 Peacemaker was the largest American bomber every produced. Development of the huge plane began in 1941. The Army Air Force wanted a bomber that could fly from the United States to Europe, drop bombs, then return. The prototype first flew on August 8, 1946. The first operational models were delivered to the Strategic Air Command 1948. Included in this file are versions, A, B, D, H, and J models. The A and B versions are textured in FS9 style polished metal textures. Includes a virtual cockpit based on the b-36b cockpit, with a few updated and modern instruments, and a full gauge panel on the engineer station. custom sounds taken from scenes in the movie "strategic air command." Garry Shetter
Posted Jun 8, 2020 02:34 by uploader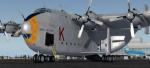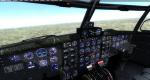 128.44Mb (3917 downloads)
FSX/P3D Blackburn Beverley V1A Package. The Blackburn Beverley was a four-engined, medium-range high-capacity transport. Its first flight took place in June 1953 and a total of forty-seven aircraft were built. The Beverley had an outstanding ability for packing and dropping heavy loads of up to 22 tons and, aided by powerful propeller reversing and a sturdy fixed undercarriage, it was able to land and take off at small and makeshift airstrips. Employed on a wide variety of military and humanitarian missions, for the ten years of its active service it was the R.A.F.'s proverbial no-nonsense workhorse. To date, only the first production Beverley survives as a museum piece. The model comes with an ILS and GCA- capable VC, variable intensity cockpit lighting, and propeller reversing. Two textures are included, XB261 representing a fictional reincarnation of the third production aircraft, and XM109 as painted in the 'Middle East' camouflage scheme of the final batch. Models and textures by Manfred Jahn, flight dynamics by Wayne Tudor, and soundset by Ted Wolfgang.
Posted Jun 6, 2020 13:32 by uploader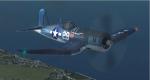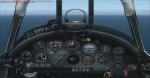 22.02Mb (1326 downloads)
This is an update for FSX of the Corsair by A.F.Scrub. I corrected any contact point position that needed it; I added and or changed gauges on all 3 panels; the fighting panel can be toggled now; I added the other 2 guns and corrected positions where necessary; and I updated the flight dynamics. Should also work in P3D4.5
Posted Jun 3, 2020 11:20 by Bob Chicilo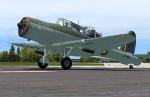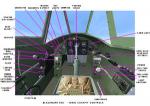 19.47Mb (869 downloads)
. The Blackburn Roc was a British - built Royal Navy dive bomber / fighter..It was built as a development of the Skua (also as a carrier based aircraft) and first flew in 1938. In all 136 were built having been ordered before its first flight.Delivery to the Navy started in 1939 but squadrons disliked the Roc claiming it was inferior to the Skua. In 1940 Rocs were relegated to air-sea rescue and target towing duties before being withdrawn from service in 1943. A floatplane version was originally planned but the prototype conversion proved unstable and crashed and no further production was carried out. Also the addition of floats cause a serious decrease in airspeed on what was already a relatively slow out-dated fighter. Modelled by Dave Molyneaux.
Posted May 25, 2020 02:35 by uploader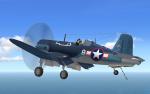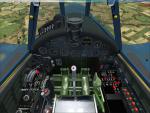 23.60Mb (1561 downloads)
FSX/P3Dv3 and 4 Vought Corsair F4U-1a. The Corsair entered service in 1942. Although designed as a carrier fighter, initial operation from carrier decks proved to be troublesome. Its low-speed handling was tricky. Landing a Corsair on a carrier was a difficult task. For these reasons, most Corsairs initially went to Marine Corps squadrons which operated off land-based runways. The U.S. Navy did not get into combat with the type until September 1943. Native FSX/P3Dv3,v4 mdl by A.F.Scrub.
Posted May 12, 2020 12:55 by A.F.Scrub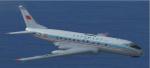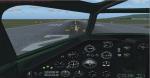 28.87Mb (619 downloads)
This is an update for FSX of the SCS & Samdim design Tu-124. I have changed the panel, but the old one is still there if you want to use it instead; I changed the sound because the sound it came with hurt my ears, but the old one is still there for those who want it; I added all the wheels, and updated the flight dynamics. This is the whole aircraft. No VC.
Posted May 10, 2020 08:02 by Bob Chicilo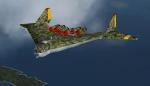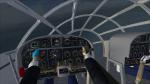 15.64Mb (667 downloads)
FSX/Acceleration/P3dV3/FS2004 Upgrade for Kazunori Ito's Arado E.555-1 WWII concept long range bomber. The modified model has now a VC regarding Ito's 2D panel and an additional repaint in camo. The only change on the exterior model is the animated turret. (Original text Wikipedia: The Arado E.555 was a long range strategic bomber proposed by the German Arado company during World War II in response to the RLM's Amerikabomber project. The E.555 designation was applied to a series of long range jet bomber designs of various sizes, powerplant, crew and weapon load configurations. As design studies only, no aircraft were developed or constructed and the entire E.555 project was cancelled at the end of 1944). Kazunori Ito is my idol for twenty years. It is a pity that he was forced to stop to continiue with his great hobby in building an incredible high amount of interesting aircrafts. Honouring his work but beeing afraid that this very rare and special aircraft will be lost for actual or newer simulators like Acceleration or P3Dv3 I allowed myself to upgrade this futuristic beauty with a VC and configured with FSX/P3d compatibel gauges. Original model and 2D panel by Kazunori Ito, virtual cockpit implemantation for a 3 men crew by Erwin Welker
Posted May 3, 2020 03:05 by Erwin Welker

0.56Mb (72 downloads)
Indian Airlines DC-3 for the native FSX DC-3 Model. Note: Only texture file is included.
Posted Apr 16, 2020 14:10 by Kalyan Mukherjee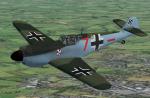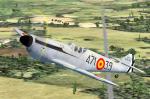 10.99Mb (887 downloads)
FSX/FS2004 HA-1112 M Buchon In 1942, the Spanish government arranged a manufacturing licence with Messerschmitt AG to build the Bf 109G-2. Spain produced its own models with different engines.. The final variant was the HA-1112-M1L Buchón (Pouter). It first flew on 29 March 1954 with a 1,600 hp Rolls-Royce Merlin 500-45 engine and Rotol propeller, both purchased as surplus from the UK. This engine had a chin intake, that altered the lines of the Bf 109's airframe. Due to their longevity, Buchóns have appeared in several war films masquerading as Bf 109Es and Gs. GMAX mdl by A.F.Scrub.
Posted Apr 14, 2020 11:13 by A.F.Scrub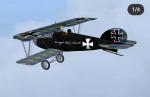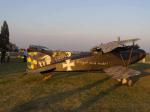 2.32Mb (204 downloads)
This is an updated texture package for my previous "Kurt Wolff Albatros D.V (Fictional Paint Scheme From The Red Baron Film)" The original required tweaking, but is now more authentic to the airplane in the movie. If you already have the texture, I have included instructions on how to replace it. If you don't, you will require A.F Scrub's Albatros D.V (Ernst Udet) aircraft.
Posted Apr 3, 2020 11:58 by TheHawkerHurricaneMan