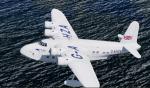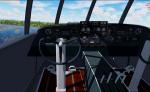 12.70Mb (443 downloads)
FSX/P3D Short S.25V Sandringham. Original model by Jens B. Kristensen updated to FSX Native. The Sandringham was a civil conversion of the WW2 Short Sunderland maritime patrol flying boat. Liveries for BOAC, Norwegian Air Lines, SAS , RAI and Aerolineas Argentinas included. For more details and flying instructions see the pdf document installed in the \Manual folder.
Posted Dec 4, 2020 04:56 by Goto Dengo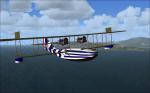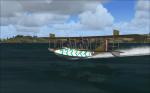 19.29Mb (405 downloads)
The Felixstowe F2A Flying Boat was developed from the Curtiss H12 'Large America', using basically the same wing and tail unit, but a completely new fuselage designed by Lieutenant Commander John Porte of the Seaplane Experimental Station at Felixstowe in England. Together with a slightly larger version, the F3, it was used in some numbers for patrol work, mainly over the North Sea, in 1917-18. The F2A continued in service in the 1920's until replaced with Supermarine Southampton's. FSX native re-issue of this classic By Jens B. Kristensen.
Posted Dec 4, 2020 03:04 by Dispenser of Mayhem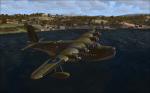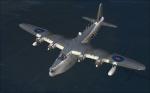 62.17Mb (857 downloads)
Short S.25 Sunderland package for FSX. Model from CFS3/FS9 by Ted Kaniuka, Steve 'Sdbolt', and Shessi. FSX native materials and tags, nice paintwork, L'Azur Seaplane performance mod. It's not a study level model,it is simple, but looks great, and is super FPS slippery; very important when schvitz-hawking a large convoy. Sunderland I, III and IIIA models, or, close enough. Me likee most beaucoup!
Posted Dec 3, 2020 01:55 by Khulmittel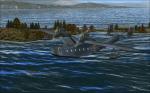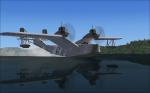 6.67Mb (383 downloads)
The Short R.24/31 (or Short S.18 and nicknamed the Knuckleduster) was a British twin-engined, high-wing cantilever gull winged monoplane flying-boat designed and built by Short to Air Ministry specification R.24/31 for a "General Purpose Open Sea Patrol Flying Boat". The contract also specified the use of the experimental Rolls-Royce Goshawk engine. The Saunders-Roe London and the Supermarine Stranraer competed successfully for this contract. The boats remained in use at the MAEE until 1938. FSX standard update, see readme. Model By Edward Cook.
Posted Dec 3, 2020 01:14 by Grippa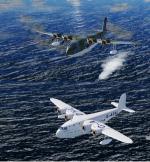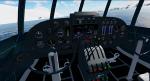 8.56Mb (452 downloads)
Short S.30 Empire, the long-range version of the C-class flying boats. G-AFCU Cabot was the second of the S.30s, and was used on the Atalantic route before being taken over by the R.A.F. in 1940. Cabot was destoyed during the Norwegian campain in may 1940. Original FSDS3 model by Jens B. Kristensen. FSX native coversion.
Posted Dec 2, 2020 05:45 by Goto Dengo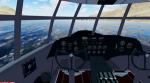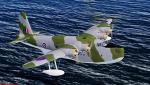 13.85Mb (422 downloads)
FSX/P3D Short Hythe FSX Native. The Short Hythe was a civil conversion of the Short Sunderland III patrol flying boat of WW2 fame. A number of Sunderlands served BOAC from 1943, and 22 of them were converted to proper airlines in 1946. Many of them were taken over by Aquila Airways in 1948-49, and served into the 1950's. Original model by Jens B. Kristensen.
Posted Dec 2, 2020 05:36 by Goto Dengo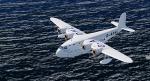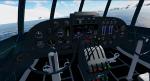 7.56Mb (322 downloads)
FSX/P3D Short S.23, S.30 and S.33 Empire. Updated from the Jens B. Kristensen. These famous aircraft formed the backbone of the British national airline, Imperial Airways, it's sucessor B.O.A.C. and its partners Qantas Empire Airways and TEAL from the mid 'thirties and through World War Two. The aircraft that survived the war were replaced by more modern aircraft in 1946-47
Posted Dec 2, 2020 05:17 by uploader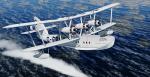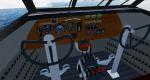 14.73Mb (445 downloads)
FSX and P3D Short S.8 Calcutta. FSX native conversion. The Short Calcutta was a three-engined, British flying boat airliner, used by Imperial Airways from 1928 to 1939. For more details see the included documentation. Original model by Jens B. Kristensen.
Posted Dec 2, 2020 04:58 by uploader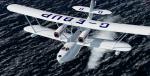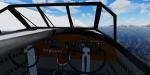 9.66Mb (428 downloads)
The Short Singapore I of 1926 was the forerunner of a long series of flying boats from Short Brothers, including the Calcutta, Rangoon, Kent and Singapore III\n\nFamous for Alan Cobham's Africa Survey flight 1927-28
Posted Dec 2, 2020 04:49 by Goto Dengo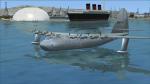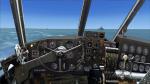 37.72Mb (763 downloads)
FS2004 Flying Ship Hughes H-4 "Spruce Goose". This updated version will work also in FSX and has improved detailes, a corrected shape and improved FDEs. The Hughes Aircraft Company H-4 was due to WWII designed as strategic airlift; the biggest flying boat ever proposed as troup transporter. Lack of Aluminium the world hugest aircraft was made almost entirely of birch wood and this made her communly known as "Spruce Goose". It was a joint project of Henry J. Kaiser and Hughes Aircraft Company. By 1944, it had lost its strategic importance. Howard Hughes himself made only one test flight with ground effect in about 10 m/33 feet height and for less than one mile, on Nov.2,1947. In the 80th the "Spruce Goose" was displayed in Long Beach/California under a large dome and next to the former ocean liner "Queen Mary". Since 1993 the "Spruce Goose" can be visited in the Evergreen Aviation & Space Museum McMinnville/ Oregon. The model comes with a photorealistic 2D panel and the VC showes the complete cockpit including all the crew desks and equipments and the passenger seats for the invited persons of the test flight. When on water surface, special animations sends a motor yacht to the exit door whilst Howard Hughes waits for the boat. Seventeen FSX cameras showes you the giant from its best sides and let you explore the huge cockpit. FSDS 3.5 model by Erwin Welker
Posted Oct 30, 2020 04:42 by Erwin Welker