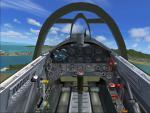 11.23Mb (924 downloads)
FSX/P3Dv3,4,5 Yak-1,1B Design of the Yakovlev Yak-1 medium-altitude interceptor/fighter began in November 1938, and from it evolved a series of remarkable aircraft (produced in vast numbers) which made an important mark in the history of aviation.The French Normandie Niemen regiment flew Yak1b fighters in the spring of 1943 and their leading scorer considered the Yak1b to be a much better plane than the Spitfire MkII and MkV which he had flown. The strength of the Yak were that it was easy to fly, instilled confidence in its pilots, had a wide stable undercarriage, and was cheap and simple to produce. FSX/P3D Native models by A.F.Scrub.
Posted Oct 31, 2021 16:50 by A.F.Scrub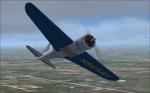 9.59Mb (470 downloads)
The sleek Hughes H1B Racer was built for Howard Hughes to set a Trans-America speed record in 1937, and a world speed record in 1953. Hughes set a record of 7 hours, 28 minutes from Burbank Ca., to Newark, NJ. The H1B was earlier fitted with short wings for setting a world speed record of 352MPH. FSX native materials, animations correct, canopy animation split into door 1 and 2, DDS textures, wicked FPS, honest but challenging flight model. All credits go to Tim Conrad for this awesome aircraft. Panel, textures, smoke and FDE updates by Michael Pook. Tested in FSX only. Gauges not compatible with P3d 4+
Posted Oct 22, 2021 02:17 by Lou Boyle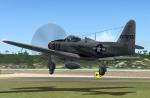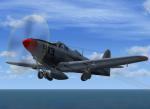 0.64Mb (427 downloads)
FSX/P3Dv4,v5 Bell P63 Kingcobra_Fix This mod fixes the flying caracteristics and the elevator trim. Use elevator trim for take off. Replace the model map, aircraft.cfg and airfile files by the new ones. Fix by A.F.Scrub.
Posted Oct 20, 2021 03:25 by A.F.Scrub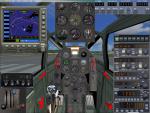 23.30Mb (835 downloads)
FSX/P3Dv4,v5 Bell P63 Kingcobra When the United States entered World War II, the Bell P-39 was its primary fighter plane. The Kingcobra was designed to address the shortcomings of the P-39 Airacobra, it was a fast airplane . its performance approaching that of the P-51 , but since the P-51 and P-47 were in full production, about 2,400 of the 3,303 P-63s produced were sent to the Soviet Union under the Lend-Lease act. France used some in Indo-China after the end of World War II. The U.S. used it as a test plane and, in a unique version, as live gunnery target training for bomber crews. Native FSX/P3D mdls, 3 variants, by A.F.Scrub.
Posted Oct 16, 2021 10:18 by A.F.Scrub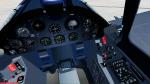 31.01Mb (773 downloads)
Vought F4U-7 Corsair Royal Navy A130 for FSX and P3D. Alpha Bleu Ciel model converted to FSX native format by LLs. Updated with different flight dynamics and revised gauges so it now works in P3D v5. Credits to Alpha Blue, LLS, Milton Shupe for some gauge and flight dynamics. . Danny Garnier YOU MUST FLY With Care,. practice to fly well.
Posted Oct 15, 2021 09:11 by GARNIER D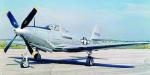 15.50Mb (420 downloads)
This is Kasenori Itoe's P-63A King Cobra. I have converted it to piston engine and modified flight dynamics. It flies very nicely. Need a prop that doesn't wipe out the graphics, the aileron trim is reversed and a VC would be nice. Hope some talented simmer can manage that. Me, I'm just a dumb pilot.
Posted Oct 6, 2021 01:41 by Alfred Bray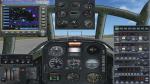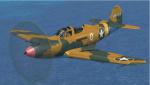 43.20Mb (490 downloads)
This is an update for FSX of the P-39D by A.F.Scrub. The original model was by SimTech with some panel mods by Michael Pook. I have fixed the radio section; added a GPS; changed the autopilot; changed the size and position of the engine gauges; added icons to both panels; adjusted the contact points and one light; and I updated the flight dynamics.
Posted Oct 1, 2021 12:43 by Bob Chicilo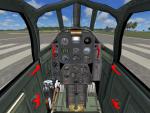 43.48Mb (709 downloads)
FSX/P3Dv4,v5 Bell P39 Airacobra When the United States entered World War II, the Bell P-39 was its primary fighter plane. By war's end, nearly 10,000 had been produced in nearly 48 variants, making the "Airacobra" one of Bell's most successful aircraft ever. Native FSX/P3D mdls, 6 variants, by A.F.Scrub.
Posted Sep 26, 2021 11:49 by A.F.Scrub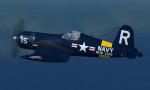 24.73Mb (1127 downloads)
Four repaints of the freeware Alpha Bleu Ciel F4U-7 Corsair. VMF-214 "Black Sheep" Squadron, VMA-323 "Death Rattlers" Squadron, New York Naval Air Station Corsair, and a plain navy blue version with U.S. insignia for additional repaints. Model, panel, and sound from Alpha Bleu Ciel are included. Repainted by R.E. Wyman.
Posted Sep 3, 2021 02:54 by R.E. Wyman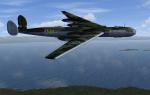 23.84Mb (697 downloads)
FSX/Acceleration Messerschmitt Me264 P.1075 & 1085 long range heavy bombers, known as "America bombers". Both were secret German WWII paper projects, which never had been buildt. The P.1075 comes with two tandem motors with propellers (4 x 2500 HP) plus two turbojet engines (2 x 10 kn) and the P.1085 comes with four similar engines but with pushing props and the same turbojet engines. My P.1075 model is armed with two animated external Fieseler Fi-103/V1 Flying bombs whilst the P.1085 carries twelve animated bombs. The models comes with 2D-Panel and virtual cockpit and thirteen camera views. FSDS 3.5 model by Erwin Welker
Posted Aug 23, 2021 07:36 by Erwin Welker