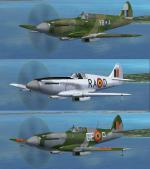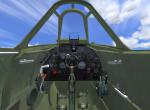 19.46Mb (883 downloads)
FSX/FS2004 Spitfire Mk XIV clipped: The Mk XIV was the most important of the Griffon powered Spitfires, and the only one to see significant wartime service. It used the two-speed two-stage supercharged Griffon 61 or 65, giving 2,050 hp. It had a significantly improved performance at speed and higher altitudes when compared to the earlier Merlin powered Spitfires . Model by A.F.Scrub
Posted Mar 17, 2021 09:53 by A.F.Scrub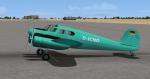 1.86Mb (201 downloads)
This is a repaint for the FSX Alphasim Cessna T-50 Package. Repaint inclusive with the new call sign, for the original by Michael Pook (https://simviation.com/1/download?file=Alpha_Cessna_T59_Bobcat.zip&fileId=44839). Easy to install, unzip the zip file in a temporary folder and copy the texture.6 folder into the "ALPHA Cessna T-50 Bobcat" folder. Insert the text of the Wordpat file in the Aircraft.cfg in the correct position. By Detlef Georgi
Posted Mar 11, 2021 15:12 by Detlef Georgi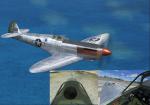 3.30Mb (321 downloads)
FSX/FS2004 Spitfire 11 VC views fix: This corrects the side and rear VC cockpit views. Replace the old items by the new ones. Fix by A.F.Scrub
Posted Mar 5, 2021 03:39 by A.F.Scrub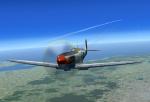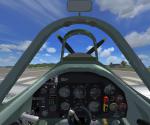 14.22Mb (480 downloads)
FSX/P3d native Spitfire 11: The Mk XI was a reconnaissance aircraft based on a combination of features from the marks VII, VIII and IX. The cameras, two vertically-mounted and sometimes an oblique mounted one, were installed in the fuselage behind the cockpit. The first Mk XIs were built in November 1942 and lasted until 1944 when they were phased out in favour of the Mk 19. Model by A.F.Scrub
Posted Mar 4, 2021 14:06 by A.F.Scrub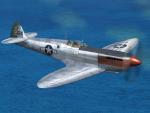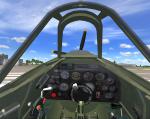 14.29Mb (531 downloads)
FSX/FS2004 Spitfire 11: The Mk XI was a reconnaissance aircraft based on a combination of features from the marks VII, VIII and IX. The cameras, two vertically-mounted and sometimes an oblique mounted one, were installed in the fuselage behind the cockpit. The first Mk XIs were built in November 1942 and lasted until 1944 when they were phased out in favour of the Mk 19. Model by A.F.Scrub
Posted Mar 3, 2021 15:01 by A.F.Scrub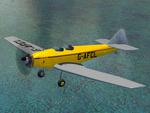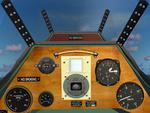 17.17Mb (630 downloads)
Built by British Aircraft Manufacturing Co. in the 1930s, the BA Swallow II was a light, but robust and extremely stable aircraft that could be flown slow at 25-30 mph and still be under complete control, being almost impossible to stall. The majority were sold to private owners or flying schools within the United Kingdom. Only a handful are still in flying condition today. The model was once hosted on Classic British Files, but after the site became defunct, it has not been available on any site for over 10 years. Now, with the author's permission, it has been re-uploaded and is available once again. This pack includes the Pobjoy engine version as well as authentic sound files and 8 liveries representing aircraft from the UK, Ireland and Australia. By Paul Gausden and Doug Kightley.
Posted Mar 2, 2021 01:14 by lastivka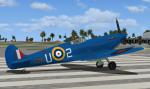 0.45Mb (348 downloads)
FSX/P3Dv3/v4/v5 Spit_ Mk V_Malta blue fix This corrects the right side texture of the Blue Spitfire. Replace the old texture DDS by the new one. Fix by A.F.Scrub
Posted Feb 19, 2021 12:06 by A.F.Scrub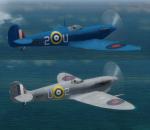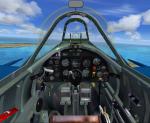 13.47Mb (527 downloads)
FSX/P3Dv3/v4/v5 Spitfire Mk VbTrop The basic Mk V was a Mk I with the Merlin 45 series engine. After take off from WASP, BR 123 had to turn back to the carrier while the rest of the Spitfires got airborne. This was the first landing of a Spitfire on a carrier deck, which was quite a feat without an arrester hook. In 2005 a flight to Malta was organised in a restored Spit BM597. Historical and restored, native FSX/P3D GMAX models by A.F.Scrub
Posted Feb 19, 2021 11:14 by A.F.Scrub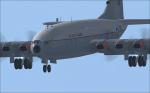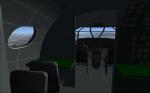 17.61Mb (1557 downloads)
Designed to Air Ministry Specification 2/44 the Brabazon was, at the time of it's construction, one of the largest aircraft ever built, being sized roughly between the much later Airbus A300 and Boeing 767 airliners. Despite its vast size, the Brabazon was designed to carry a total of only 100 passengers, each one being allocated their own spacious area about the size of the entire interior of a small car. Designed to pre-war airline standards, the 8 Centarus-powered Brabazon was probably at the practical limit for a piston prop-liner, and was deemed un-economic in the post-war climate, with no orders forthcoming. Often considered a failure, the Type 167 more than met it's design specs, was a pleasant, well mannered machine that pioneered fully powered flight controls, gust alleviation systems, electric engine controls, high-pressure hydraulics and advanced construction techniques. 60% of the program cost went into capital improvements at Filton and elsewhere that served the British industry well in the jet-age. The final verdict must be that the aircraft was a completely successful prototype showing what to do, and what not to do. FSX native update of the JBK Brabazon, which features a full interior, a very nice front office you could park a Rolls-Royce in, tight modelling, smooth flight model, a great autopilot and slippery frame rates. A few extra are skins provided. Model by Jens B. Kristensen, with a huge B-Z for allowing me to pillage his superb library.
Posted Feb 18, 2021 11:37 by Col. Hooligan Blimp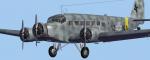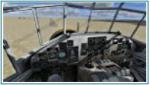 41.08Mb (1225 downloads)
New livery (1ZNA) for this Junkers 52 Package, by O.Fischer. Model conversion by Bulbbulb2. Oversight and cfg editing by InDeepSchit. Repaint by Stephen Browning
Posted Feb 7, 2021 11:34 by STEPHEN BROWNING