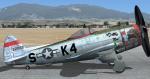 0.00Mb (1447 downloads)
P-47D FLIGHT DYNAMICS UPDATE. The P-47D engine has a maximum speed around 428 mph at 30,000 feet. Adjusted aircraft.cfg specs for the excellent J R Lucariny prop at 30,000 feet to reach that goal (instrument 235 knots, true speed 377 knots, or 428+ mph) as delineated in specifications. I have included an aircraft.cfg file for the P-47D to reach that goal for those desiring to a feel of the real as possible. The excellent P-47D (p47dus.zip) by J R Lucariny is needed and may be obtained here
Posted May 9, 2009 15:10 by Dana Eng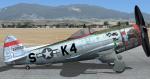 0.57Mb (1336 downloads)
Install fixes: 2/Lt. Henry G.Mohr jr. 405th FG 511th FS was on a "presence patrol" with another P-47D pilot one day before VE-Day to brighten the prisoners in a nearby POW camp by buzzing by to let them know that Allied troops were at the outskirts. On the return, 2/Lt. Mohr flew too low and clipped the lake with his propeller causing him to dump the plane. He was captured and put in the same POW camp but, was freed by the Allied Troops a few days later. His plane was recovered from the Austrian Lake in 2005 and is being restored at the Chino CA Planes of Fame Museum. 2/Lt. Henry Mohr is said to be still alive and may well be reunited once more with his plane. The excellent P-47D freeware of J R Lucariny's p47us.zip "is required" and is available at: http://www.simviation.com/simviation/static.php?ID=88&page=2
Posted May 8, 2009 03:23 by Dana Eng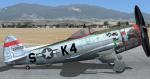 0.57Mb (1229 downloads)
2/Lt. Henry G.Mohr jr. 405th FG 511th FS was on a "presence patrol" with another P-47D pilot one day before VE-Day to brighten the prisoners in a nearby POW camp by buzzing by to let them know that Allied troops were at the outskirts. On the return, 2/Lt. Mohr flew too low and clipped the lake with his propeller causing him to dump the plane. He was captured and put in the same POW camp but, was freed by the Allied Troops a few days later. His plane was recovered from the Austrian Lake in 2005 and is being restored at the Chino CA Planes of Fame Museum. 2/Lt. Henry Mohr is said to be still alive and may well be reunited once more with his plane. The excellent P-47D freeware of J R Lucariny's p47us.zip is required
Posted May 7, 2009 21:16 by Dana Eng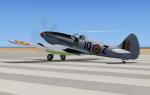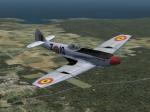 7.73Mb (7953 downloads)
FS2004/FSX Spitfire FR XIVE The Mk XIV was the most important of the Griffon powered Spitfires, and the only one to see significant wartime service. It used the two-speed two-stage supercharged Griffon 61 or 65, giving 2,050 hp and a significantly improved performance at higher altitudes when compared to the earlier Merlin engined versions. After WW2, Mk XIV were flown by many countries into the early fifties. This model depicts a Spit FR XIVE at the fighter school Coxyde BAF. GMAX model by A.F Scrub. Models FSX.Sp1 and FS9 tested under XP and Vista. Spit21 Vista upgraded mdl file included.
Posted May 4, 2009 05:21 by A.F.Scrub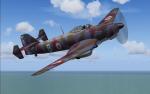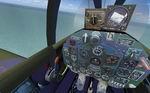 5.92Mb (4482 downloads)
FS2004 / FSX (SP2 / Acceleration compatible) Loire Nieuport LN-411, complete package. The Loire-Nieuport LN-411 was a French dive bomber operated by the "Aeronautique Navale" (= the French Navy) in 1940. This airplane, known as the "French Stuka", had a significant - but unknown ! - role in a couple of battles against the German invasion in 1940. The model has full moving parts and animations (control surfaces, gear, flaps, opening canopy, steering wheel, cockpit animations, ...), an original custom 2D panel and a full animated VC. Designed by Patrice Grange. April 2009.
Posted May 1, 2009 12:33 by Patrice Grange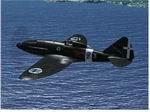 1.65Mb (3129 downloads)
Re_2005 Sagittario Single-seat fighter-bomber. This model features highly reflective metallic skin and full animations. The panel background has been created entirely from scratch, based on photographic material found on the net. Most of the gauges have been created by the authors, some are default gauges. Included in this model there is also a simple Virtual Cockpit, with working essential flight instruments and animated flight controls. Number built: 38 Not one remains today. Capt. I. D'Attomo Capt. G.Quai
Posted Apr 29, 2009 05:22 by I. D'Attomo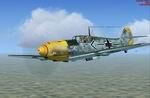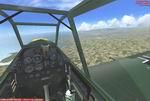 14.00Mb (29949 downloads)
Messerschmitt ME109-E Package for FSX. This is the beautiful Me109 released as freeware by Aeroplane Heaven for FS2004 and now updated for use in FSX. Panel reconfigured to it make compatible using FSX XML gauges. Modified for FSX by Danny Garnier.
Posted Apr 26, 2009 07:42 by GARNIER D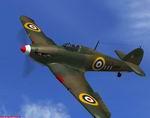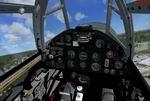 50.43Mb (23581 downloads)
Hawker Hurricane Mk 1 Package for FSX. This is the classic Aeroplane Heaven Hurricane Mk 1 Package released as freeware for FS2004. A few small tweeks to allow it to work OK in FSX. Now you can use this wonderful creation in your FSX without the problem. Comes in Hurricane Mk 1 and Sea Hurricane Mk 1 versions. Full 2d and VC panels. Danny Garnier
Posted Apr 23, 2009 08:58 by GARNIER D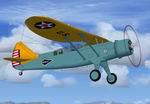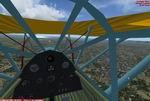 0.80Mb (2156 downloads)
FSX Douglas O-46 The Douglas O-46 was the last of a long line of Douglas Obsevation aircraft designed for the USAAC. It first entered service in 1937. This is a FSX - Acceleration native model. It has the usual animations, reflective glass, working cowl flaps, some bump maps and .dds textures.The 2D panel and VC are based on panels of similar craft of the same era. The VC has working instruments and animated flight controls. By Paul Clawson
Posted Apr 20, 2009 03:11 by Paul Clawson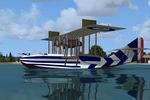 23.33Mb (4860 downloads)
FSX/FS2004 Felixstowe F2A The Felixstowe F2A flying boat was developed from the Curtiss H12 'Large America', using basically the same wing and tail unit, but a completely new fuselage designed by Lieutenant Commander John Porte of the Seaplane Experimental Station at Felixstowe in England. It was for patrol work, mainly over the North Sea, in 1917-18. The F2A continued in service after WW1 until replaced with Supermarine Southamptons. Two variants and three colour schemes included. By Jens B. Kristensen.
Posted Apr 8, 2009 11:28 by Jens B. Kristensen.