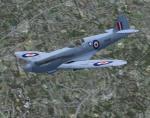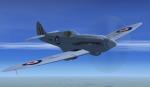 15.72Mb (14162 downloads)
FSX/Fs2004 Spitfire Pr XIX: The Spitfire Pr XIX was the last Spitfire to be used in operational service. It was the first of the Griffon-Engined photo reccoversions to enter large scale production. Based on the Mk XIV airframe and the 2,375hp Rolls Royce Griffon 65 or 66 engine with a Rotol 5 bladed Propeller giving it a maximum speed of 723km/h (452mph) at 6,242m (20,500ft). It was an unarmed Photo Recco machine. This is a model of Spitfire PR XIX PS888,with more authentic colors and fixed rudder movement.PPS888 was flown by No.81 Sqdrn in Singapore 1954. Sound file by RB Design. GMAX mdl by A.F.Scrub
Posted Oct 16, 2009 10:47 by A.F.Scrub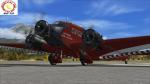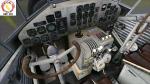 52.84Mb (38522 downloads)
Junkers-52/3M Package. FSX / SP2 / Acceleration/ XP Tested Model V.2 by O.Fischer. Updated for FSX by Nor-Cal Prop Club Full VC & 2D Cockpits The "Junkers-Flugzeugwerke" in Dessau developed it originally as a single engine cargo aircraft in 1930, under chief constructor Ernst Zindel (Dipl. Ing). A few months later construction began on the well known three-engined JU 52/3m, the change was triggered by several interested airlines looking for a reliable design. This version saw commercial service first in 1932. Safety and reliability were equal to todays jet planes.
Posted Oct 15, 2009 23:01 by Ted.T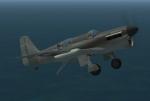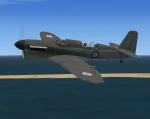 4.80Mb (1993 downloads)
FS2004/FSX Firefly Mk7 Warbird The AS.7 variant was a no guns anti-submarine aircraft. Rockets, bombs and depht charges could be carried. The first production Griffon 59-powered Firefly AS.Mk 7 was flown in October 1951. The Firefly Mk 7 had a completely revised installation for the Rolls-Royce Griffon 59 engine. The most notable feature was the deep "beard" radiator. The long-span Mk 1 wings were reinstated and the tail unit was completely redesigned. The Firefly AS Mk7 was intended as an interim anti-submarine aircraft pending availability of the Gannet.The T.Mk7 was a trainer version. You get both models. GMAX mdl by A.F.Scrub
Posted Oct 4, 2009 10:05 by A.F.Scrub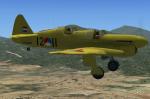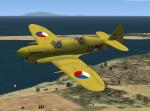 3.20Mb (1113 downloads)
FS2004/FSX Fairey Firefly T Mk2 Dutch Warbird Repaint This is a Dutch version of the Firefly T Mk2. The plane now has a radio. Replace the Firefly_Mk2T.mdl, panel.cfg, aircraft.cfg and add the "Texture.Du" to your Firefly T Mk2 file. Repaint by A.F.Scrub
Posted Sep 27, 2009 11:20 by A.F.Scrub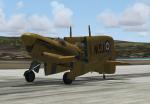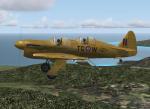 4.33Mb (2511 downloads)
FS2004/FSX Fairey Firefly T Mk2 Warbird The Firefly T Mk2 was basically an F.1 converted for use as a deck-landing conversion and instrument-flying trainer. The raised rear cockpit was occupied by the instructor and was raised by 12 inches above the normal position. This was to improve the vision by its occupant in landing. The planes were usually unarmed, although a few carried two 20mm cannon. The Canadian Navy operated two types of Firefly trainers: The T Mk 1 and the T Mk 2. The T Mk 1 being a two-seat dual control, unarmed, deck landing conversion trainer. The T Mk 2 was the tactical weapons trainer having two 20mm cannons and a synchronised Gyro gunsight in each cockpit. Textures by Morton. GMAX model by A.F.Scrub.
Posted Sep 21, 2009 14:53 by A.F.Scrub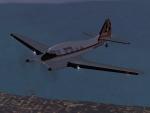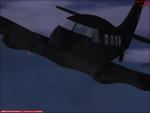 22.15Mb (3246 downloads)
FSX 1938 Alcor C.6.1 Junior Transport by Rarewings.com: Designed with FSDS3.5.1 and FSDSTweak . It has full working virtual cockpit with back-lite gauges. Limited 2-D panel, custom sounds. The plane has reflective glass and metal textures. This package comes with three paints schemes, Plain black, Bonaza Airlines and TAA Airlines. The Lockheed spin-off Alcor designed this slippery aircraft with two menasco 6 cyl 250 hp engines laid on their sides.2 creww 8 passangers with a top speed of 220mph had alot of interest but the one test example crashed into San Francisco bay after aileron flutter at high speed. Flight Dynamics by Airwrench and Brian Horsey.
Posted Sep 15, 2009 23:24 by Patrick Dyer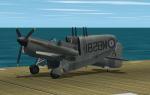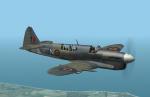 5.29Mb (2151 downloads)
FS2004/FSX Fairey Firefly Mk1a Warbird Repaints You get two versions of the Firefly Mk1. The MB581 is a Royal Navy version and PP431 was flown by the Royal Canadian Navy. The repaints are done by Morton. GMAX mdl by A.F.Scrub
Posted Sep 15, 2009 16:27 by A.F.Scrub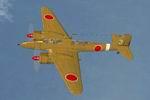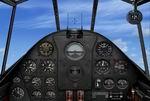 2.09Mb (3582 downloads)
FSX/FS2004 Kawasaki Ki-102. The Kawasaki Ki-102 was a Japanese warplane of World War II. It was a twin-engine, two-seat, long-range heavy fighter developed to replace the Ki-45 Toryu. Three versions were planned: the Ki-102a day fighter, Ki-102b ground-attack and Ki-102c night fighter. This aircraft's Allied reporting name was "Randy". This model features reflective metallic skin and full animations. The panel background has been taken from a default one (De Havilland Comet) due to lack of documentation about the real thing, with some modifications and all the gauges are default from the above aircraft. Included in this model there is also a simple Virtual Cockpit, with working essential flight instruments and animated flight controls. Capt. I. D'Attomo Capt. G.Quai
Posted Sep 12, 2009 04:10 by I. D'Attomo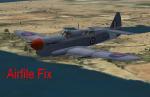 0.82Mb (1553 downloads)
Fairey Firefly Mk1 Fix If your Firefly is unstable on the ground, replace airfile and aircraft.cfg by the new ones. New mdl with corrected radiator bitmap. Fix by A.F.Scrub
Posted Sep 8, 2009 04:03 by A.F.Scrub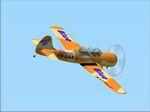 3.24Mb (4816 downloads)
FS2004/FSX Yakovlev 52 TW (Yak 52TW) The Yakovlev Yak-52TW aerobatic aircraft is a two-seat all-metal low-wing monoplane with cleaner retractable main wheels and exposed tail wheel. The Yak-52 had exceptionally fine handling characteristics enhanced by a relatively high power to weight ratio. It was used as a military trainer by several countries in many different versions. Production has been restarted in Rumania with this modernized, tailwheel version. Source included. GMAX model by A.F.Scrub
Posted Sep 7, 2009 07:18 by A.F.Scrub