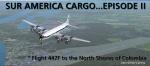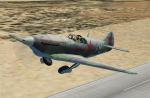 5.70Mb (3219 downloads)
FS2004/FSX Lagg-3 WW2 Fighter The Lagg-3 came close to its rival Bf-109F in performance and was superior in manoeuvrability. In combat, LaGG-3's main advantage was its strong airframe. Although the laminated wood did not burn it shattered severely when hit by high explosive rounds. The LaGG-3 was, however, a capable design in its own right and well-liked by its pilots and ground crew alike. Production of the LaGG-3 was completed in the late summer of 1942 with a total of 6,528 built. Two versions included. Original CFS2 model by Thicko, upgraded to FS2004/FSX by A.F.Scrub
Posted Feb 1, 2009 17:15 by A.F.Scrub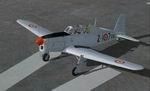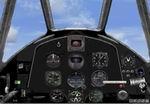 2.82Mb (3246 downloads)
and some photos from official documents. FIAT G46 Italian Air Force. Some gauges are default gauges and some have been created by the authors. Included in this model there is also a simple Virtual Cockpit, with working essential flight instruments and animated flight controls.Capt. I. D'Attomo Capt. G.Quai
Posted Jan 25, 2009 08:13 by Capt. I. D'Attomo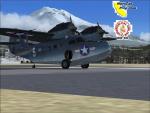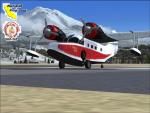 47.92Mb (18875 downloads)
Grumman Goose G21 FSX / Acceleration / XP /Tested The Grumman Goose was originally designed to fulfil a most unique role. The Goose was thought to be the perfect method of transport for Manhattan millionaires to fly to Miami. The potential of the Goose was soon recognized to be beyond that of a weekend luxury flyer, and rapidly it became the utility plane of choice for several air services. Because of its amphibious nature, generous interior space, and rugged construction which enabled the Goose to go just about anywhere it was quickly adopted by the Coast Guard as a rescue plane. The 51st G-21 was the second of a lot of four that was ordered by Peru. Manufactured in 1938, Darrell Terry flew it from Boeing Field in Seattle to Juneau, AK in 1974 where it was operated by Southeast Skyways. During 1982 and 1983, N327 appeared on TV as "Cutter's Goose" in ABC's "Tales of the Gold Monkey." It was eventually sold to James Templeton and later to Jim Chrysler who operated Chrysler Air in Washington and N327 was given a blue and yellow paint scheme. By Lynn and Bill Lyons Updated for FSX by the Nor-Cal Prop Club.
Posted Jan 24, 2009 16:05 by Ted.T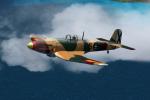 4.85Mb (7208 downloads)
FS2004/FSX Heinkel He112b WW2 Fighter. The He 112 fighters were designed by Heinkel in response to Luftwaffe's call for a monoplane fighter that could attain a high speed, which the He 112 design fulfilled, but the contract eventualy went to the Messerschmitt Bf 109 design due to He 112's expensive price tag and perhaps partially due to the crashes during performance review. Even though the BF109 won the Luftwaffe contract, Heinkel still produced 98 He.112's. It was mostly used by Spain, Japan, Rumania and Hungary. GMAX model by A.F.Scrub
Posted Jan 24, 2009 05:07 by A.F.Scrub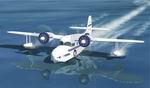 0.43Mb (5395 downloads)
This is an update for FSX Acceleration of the Grumman Goose by Mike Stone. I have added float points, changed some gauges, aliased the sound to the default Grumman Goose, and adjusted the flight dynamics. This is the whole aircraft. No virtual cockpit. Bob Chicilo.
Posted Jan 24, 2009 04:13 by Bob Chicilo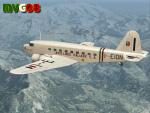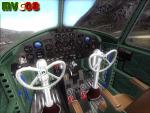 18.85Mb (7925 downloads)
The Fiat G.18 was an Italian airliner developed in the mid 1930s. It was a conventional all metal low-wing monoplane with twin engines mounted on the wings. The cabin seated 18 passengers. It was used, since 1937,by Avio Linee Italiane in European routes and, after June 1940, by "Nucleo Comunicazioni Avio Linee"(the militarized airline) and by Regia Aeronautica (Royal Italian Air Force). Complete aircraft, features the usual moving parts, such as all flight controls. Three different liveries (A.L.I.Pre-War/N.C.A.L.I./Regia Aeronautica). VC only. Model and paints by Manuele Villa, Flight dynamics, Handling notes and tutorials by FSAviator.It works also (Tested) in FSX (NOT Acceleration). January 2009. Installation instructions included.
Posted Jan 22, 2009 03:31 by Manuele Villa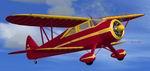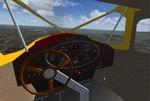 2.21Mb (5534 downloads)
FSX Waco SRE Aristocrat The Waco SRE dates from 1940 and was the last of the Waco cabin biplanes. It was luxurious for its time and was known as the Aristocrat. This is a native FSX-Acceleration model based on the paint scheme of a SRE owned by a personal friend. It has the usual animations, .dds textures, reflective glass and a specular shine. The VC features working gauges and animated flight controls. There is a minimal 2D panel. By Paul Clawson
Posted Jan 18, 2009 03:49 by Paul Clawson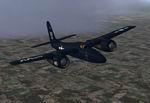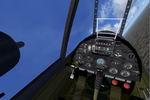 12.69Mb (17631 downloads)
FSX Grumman F7F-3 Tigercat Set. The aircraft are selectable under manufacturer 'ALPHA', F7F Tigercat. The two variants are selectable under the 'variation' drop-down list. Features VC (virtual cockpit). Original Alpha Simulations freeware release for FS2004/2. Adapted for FSX by Nor Cal Prop Club and Dominix
Posted Jan 10, 2009 13:22 by Dominix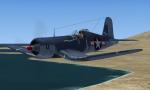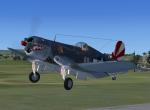 9.88Mb (15245 downloads)
FS2004/FSX Corsair F4U-1 Package. Big, tough, and fast, the gull-winged Corsair was a formidable fighter against any opposition. It was the first navy fighter to exceed 400 mph in level flight. The Corsair's signature gull wing prevented its immense propeller from chewing up the deck while keeping the landing gear struts short enough not to buckle in rough carrier landings. Original cFS2 model by Dbolt, upgraded to FS2004/FSX by A.F.Scrub
Posted Jan 9, 2009 17:37 by A.F.Scrub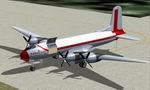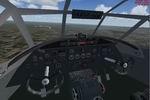 22.85Mb (8535 downloads)
FSX and FS2004 Douglas C-74 Globemaster I The C-74 was planned during World War 2 as a much bigger successor to the C-54 Skymaster. An airliner version was also planned, and PanAm actually ordered it as the 'DC-7'. After the war it became obvious that a better design could be made, so only 14 C-74 Globemasters were built. The airliner version was cancelled, and the military version was developed into the C-124 Globemaster II with a much larger fuselage. Nevertheless, the C-74s gave good service until retired in the mid 'fifties, a few of them continued in use as commercial cargo transports. By Jens B. Kristensen.
Posted Jan 8, 2009 14:28 by Jens B. Kristensen