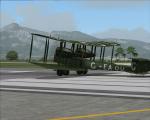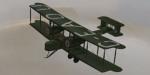 8.17Mb (4912 downloads)
This plane was originally created for FS9 by Microsoft. All that I did was make it useable for FSX. This plane has been tested by me and has worked flawlessly. Please read the readme!!! file.
Posted Jul 11, 2008 20:16 by archive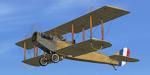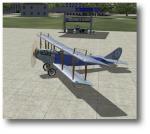 11.80Mb (8749 downloads)
This is a Curtiss Jenny originally created by Microsoft for FS9. It has been tested and worked flawlessly.
Posted Jul 11, 2008 20:00 by archive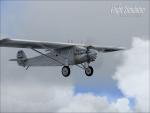 7.72Mb (11756 downloads)
The Spirit of St. Louis (Registration: N-X-211) is a custom-built single engine, single seat monoplane flown solo by Charles Lindbergh on both the first New York to Paris non-stop transatlantic flight on 21 May and 22 May 1927, for which Lindbergh won the $25,000 Orteig Prize, as well as the first solo non-stop transatlantic flight. This is the default FS2004 Spirit of St Louis & OK for FSX.
Posted Jul 11, 2008 19:24 by archive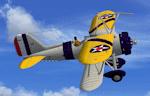 1.22Mb (8420 downloads)
The Sparrowhawk was a small light weight fighter designed to be carried internal to the large US Navy dirgibles such as the USS Macon and USS Akron and launched for defense and then retrieved on trapeze fittings. This is a native FSX SP-2 project. It is painted for service with the USS Akron. It has the usual animations, animated tail hook, bump maps, and .dds textures. The 2D panel and VC are based on a drawing. The VC has working gauges and animated flight controls. By Paul Clawson
Posted Jul 10, 2008 23:57 by archive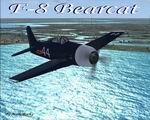 13.85Mb (5668 downloads)
This is a Repaint of Michel Migaud's F-8 Grumman Bearcat Modified for Flight Simulator X. This aircraft has completely retuned flight dynamics to perform at speeds in access of 525. To match the performance of the famous F-8 racer Rare Bear. This Bear is Very Fast and agile. Not for the beginner. Painted in a fictional racing scheme Modifications for FSX by Mark Rooks of RSDG aircraft. This is a complete aircraft Built for speed
Posted Jul 8, 2008 10:30 by John Paul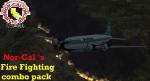 9.79Mb (3920 downloads)
FSX/Xp/Acceleration Tested DC-4 Fire Bomber & Fire Scenery DC-4 by Jens B Kristensen Updated By Nor-Cal Prop Club Fire at Pine Flat works in multi player along with a long lasting red fire retardant dropable with the DC-4. now you have a mission & you can bring your freind's too. Brought to you by the Nor-Cal Prop Club.
Posted Jul 4, 2008 22:38 by archive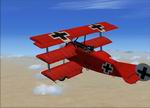 6.52Mb (16151 downloads)
FSX Fokker Dr1 Triplane"The Red Baron". On April 21, 1918 at 10:45 am, Manfred von Richthofen ("The Red Baron") was killed by a single .303 calibre bullet through the heart. This is a representation of the Fokker Dr1 triplane he flew that day, the last in the triology of triplanes, and thus, was born a legend. Panel by Frank Elton. 6.7MB
Posted Jun 23, 2008 14:16 by archive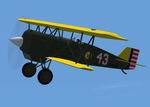 6.41Mb (1797 downloads)
FSX/FS2004 Boeing PW-9 early fighter biplane. This plane is meant for FSX but is perfectly flyable in FS2004. The PW-9 was much inspired by the Fokker D-VII. The fuselage was of welded steel tubing construction put together by arc-welding (a Boeing-developed technique). The aircraft was a single-bay biplane with tapered wings . The lower wing was shorter and narrower than the upper wing. The wings were of traditional wooden frame construction with fabric covering. During 1926, the production PW-9s were shipped to US bases in Hawaii and the Philippines. GMAX source included. Complete model by A.F.Scrub. 6.5MB
Posted Jun 23, 2008 14:16 by archive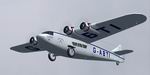 14.11Mb (2051 downloads)
FSX/FS2004 AW.15 Atalanta. Four-engined, British airliner of 1932. Eight Atalantas were built, and they served on the African and Indian routes of Imperial Airways. Much-improved version 3 model, works with FSX as well as FS2004. By Jens B. Kristensen. 14.4MB
Posted Jun 23, 2008 14:16 by archive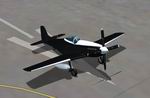 6.50Mb (1082 downloads)
FSX P-51 Racing Colors. Origianl FS2004 model Roger Dial. Repaint by Chris Krawczyk. No VC. 6.6MB
Posted Jun 23, 2008 14:16 by archive