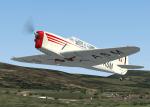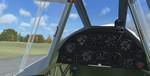 14.33Mb (1774 downloads)
FSX sp-2-acceleration-DirectX 9 mode, Nardi(Piaggio)FN.305, Civilian Version. This is the model for Flight Simulator X of the italian built Nardi FN-305 , a two seat Basic Trainer and Liaison built in Italy, first flight in 1935. Aircraft Design and artwork: Massimo Taccoli Gauges: by Manuele Villa and Stefano Meneghini. Sounds: Gypsy major Sounds by mike Hambly. Modified from various freeware sources.
Posted Sep 2, 2013 04:02 by Massimo Taccoli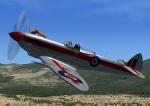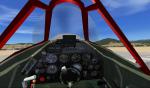 10.97Mb (1219 downloads)
FSX/FS2004 Spitfire Mk XVI: The Mk. XVI emerged as gradual evolution from the highly-successful Mk IX, inheriting the many minor modifications introduced during its production but otherwise similar in all respects except for the engine, being the American-built Packard Merlin 266, license-built version of the Rolls-Royce Merlin 66. The difference in service tooling between the British and American engines necessitated the introduction of the new mark, but Mk. IXs and XVIs were otherwise produced on the same productions lines, depending on the availability of the engines. Tested in FS2004/FSX/FSXacceleration. GMAX mdl by A.F.Scrub
Posted Aug 29, 2013 12:00 by A.F.Scrub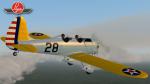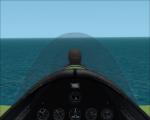 30.33Mb (1715 downloads)
SWingmans great Ryan ST's now updated for FSX-Acceleration. Full working VC, all necessary gauges included. 3 Models, 5 liveries. Enjoy!
Posted Aug 27, 2013 16:11 by erik hertzberger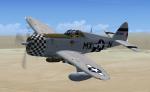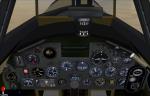 16.60Mb (2615 downloads)
This is an FSX/ FSX acceleration adaptation of the FS9 Alphasim P-47 Thunderbolt. It features FSX compatible gauges for both the vc and the 2D panel, configuration by Michael Pook. This is the whole aircraft.
Posted Aug 26, 2013 06:30 by Michael Pook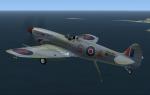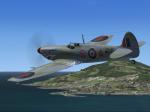 14.07Mb (1197 downloads)
FSX/FS2004 Seafire Mk-IIc WW2 fighter In late 1941 and early 1942, the Admiralty assessed the Spitfire for possible conversion to naval use.The main structural change was made to the lower rear fuselage which incorporated an A-frame style arrestor hook and strengthened lower longerons.The IIc was the first of the Seafires to be deployed operationally in large numbers. These aircraft were built by Cunliffe-Owen and equipped with Naval HF radio equipment and IFF equipment as well as a Type 72 homing beacon.They had clipped, fixed wings and were powered by a low altitude Merlin 32 specifically manufactured for naval use. A.H.freeware model upgraded to FSX/FSXacceleration. Tested and flown in FS2004/FSX/FSXacceleration. Mods by A.F Scrub.
Posted Aug 23, 2013 10:47 by A.F.Scrub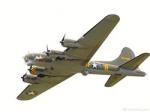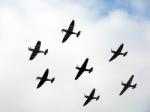 154.01Mb (6665 downloads)
All credits and rights go to the creators of the Duxford Imperial War Museum, UK, scenery. These aircraft were taken out of the original AI files and made functional by myself. This package includes the Boeing B-17G, the Consolidated PBY Catalina, the Douglas C-47, the F-86 Sabre, the North American Harvard, the Hawker Hurricane, the North American P-51D Mustang, the DH Rapide, the Supermarine Spitfire, the Republic P-47 Thunderbolt and the DH Tiger Moth. The fighters include gun effects, which can be operated off the Nav. lights or the L. key. No VC. Please read the Read Me file!
Posted Aug 13, 2013 22:56 by TheHawkerHurricaneMan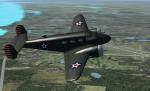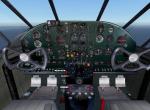 19.55Mb (2799 downloads)
This is Milton Shupe's FSX Beechcraft D18 / C-45 painted in a Midnight Black texture. This aircraft is painted to replicate the color and texture used on VIP's Transport aircraft to fly into combat safely at night in C-45's Textures and updates by Mark Rooks of RDG Aircraft.
Posted Aug 3, 2013 04:14 by Mark Fireball Rooks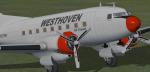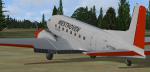 15.91Mb (433 downloads)
FSX Douglas C-117D repaint textures for Westhoven Air Transit N7379W, for the freeware Manfred Jahn and team Douglas C-117D (c117d_v1_beta.zip), which you must have previously installed in FSX. Repainted using Mr. Jahn's Photoshop paint kit templates converted to bitmap and dds for compatibility with freeware paint programs. Saved in 2048x2048 32bit. Also includes engine exhaust smoke coordinates which you can add to your "aircraft.cfg" if you wish. Screenshots enclosed. Easy installation. Repaint by Tom Tiedman.
Posted Jul 27, 2013 12:50 by Tom Tiedman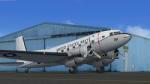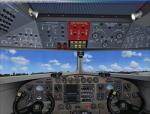 24.80Mb (7594 downloads)
FSX Douglas C-117D Skytrooper V1 Beta Package The C-117D Skytrooper or Super DC-3 was a medium-range transport serving with the U.S. Navy and Marines. The package includes a VC adapted from the Basler BT-67. Model features include a realistic slow radial engine start, a fuel and payload manager, and built-in engine stress and battery failures. Sound is aliased to the default DC-3 (replacement sound pack recommended in the readme). Historical research by John Detrick, models by Manfred Jahn, flight dynamics by Alexander M. Metzger, gauges, animations, and failure conditions by Hansjoerg Naegele. Watch those failure conditions!
Posted Jul 24, 2013 03:27 by uploader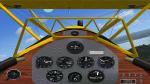 0.73Mb (1069 downloads)
FSX panel for yellow Boeing Stearmans like the navyversion (USN-Stearman.zip). The default 2D-panel and also the VC is replaced with a wooden panel. The graphical error within the windshield area is corrected with another eyepoint. Configuration by Erwin Welker
Posted Jul 22, 2013 11:52 by Erwin Welker