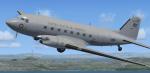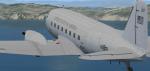 9.95Mb (481 downloads)
FSX Braddick DC-3TP repaint textures for the Manfred Jahn and team Braddick DC-3TP, which you must have previously installed in FSX, for the US Navy Naval Air Station Patuxent River 207, an aerial jack of all trades in subdued gray navy livery and now sporting VIP transport lettering above the cabin windows as she is pressed into service as an executive, congressional, diplomatic, and high ranking naval officer VIP transporter, handling such missions as low and slow natural disaster VIP aerial tours, naval force aircraft test squadron VX-20 support missions, and veteran hardship and family medical emergency repatriation flights stateside, as well as diplomatic and good will transport missions overseas, mostly in 3rd world countries where short field capabilities at unimproved airstrips in hostile territories are required. Screenshots enclosed. Easy installation. By Tom Tiedman.
Posted Dec 22, 2012 00:24 by Tom Tiedman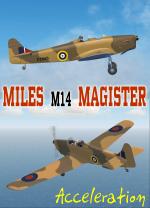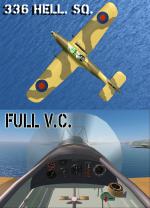 5.98Mb (1322 downloads)
FSX Acceleration Miles M14 Magister RHAF package.At least three M14's were recorded in Royal Hellenic Air Force Log books (ORBS) of the 336 Fighter Sq, at 1944 operating in North Africa under RAF command and markings. They where used for training and also transporting flyers and parts during the constant maneuvering of the command. We know also of its role in search and rescue operations. This is Ted Cook's model of FS2004 adopted for FSX. All animated parts, full virtual cockpit, 2D Panel and custom sound by Mike Hambly of Pegasus Aviation Design. Historical photos & info along with desert camo color codes and RAF decals are included. Repaint by Hellenic Aircraft/Yiannis Katehis Tsetsas.
Posted Dec 20, 2012 17:31 by YIANNIS KATEHIS TSETSAS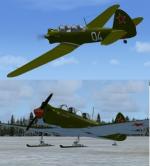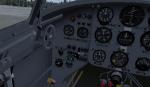 21.17Mb (2302 downloads)
1947 Yak-18 "Max", reworked beta for FSX only. Models & textures by SWingman, 2D-gauges by Wishmaster (Mikhail Mityn) Special thanks to Kirill Konovalov and Don Bodenstedt.
Posted Dec 18, 2012 12:10 by uploader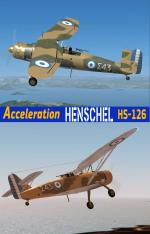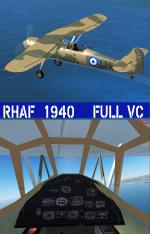 37.41Mb (1248 downloads)
FSX Acceleration Henschel HS-126 RHAF package. Royal Hellenic Air force Reg ID# S35 & S43. The HS-126 was Introduced in Greece at December of 1939 and served until 1941.It was used as a reconnaissance and light bomber.This is the new fine model of A.F.Scrub featuring full VC, 2D panel, effects and sound. There are two repaint variations of the aircraft with light blue markings (1939)and mid blue(1940). I have done some minor changes in the 2D panel configuration so the Main panel now appears in Acceleration and changed the prodisk texture so it does not look solid in FSX. Historical info from the RHAF records and photos are included in the package. Modifications and Repaint by Hellenic Aircraft/Yiannis Katehis Tsetsas.
Posted Dec 15, 2012 02:43 by YIANNIS KATEHIS TSETSAS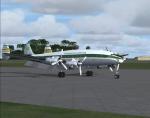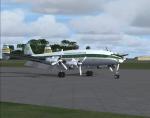 5.85Mb (537 downloads)
FSX/FS9 Panair Do Brasil L-149 textures for Manfred Jahn's outstanding Lockheed L-1049 Super G Constellation.
Posted Dec 14, 2012 21:36 by Gary Harper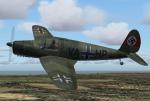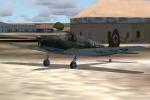 8.18Mb (1554 downloads)
FSX/FS2004 Arado Ar 79 Back in more successful pre-war times, the Ar 79 had represented the company's attempt to design a cheap & cheerful modern light aircraft that would lend itself well to common, non-utility tasks. Unusually, despite it being 1938, it was designed for the civil market only and very few were actually used in military service. Its clean lines and retractable main gear gave it a respectable performance. GMAX mdl by A.F.Scrub.
Posted Dec 14, 2012 09:55 by A.F.Scrub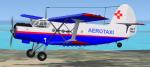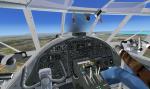 24.49Mb (5827 downloads)
FSX Aerotaxi Antonov AN-2 with virtual cockpit (VC). Aerotaxi is a Cuban charter airline that operates several AN-2's (and DC-3's) on tourist/scenic flights as well as mail/cargo deliveries. This package includes the entire aircraft. Excellent model by V. Zhyhulskiy. Aerotaxi repaint by kilocharlie1.
Posted Dec 12, 2012 08:56 by kilocharlie1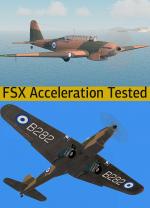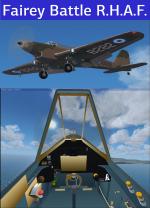 16.26Mb (1576 downloads)
FSX Acceleration Fairey Battle MK I RHAF package.The Hellenic Royal Air Force Received 11 Fairey Battle at March of 1940 that where enlisted at the 33rd Bomber Sq. and took part in the Greek-Italian War. They had roundels on the under side of the wing and on the fuseladge. All of them where destroyed in mid air or on the ground during the conflict. In Greece they had a crew of three. The credit for the excellent model goes to Edward Cook. There was a problem with the gauges call in FSX and its now fixed. Full VC, two different panels to choose from, effects, sound, historical info and photos. Modifications and repaint for the Hellenic colors by Hellenic Aircraft/Yiannis Katehis Tsetsas.
Posted Dec 8, 2012 22:42 by YIANNIS KATEHIS TSETSAS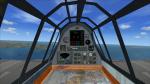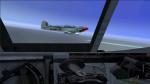 1.85Mb (383 downloads)
FSX/FS2004 panel features for the Fairey Firefly from A.F.Scrub. My features provides an original Firefly Flightstick, a VC navigators seat with map and gauges and wingmen at the left and right side. My panel features works in a different way in FSX and also in FS2004 with only one Panel.cfg.
Posted Dec 6, 2012 13:09 by Erwin Welker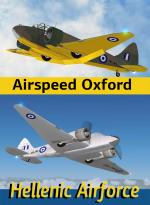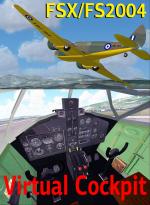 22.78Mb (1763 downloads)
FSX/FS2004 Airspeed Oxford Royal Hellenic Airforce complete package featuring two liveries of Camo and all metal, representing the actual Oxfords MKI/MKII that served with RHAF. Their presence is firstly traced during August of 1945.In September 9th 1947, 13 Oxford were enlisted, while a number of them were equipped with bomb rails. Two of the Oxfords had photographic equipment for photo reconnaissance. The fine model is a creation of Keith Hackett and has all animated parts, full VC and 2D panel. Also includes custom sound and historical info and photos. I have changed the prodisks to work better in FSX Acceleration and made some more minor changes. Modifications and repaint by Hellenic Aircraft /Yiannis Katehis Tsetsas.
Posted Dec 5, 2012 23:55 by YIANNIS KATEHIS TSETSAS