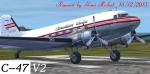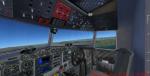 12.89Mb (819 downloads)
Textures for the C-47 V2 Manfred's Jahn and team. Repaint included the exterior and interior (virtual cockpit) for the Canadian Pacific CF-CPY DC-3 airplane, repaint by Hani Michal.
Posted Dec 15, 2013 19:30 by Hani Michal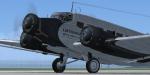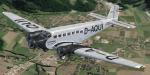 6.50Mb (1936 downloads)
D-AQUI is the oldest still airworthy JU52. Built in 1936 she started service for Lufthansa. She then served in Norway, Germany, and ultimately Ecuador. She was found there in 1969 by an American, restored and flown at airshows throughout the USA. In 1984 she was acquired by Lufthansa, painstakenly restored, and painted with her original markings of D-AQUI (her modern ID is D-CDLH located on the fuselage under the elevators). She still flies about 10,000 passengers a year. Textures only for the O.Fischer model.
Posted Dec 14, 2013 01:01 by Wlfgang Bitterolf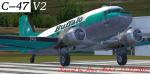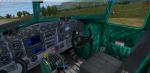 18.20Mb (2095 downloads)
Repaint for the C-47 V2 Manfred's Jahn and team. Repaint included the exterior and interior (virtual cockpit) for the Buffalo Airways C-GPNR DC-3 airplane, repaint by Hani Michal.
Posted Dec 12, 2013 20:24 by Hani Michal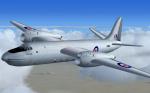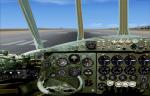 11.85Mb (1565 downloads)
The Short S.A.4 was a British jet bomber design of the early 1950s. The package features FSX compatible gauges, a new basic VC with non-functioning gauges, added smoke effects and corrected contact points.Model by Kazunori Ito, updated for FSX by Michael Pook
Posted Dec 11, 2013 09:28 by Michael Pook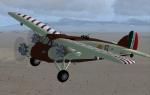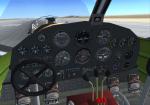 7.18Mb (2311 downloads)
FSX update for F. Giuli's Caproni CA 101. This aircraft was an Italian tri-motor plane during World War II. The package features FSX compatible gauges and a new gauge arrangement vor the VC. Model by F. Giuli,FSX configuration by Michael Pook.
Posted Dec 10, 2013 09:22 by Michael Pook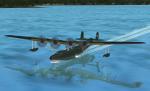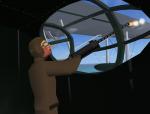 2.87Mb (1153 downloads)
FSX WWII flying Boat Kawanishi Mavis from Alphasim with special features. The panel is now FSX-compatible configured. Five cameras shows interesting views of the gunner positions and four external cameras show the best sides of the airplane. Six of eight AA-guns are configured with weapon effects. Panel reconfiguration by Michael Pook, camera- and weapon configuration by Erwin Welker
Posted Dec 8, 2013 09:19 by Erwin Welker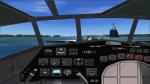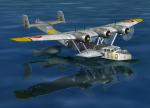 0.45Mb (977 downloads)
FSX/Acceleration fix with improved flight dynamics for Dornier Do24K flying boat (DO24VC-FSX.ZIP). Now the seaplane allows easier take offs and higher speed. The 2D-panel now shows the gun turret permanently in front of the cockpit. Before, a strange effect showed the virtual gun turret in front of the 2D-panel while on water and disapeared when airborne. By Erwin Welker.
Posted Dec 8, 2013 06:20 by Erwin Welker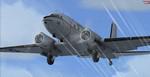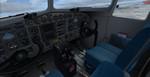 22.58Mb (6040 downloads)
FSX Douglas C-117D, Super DC-3 V.2 This revised model features a modern VC, a realistic slow radial engine start, a fuel and payload manager, built-in failure conditions, improved engine textures and new engine-focused cameraviews. Sound is aliased to the default DC-3. Three C-117D Expansion Packs will be available separately from Sim-Outhouse: a custom sound set by Ted "Tufun" Wolfgang, and a paintkit and two alternate VC texture sets by Gordon "Gman" Madison. Historical research by John Detrick, models by Manfred Jahn, flight dynamics by Alexander M. Metzger, gauges, animations, and failure conditions by Hansjoerg Naegele. Startup smoke effect by Ted Wolfgang. DX10 fix included.
Posted Dec 6, 2013 04:06 by uploader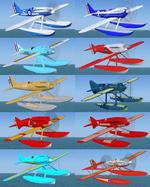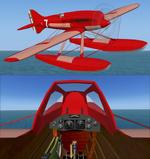 65.57Mb (1559 downloads)
10 Racing floatplanes which should have or actually took part in the Schneider Trophy back in 1929. Originally made for FS2004 as part of a freeware project called Virtual Schneider Project by Transglobal. Since the project, makers and models seem to have disappeared from the internet, I decided to not let their work be lost and forgotten. I updated them to make them usable in FSX. They all have a reasonable virtual cockpit. Installation is a simple copy-paste operation. These racers are different beasts to fly: Some need speeds of more than 100 knots to rotate. Most are unstable below 150 knots and require high speed and effective use of the trim to stabilize. Top speeds are surprising for floatplanes and high-g turns, a couple of feet above the water, are what they were made for. All credits go to the original makers of the Virtual Schneider Project. Have fun!
Posted Dec 5, 2013 05:03 by Raoul de Miranda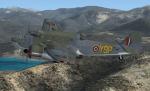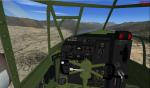 13.14Mb (1939 downloads)
FSX/FSX Acceleration Bristol Beaufort The Bristol Beaufort was a British twin-engined torpedo bomber designed by the Bristol Aeroplane Company. Developed as a successor to the Blenheim light bomber, the Beauforts served the Coastal Command well. They laid hundreds of mines and were involved in the attacks on the Scharnhorst and the Gneisenau as well as numerous attacks on smaller shipping. Beauforts first saw service with Royal Air Force Coastal Command and then the Royal Navy Fleet Air Arm from 1940. They were used as torpedo bombers, conventional bombers and mine-layers until 1942, when they were removed from active service. They were used as trainer aircraft until being declared obsolete in 1945. Alphasim freeware upgraded to FSX. A.F.Scrub
Posted Nov 28, 2013 10:53 by A.F.Scrub