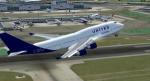 12.09Mb (1776 downloads)
FS2004 United Charter Boeing 747-400. Registration N194UA. Model by Project Open Sky.
Posted May 21, 2012 06:24 by uploader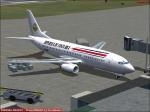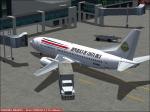 1.42Mb (794 downloads)
"Republica de Costa Rica" 737-300. Model by Vistaliners.
Posted May 20, 2012 20:16 by Alberto Thomas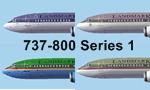 2.78Mb (440 downloads)
FS2002 Boeing 737-800 Pack 1. Replacement textures For Kevin Sparkuhl's B737-800. Figuring real passenger airlines worldwide. Series 1. In this file: Europe, Japan, USA, Philippines, Middle East. With French text too. By G. Guichard
Posted May 18, 2012 10:31 by G. Guichard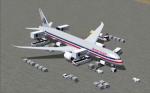 3.49Mb (1738 downloads)
FS2004 American Boeing 787-9 V4, This CamSim Version 4 feature an improve aircraft's wing root design, new wider pax doors with revised window shapes, additional animated air ducts, additional comm. and satellites' antenna, increasingly more Animated Ground Servicing (AGS), including additional animations featuring trucks hooking and unhooking trailers and static displays. Model design and paint by Camil Valiquette.
Posted May 16, 2012 08:40 by Camil Valiquette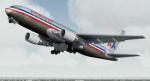 18.15Mb (4196 downloads)
American Airlines SkySpirit2010 767-200 v5. Model features High resolution textures, Dynamic flexing wings, Body gear steering, Nose gear steering, Rudder lock, Ground spoilers, Low speed aileron locks at high speed, Fully animated control surfaces, Fully independent suspension, Trim Animation, Opening Passenger Doors, Animated tilting bogies, Rolling wheels, Animated thrust reverser's with reverser block doors, Detailed textures, Full night lighting, Crash affects, Ground Service Vehicles And more. Model Designer Hiroshi Igami. Flight Dynamics Designer Warren C. Daniel. Textures by Philip Foglar. American Airlines repaint by Kyle Schurb.
Posted May 16, 2012 07:53 by uploader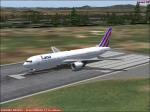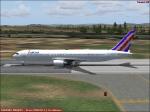 14.84Mb (643 downloads)
Lacsa Boeing 767-300 Model by Project Opensky.
Posted May 14, 2012 19:12 by Alberto Thomas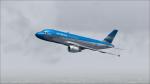 24.05Mb (1779 downloads)
Airbus A319-114 in Aerolineas Argentinas 2010 scheme. Includes complete Project Airbus model.
Posted May 8, 2012 22:08 by LUIS CASTRO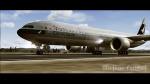 14.15Mb (2301 downloads)
Cathay Pacific Boeing 777-300 ER. Model by Project Opensky. Textures by Shrikar Galgali.
Posted May 8, 2012 08:49 by Chris Evans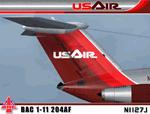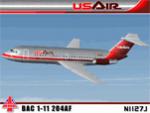 21.52Mb (3641 downloads)
I am very proud to present this very detailed and realistic repaint of the BAC 1-11 204AF model by David Maltby in the classic US Air livery from the early 80's. This was one of the original jets flown by US Air. It flew side by side in their fleet with the B727, DC9 and 737-200. This repaint is the result of a major overhaul of the paintkit for this aircraft, and is very detailed and realistic. The many new details and hand repainted items include; custom metal fuselage, custom windows, custom tail textures, hand painted wheels, and also much needed night lighting and night textures. The US Air logo is also hand painted. All repainted textures in this package are 32-bit with no mipmaps. This repaint is dedicated to Lorne Jordan, a Canadian simmer who inspired this project and who helped Q/A this repaint so we didn't miss a detail. Thanks to the permission granted by the gracious and talented David Maltby (creator of this aircraft model), this is a full installation package, complete with 2D panel, virtual cockpit and BAC 1-11 sounds. Please select Zip file preview to view detailed screenshots included with this package. Also see README.TXT for installation instructions. Repaint by Jeffrey S. Bryner and Lorne Jordan. Model, panel and sounds by David Maltby.
Posted May 5, 2012 10:16 by Jeffrey S. Bryner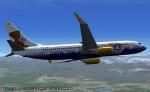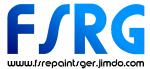 9.07Mb (1060 downloads)
FS2004 TUIfly Boeing 737-800WL in Bärenmarke / ÜBÄRflieger livery, registration D-AHFR. Highly detailed 32 bit textures. New photorealistic window textures and night textures. Model by Project Open Sky (Posky) is included. By FSRepaintsGER / Benjamin Spranger.
Posted May 1, 2012 11:55 by FSRepaintsGER / Benjamin Spranger