10.29Mb (4486 downloads)
Boeing 777-300/ER Singapore Airlines. Model by Project Opensky. Textures By Rasa Moget. Reg : 9V-SYC
Posted Nov 9, 2010 13:44 by Rasa Moget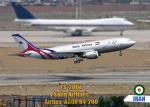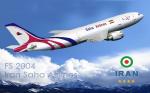 21.98Mb (3104 downloads)
FSX/Fs2004 Airbus A300B4-200 New colors for Saha Airlines. Uses default FSX A321 panel and sounds. Texture Saha By Arman Riazat.
Posted Nov 5, 2010 20:10 by Arman Riazat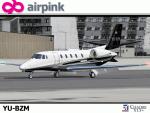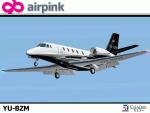 5.43Mb (4016 downloads)
I am proud to present this detailed repaint of the Aryus Works freeware model of the Cessna Citation Excel XLS+, registration YU-BZM, in Air Pink's elegant black, gray and white livery. Air Pink is a private business jet charter airline based in in Belgrade, Serbia. It was established in 2004 as part of Pink International Company. It is based at Belgrade Nikola Tesla International Airport. Its fleet consists of this single Citation XLS+, 2 Cessna Citation II's, 2 Cessna Citation 550 Bravos and 1 Cessna Citation CJ2. Air Pink flies to destinations in Europe, the Middle East and North Africa. There are a lot of curves on this aircraft and I paid attention to painting their detail and creating as realistic a repaint as possible on this work. The textures in this repaint are 32-bit. I hope you enjoy flying this as much as I enjoyed painting it. Repaint by Jeffrey S. Bryner, Cessna Citation Excel XLS+ Model by Aryus Works. This is a full install package. Uses default Lear45 panel and sounds. Please see Install.txt for installation details.
Posted Oct 30, 2010 10:12 by Jeffrey S. Bryner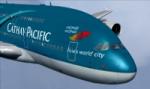 9.67Mb (8950 downloads)
A repaint of Project Airbus's wonderful Airbus A380. Model included in download.
Posted Oct 22, 2010 10:42 by Christian Silvers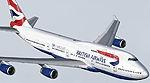 13.13Mb (6338 downloads)
Boeing 747-400 British Airways. Model by Project Opensky.
Posted Oct 10, 2010 04:11 by Ryan C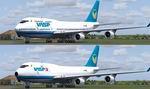 3.24Mb (1878 downloads)
VASP, TAM and Vaspex textures for the default Boeings 777-200 and 747-400.
Posted Oct 9, 2010 10:32 by Michel O Florindo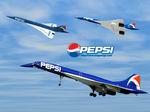 5.72Mb (5925 downloads)
Concorde Pepsi Textures. Textures only for the FS2004/FSX Concorde by Libardo Guzman.
Posted Oct 8, 2010 07:09 by unknown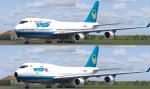 1.96Mb (683 downloads)
Vasp and Vaspex B747-400 textures only for the default Boeing 747-400. By Michel O.Florindo.
Posted Oct 5, 2010 11:22 by Michel O. Florindo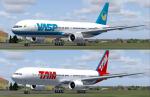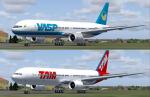 1.28Mb (1669 downloads)
VASP and TAM Boeing 777-300 textures only for the default Boeing 7777-300. By Michel O.Florindo.
Posted Oct 5, 2010 11:18 by Michel O.Florindo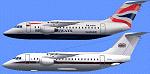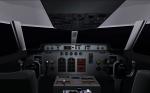 8.39Mb (9670 downloads)
The BAe 146 is a medium sized commercial aircraft, powered by four turbofan jet engines, which was manufactured in the United Kingdom by British Aerospace. Production ran from 1983 until 2002. In August 2008, a total of 140 BAE 146 aircraft (all variants) remained in airline service worldwide. The 146 has very quiet operation, it sees wide usage at small city-based airports. In its primary role it serves as a regional jet, short-haul airliner or regional airliner. Full package for FS2004 with custom panels and VC, full moving parts and air stairs. Realistic and pleasant flight dynamics. The package includes British Airways livery and the RAF CC2 variant with VIP interior. More liveries and paint kit available on the PAD web site. By Jean-Pierre Brisard and Bob May - Premier Aircraft Design.
Posted Oct 5, 2010 09:44 by bob.may@premaircraft.com