0.79Mb (512 downloads)
The default Boeing done up in my interpretation of the colors of American Pacific, one of the airlines from the sim. Repaint by Don Brynelsen
Posted Apr 1, 2009 12:45 by Don Brynelsen

0.67Mb (1225 downloads)
American Pacific, one of the airlines from the sim, gets some more aircraft options with this interpretation of a McDonnell Douglas MD-83 done up in their colors. Repaint by Don Brynelsen using the paintkit by Lesis lang
Posted Apr 1, 2009 12:42 by Don Brynelsen

0.85Mb (1092 downloads)
American Pacific Textures for the default 747. One of the airlines you can fly in the sim, has only the 737 as your option, until now. This is the Manchuria Clipper, one of their aisian route aircraft which I created for a recreation of the 1905 Diplomatic tour of the Orient taken by William Howard Taft, President Theodore Roosevelt's daughter Alice, and a host of senetors and their wives. Repaint by Don Brynelsen
Posted Apr 1, 2009 12:38 by Don Brynelsen

0.72Mb (1420 downloads)
Textures for the default MD-83.United may never have flown these birds in real life but I thought their rainbow scheme would look good on one so here it is. Repaint by Don Brynelsen using Lewis lang's paintkit.
Posted Apr 1, 2009 12:33 by Don Brynelsen

0.84Mb (1029 downloads)
FS2004/2002 United 747_400 Textures for the default 747. I've always liked the rainbow paint scheme the United Airlines Jumbos had so I knew I had to do one for flight sim. Repaint by Don Brynelsen using the Simviation paintkit
Posted Apr 1, 2009 12:31 by Don Brynelsen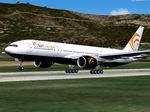 6.43Mb (3668 downloads)
Boeing 777-200ER Air Europe. Model by Project Opensky. Texture repaint made by Igor Papic
Posted Mar 31, 2009 11:28 by Igor Papic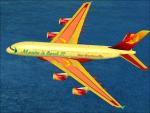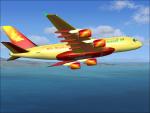 2.00Mb (5686 downloads)
FS2004 A380-800 Butterfly. I have spent great amount of time to provide you with the most acurate paint along with realistic shadow, shine and reflective effects, Featuring 32bit Highly Detailed graphics with night light effects,The model includes all the usual things as a steering nosewheel, taxi and landing lights, dynamics shine and all moving parts, including a fully animated landing gear animation. Some special things include three opening doors, with visible interior. Flexing wings, wing views and trim animation for the horizontal stabilisers. Included are default panel and sound. Original model by Robert Versluys. Thank's to Robert Versluys for his great work ! Paint by MONTABORD Miguel. "Air-Butterfly" is a virtual airline company.
Posted Mar 30, 2009 01:14 by MONTABORD Miguel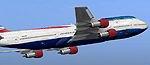 12.38Mb (3196 downloads)
Boeing 747-100 SR_SUD Orient Thai. Model by Project Opensky.
Posted Mar 28, 2009 05:01 by Ryan C
0.95Mb (846 downloads)
This is another repaint for the FS9 Default 737. The repaint is fictional, but there is 737-200s in Canadian Airlines. Unfortunately, Canadian Airlines was merged into Air Canada in 2001. A repaint was portrayed if there was a 737-400 in Canadian Airlines. Splash screen included. B737-400 Paint Kit by Rob Smith. By Victor Vu.
Posted Mar 27, 2009 13:46 by Victor Vu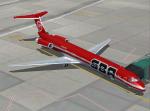 1.36Mb (1303 downloads)
Santa Barbara Airlines McDonnell-Douglas MD-82, registration YV153T, a new aircraft in the fleet for international flights. Textures only for SGA's latest Douglas MD-80 series release, (sga80.zip), by Erick Cantu & Frank Idone package. Fully reworked textures, tail and wings. By Juan Ernesto Oropeza.
Posted Mar 27, 2009 02:36 by Juan Ernesto Oropeza