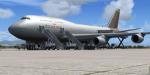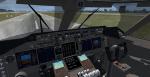 40.20Mb (6283 downloads)
Boeing 747-481 Atlas Air Passenger Package. Atlas Air passenger was selected in 2009 to operate an outsourced premium passenger private charter service for the U.S.-Africa Energy Association (USAEA). The Agreement to operate the charter was reached with SonAir, acting as agent for the USAEA. This new service replaced World Airways in May 2010, and Atlas operates the charter service with two newly customized Boeing 747-400 aircraft provided by SonAir's parent company. The aircraft are laid out to serve 189 passengers and consists of a 3 class configuration. Assembled and edited for FSX with the developed B747 VC from Alejandro Rojas Lucenda. This is the Project Opensky native FSX Boeing 747-400 model, including ground servicing, stairs (FSX - Go to Views - Instrument Panel -Posky Utility), jetway (Ctrl J). Included CF engine sounds from BrandonG, with realistic jet whine to make your flight sound great. Vastly improved Boeing 747 VC from Alejandro Rojas Lucena/FSND (See panel docs for details). VC includes FMC, EICAS, MFD with control panel, GPWS, working wipers, cabin lights, fire suppression, avionics switch, fuel crossfeed, landing lights switches, taxi light switch, engine generators, APU generator, battery switch, starter switches, de-ice switch, general lights switches. Thank you to Skyspirit/Project Opensky for their outstanding donations to the worldwide community of flight simulation. Professional textures by Mathieu Vos (APSS). Also includes the VC textures upgrade. This give a much clearer 747 interior virtual cockpit look. Assembled and edited for FSX by Chris Evans.
Posted Apr 23, 2013 05:21 by Chris Evans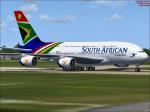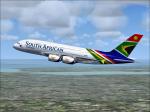 54.83Mb (8791 downloads)
Airbus A380 841 South African Package. Project Airbus A380 841 with VC painted in South African colors. Package contains 2 liveries - passenger and cargo. Textures by Peter Franeker.
Posted Apr 22, 2013 13:17 by Peter Franeker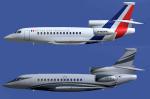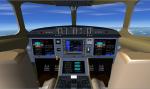 10.32Mb (9713 downloads)
The Falcon 7X tri-jet is the flagship of Dassault's business jet fleet, it can carry up to 12 passengers in great luxury at speeds of up to Mach 0.81 and has a true intercontinental range. Dassault currently has orders for 200 at $50 million each and there is a four year waiting list. This is a full package for FSX/SP2. This model is a re-issue of our 2009 model with revised and improved flight dynamics to enable the aircraft's full range and performance, 6,000 miles at 50,000 ft at Mach 0.80. Pleasant, well balanced hand flying. Custom panel and VC with documentation. Custom trijet sounds by Aaron Swindle. Fully modelled passenger cabin with 8 seat luxury interior. Fully documented with check lists, reference chart and flying tips. Two liveries included. By Jean-Pierre Brisard and Bob May - Premier Aircraft Design
Posted Apr 21, 2013 09:42 by Bob May (PAD)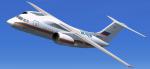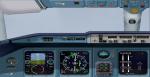 28.90Mb (4175 downloads)
I updated Dimitri Samborski's FS2004 Antonov An-148 by adding the Lotarev D-36 Soundset by Mike Maarse, updating the 2D panel with simicons, Lear 45 XML radio and the XML B737-400 ECU. I also reworked the CFG to include the auto-brake and auto-spoilers. Includes textures for Cubana, Ukraine International, and my repaint for Emercom of Russia (RA-61715), they recieved this as their first An-148 on april 10 2013 and commissioned it on April 17 2013. No VC panel.
Posted Apr 19, 2013 21:57 by Michael E. Roberts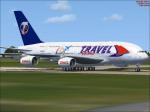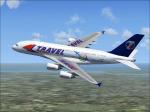 52.01Mb (3524 downloads)
Airbus A380 841 Travel Service Package. Project Airbus A380 841 with Thomas Ruth A340 virtual cockpit painted in Travel Service collors. Textures by Peter Franeker.
Posted Apr 19, 2013 03:55 by Peter Franeker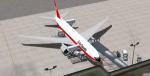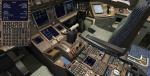 44.15Mb (3730 downloads)
Retro (Circa late 1970s) repaint of the SkySpirit 2012 777-200LR, Registration C-FUIF.Model features are Opening doors & Cargo doors, detailed textures, accurate paint, dynamic shine & effects, dynamic flexing wings that respond to turbulence, fully independent suspension, trim animation, gear steering, accurate flight dynamics, spoiler animation, reflective cockpit windows, crash effects, animated tilting bogies, full night lighting, ground service vehicles when cargo door open, (FSX - Go to Views - Instrument Panel -Posky Utility), detailed virtual cockpit and more. Added jetway (Ctrl J) and custom B777 sounds. Model, VC model by Project Opensky. VC updated by Ivan Tan. Credits to Mathieu Vos (APSS) for his continued great textures. Jetways enabled (Ctrl J). Mods for FSX by Chris Evans. See FMC docs. FMC needs to be set in Flight Planning in FSX. (you cannot enter into the FMC direct). Textures by Taylor Giannelia
Posted Apr 18, 2013 03:28 by Taylor Giannelia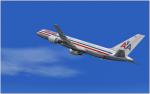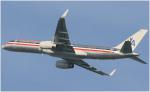 82.10Mb (16353 downloads)
American Airlines Boeing 757-200w. Includes 3 American airlines 757-200s. 1: one with winglets and a pw emgine, 2: one with no winglets and RR engines, 3: one with winglets and RR engines. 737-800 cockpit. Uses default 737 2d panel. No vc. Model by Project Opensky
Posted Apr 17, 2013 14:06 by unknown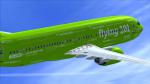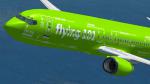 10.10Mb (1755 downloads)
Low cost South African airline KULULA is no stranger to off-the-wall liveries and this one is no exception (other than it is probably the funniest one around). They got their wrists slapped for attempting to gain publicity from the 2010 FIFA world cup by claiming to be "The Unofficial National Carrier to the You Know What". This is a High Definition repaint for the default FSX 737-800 and is textures only. To view in Hi Def follow the instructions in the download, it's easy!
Posted Apr 17, 2013 00:28 by Paul Davies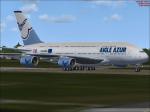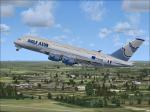 48.87Mb (2034 downloads)
Airbus A380 841 Aigle Azur Package. Project Airbus A380 841 with Thomas Ruth A340 virtual cockpit painted in Aigle Azur. Textures by Peter Franeker.
Posted Apr 16, 2013 09:38 by Peter Franeker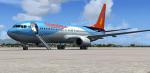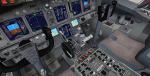 105.73Mb (3428 downloads)
FSX Sunwing Airlines C-FTZD Boeing 737-800w. Package for FSX Model by Project Opensky/Skyspirit. with advanced VC. Professional textures by Mathieu Vos. For Microsoft Flight Simulator X upgraded to FSX using Alejandro Rojas Lucena/FSND revised Boeing 737-800 VC model. This model includes Working wipers (right mouse click on switch) with rain effect. Switches for LCD Screens, EICAS, PFD, MFT. Autobrake switch. Opening pilots window. Cabin Lights switch. Realistic FMC. Ground Proximity Warning System (GPWS), More Realistic night textures. Includes stairs (shift e 2). Also added jetway (Ctrl J) and there are custom Boeing 737-800 sounds included for that extra realism. Thank you to Mathieu Vos for his great repaints. Skyspirit/Project Opensky wonderful native FSX Boeing 737-800 model included. . Modified and assembled for FSX by Chris Evans.
Posted Apr 16, 2013 05:55 by Chris Evans