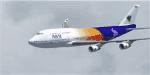 1.29Mb (585 downloads)
Texures for the default FSX B747_400 in Myanmar Airways International Colours (the most beautiful ever). With new Myanmar (Burma) flag, that is used in the country since October 2010.
Posted Aug 21, 2012 16:07 by HOUSE-RP, Robby Pauletto
3.19Mb (623 downloads)
Textures for the default FSX B737_800 in older Myanmar Airways International Colors (the most beautiful ever). With new Myanmar (Burma) flag, that is used in the country since October 2010.
Posted Aug 21, 2012 16:04 by HOUSE-RP, Robby Pauletto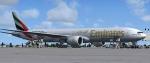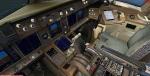 55.69Mb (20052 downloads)
FSX Emirates B777-31H 1000th with VC FSX native model Emirates B777-31H 1000th. Textures include realistic shadow, shine and reflective effects. Featuring 32bit Highly Detailed graphics with night light effects. The model includes all the usual things as a steering nosewheel, taxi and landing lights, dynamics shine and all moving parts, including a fully animated landing gear animation. Some special things include three opening doors, with visible interior. Ground service when cargo doors open (Shift E 2) Added jetway edits (Ctrl J). VC and FSX native model. Flexing wings, wing views and trim animation for the horizontal stabilisers. Model, dynamics by: Project Opensky, Repaint By: A.Polash. Updated for FSX by Chris Evans.
Posted Aug 20, 2012 06:34 by chris evans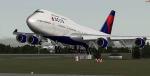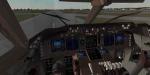 30.04Mb (10231 downloads)
Boeing 747-451 Delta Airlines 2007 Colors BH N665US with Enhanced VC Skyspirit FSX native Boeing 747-400 passenger model upgraded using the vastly improved Boeing 747 VC from Alejandro Rojas Lucena/FSND (See panel docs for details). VC includes FMC, EICAS, MFD with control panel, GPWS, working wipers, cabin lights, fire suppression, avionics switch, fuel crossfeed, landing lights switches, taxi light switch, engine generators, APU generator, battery switch, starter switches, de-ice switch, general lights switches. Beautiful Skyspirit 747-800 Freighter model with complex features and ground service vehicles (press shift e 2, shift e 3, etc. ). Textures by Project Opensky member. Also includes Boeing 747 upgraded VC textures by Jason A. Lee. This gives a much clearer 747 interior look. Assembled and edited for FSX by Chris Evans. Zip preview for larger pictures. See panel docs and images for VC details and controls!
Posted Aug 19, 2012 09:25 by chris evans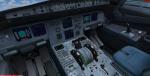 59.22Mb (2241 downloads)
Project Airbus A320 COSMO LY-COM for FSX. Includes default VC with upgraded textures by Jim Fly. You can find this aircraft under 'Project Airbus' in your FSX menu. Repaint by Jim Fly. The aircraft was delivered in July, 10 and its now in service for GermanSky Airlines.
Posted Aug 16, 2012 08:52 by Jim Fly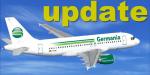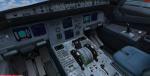 63.33Mb (3302 downloads)
Project Airbus A319 Germania D-AHIL full Package with VC for FSX. Paint by JimFly.
Posted Aug 16, 2012 04:30 by Jim Fly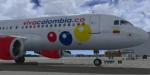 17.50Mb (4624 downloads)
Airbus A320 Viva Colombia with VC. Model by Project Airbus.
Posted Aug 15, 2012 16:53 by jose manuel cuervo

10.47Mb (2730 downloads)
Germania D-AHIL textures only for the Project Airbus A319
Posted Aug 13, 2012 15:00 by Jim Fly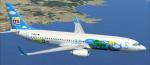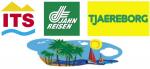 10.52Mb (788 downloads)
Textures for the default Boeing 737-800 FSX. ITS D-AXLD repaint by JimFly.
Posted Aug 13, 2012 07:06 by Jim Fly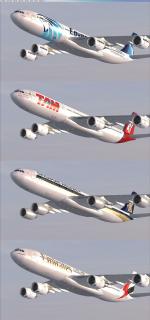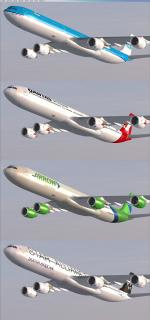 169.93Mb (54319 downloads)
Tom Ruth A340-500 , -600 Airbus A340 mega package V2 (updated version of Tom Ruth A340 multi airline Package I previously uploaded, many paint livery updates done by the artists.) including multiple airlines, with added FMC, altitude callouts, autoland, range tested at 7,400 nm with 12% fuel on board. -500 9 Liveries: Arik, TAM, Etihad, Thai International, Emirates, Singapore, Lufthansa, kingfisher, Egypt Air." -600 27 Liveries: Airbus Houses, EVA, Qatar OC/NC, Turkish, Cathay Pacific, Emirates, Iberia, Lufthansa, Swiss Air, TAP, Thai Internationnal, Virgin "G-VRED", China Eastern, China Eastern Skyteam, South African, South African "Star", KLM, Hainan, Arrow Cargo VA, Blue Skywings, Qantas "Spirit", Singapore, Air India, Etihad, Etihad F1, Egypt Air." See File for credits and Readmes. Features: Garrett Smith "Bendix King/Honeywell General Aviation FMC", Stefan Liebe, Doug Dawson, Jimmy Foongs Altitude Callout gaugeset, "3rett" FMA AutoLand. Original models and VC's by Thomas Ruth.
Posted Aug 12, 2012 23:05 by T.Marson