2.26Mb (3208 downloads)
This is another repaint of the MD-83. This texture package includes two liveries and splash screens each. Note that I tried to make the repaint more realistic, but the tail for the new livery is nearly detailed, and the fuselage for the old livery is close enough. This repaint requires the MD-83 Flyable pack by Braden Peters. Repaints and splash screens by Victor Vu.
Posted Nov 27, 2008 00:39 by Victor Vu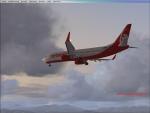 1.11Mb (12213 downloads)
Air Berlin textures for the FSX default Boeing 737-800.
Posted Nov 25, 2008 14:22 by Daniel Graf
9.03Mb (7840 downloads)
This is another repaint for the FSX Default 737. Registration no. B-18616. This aircraft (CAL 120) has caught fire on the right hand engine (Engine #2) shortly after landing at Naha Airport in Okinawa, Japan. However, after the aircraft taxied to the tarmac, all 157 passengers and 8 crewmembers on board were safely evacuated, with 4 injuries, 1 for the ground crew, and 3 from the aircraft. Splash screen included. This has been repainted to celebrate the worst incident in aviation history.
Posted Nov 25, 2008 07:46 by Victor Vu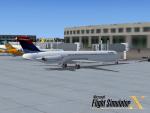 1.23Mb (6237 downloads)
This is another fictional repaint of the FSX AI Default MD-83. I didn't own the textured tail, but the tail was from Fahim Safi, who created the repaint designed for FS2004 only. However, I've made modifications by starting a blank texture from scratch and put his creation onto the blank texture. But at least, I made the Delta Emblem on the fuselage. Splash screen included. Tail repaint by Fahim Safi. Modified for FSX by Victor Vu.
Posted Nov 24, 2008 20:42 by Victor Vu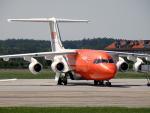 13.36Mb (47590 downloads)
BAe146-300F Version 6.0 Original model by Jon Murchison.nTNT textures by Jon Murchison. Panel has been changed to work on VAFS. Includes TNT Skin and SkyPac.
Posted Nov 22, 2008 13:09 by MattyFirth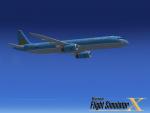 6.41Mb (2581 downloads)
This is another repaint for the A321. This repaint is dedicated to my family because my family is Vietnamese and so am I. The repaint is in a new livery, and the color for the fuselage, the engines and tail, are realistic. The registration number is VN-A348, and I already put the tail number for realism. Uncheck the "Show Tail Number" because I already inserted the tail number. Splash screen has been included. By Victor Vu.
Posted Nov 21, 2008 16:43 by Victor Vu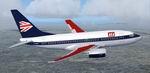 3.00Mb (1311 downloads)
FSX Boeing 737-600 Fictional BEA Textures only. BEA (British European Airways) was the British state owned airline in the 1960's and became British Airways. Requires the Project Opensky Boeing 737-600.
Posted Nov 21, 2008 05:14 by Colin Lowe
25.19Mb (6627 downloads)
Gulfstream 100 USAF. This is Peter Brun/Lider Designs Gulfstream 100 Modified for Flight Simulator X Perhaps one of the most important yet under-recognized aircraft in the United States Air Force inventory is the Gulfstream Jet that ferry key personnel and high-ranking members of the U.S. government. The Gulfstream has proven to be fast and efficient transport for industry and well financed individuals that have both the need and the resources to get where they need to be quickly and in luxury. Textures and Updates by Mark Rooks of RSDG Aircraft
Posted Nov 18, 2008 05:05 by Mark Rooks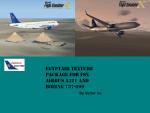 14.19Mb (4259 downloads)
This is the EgyptAir Texture Pack for the FSX Default Airbus A321 and Boeing 737-800. The pack includes a texture in each plane. Splash screen included. The A321 may look slightly different, but the 737-800 may look just fine. By Victor Vu
Posted Nov 15, 2008 08:19 by Victor Vu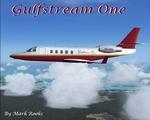 21.15Mb (6427 downloads)
This is Peter Brun/Lider Designs Gulfstream 100 Modified for Flight Simulator X. This business jet the smallest of the Gulfstreams This G1 sports a Red and Gold paint scheme Updates by Mark Rooks of RSDG Aircraft
Posted Nov 15, 2008 06:49 by Mark Rooks