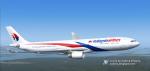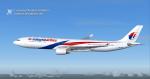 5.49Mb (7068 downloads)
Malaysia Airlines A330-300. Project Opensky Airbus A330 for FS2004 AND FSX compatible. Uses default FSX 2d panel. No VC.
Posted Jun 6, 2011 13:57 by amierilina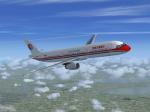 13.37Mb (2622 downloads)
Project Airbus Airbus A321-231 China Eastern B-6668 Complete Package for FSX. Featuring Project Airbus's wonderful aircraft of A321, China Eastern Texture by He Lingyuan,China. This package uses Panel, Sound & Virtual Cockpit of the default A321. An Operation Manual written by Project Airbus Members is also included.
Posted Jun 6, 2011 06:08 by He Lingyuan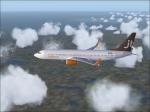 7.83Mb (836 downloads)
Jettime is a Danish Airline. Textures for the default Boeing 737-800
Posted Jun 4, 2011 13:18 by Frederik Jensen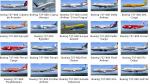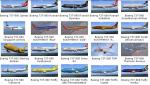 137.45Mb (29085 downloads)
151 Liveries Collection Pack for Default B737-800 by Edoardo Ammannati - EDO1976 * The Best 151 Liveries Collection in 310 MB * 6 Default + 19 Air India + 125 real and defunct airlines liveries from all over the world by various artists. - Fixed Airlines.cfg / Aircraft.cfg so that many existing CALLSIGN work and are spelled correctly in game. - Deleted hundreds of MB of un-useful textures or images left in folders by livery designers. - Added new THUMBNAIL for each plane were missing or not well visible so that the preview is good. - Added real CALLSIGN at the end of each airline description to set it correctly from game menu. - Added for each plane a description of the airline it belong to, taken from Wikipedia. - Added the Smoke System downloaded from www.simviation.com - Added different languages (ENG, ITA, FRA, GER) aircraft.cfg, default is the english version. - Added a little SOUND MOD (Hostess radio security messages) - Added TAXI lights. - The add-on have been tested only on FSX with SP1 and SP2 installed. This is the list of the other 125 liveries includes in the pack : Aeromexico, Aerosvit, Air Astana, Air Berlin, Air Canada, Air China, Air China Olympic, Air Europa, Air France, Air Jamaica, Air New Zealand, Air One, Air Slovakia, AirTran Airways, Air Vanuatu, Alaska , Alaska.com, Alaska Spirit of Seattle, Alaska Starliner 75, Alitalia, All Nippon Airways (ANA), ALOHA, American Airlines, America West, Ansett Australia, Austrian Airlines, British Airways, Brussels Airlines, Bulgaria Air, Caribbean Airlines, Continental Airlines, Copa Airlines, Corendon Airlines, Cubana De Aviacion, Cyprus Airways, Czech Airlines, Delta Airlines, DHL Cargo, EasyJet, EgyptAir, Europe Airpost, FedEx Cargo, Ferrari, Ferrari Cargo, Finnair, First Choice, Flash Airlines, Fly Dubai, Flyglobespan, Frontier Airlines, Garuda Indonesia, GOL, Gulf Air, Hainan Airlines (x2), IRONMAIDEN, Japan Airlines (JAL), JAT Airways (old and new), Jet2 (grey and white), Kenya Airways, Landmark (Coliseum tail), Lion Air (Indonesia), LOT (Polish Airlines), Lufthansa, Luxair, MALEV, Military Woodland Camo, Mongolian Airlines (MIAT), Montenegro Airlines, Myanmar Airlines (MAI) , NASA, NAVY, Norwegian Air, Northwest (NWA), OceanAir (Avianca), Olympic Airlines, Pan-Am, Philippine Airlines, PIA (Pakistan Intenrational Airlines), Prague (Czech Republic), Primera Air JetX (Iceland), PrivatAir, Qantas, Ryanair, Ryanair Guinness, Ryanair Vodafone, Scandinavian Airlines (SAS), Singapore Airlines, South African Airways, Southwest Airlines (Blue, Gold, New Mexico), Sterling (Australia), SunExpress, Swiss Air, TAM (Brasil), TAROM (Romania), Thomson Airways, Transavia, TUIfly (x7), Turkish Airlines, Ukraine International Airlines (UIA), UNITED (old and new), UPS Cargo, US Airways, Varig (old and new), VASP (Brazil) , V Australia, Vietnam Airlines, Virgin (blue and red), WestJet, XL Airways, XL Airways Excel.com, XL Airways Oger Tours and XL Airways Viking. Read full instruction to install all pack or partially. Enjoy.
Posted Jun 3, 2011 20:36 by Edoardo Ammannati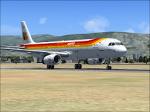 3.27Mb (6008 downloads)
Iberia textures form the Default FSX A321
Posted Jun 1, 2011 17:26 by Gabriel marin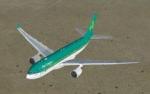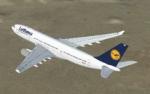 0.32Mb (2362 downloads)
Reworked and additional views ( defined by camera definitions in the aircraft.cfg file ) for the following models by Thomas Ruth : Airbus A330-200, Airbus A330-200F, A330-MRTT and Airbus A330-300. 13 outside views of the aircraft and 5 VC views. See Read me.txt file for very easy installation procedures. Also included is a text file that contains the new camera definitions ( 1 set for all models ). Enjoy !
Posted May 31, 2011 11:13 by Marc Renaud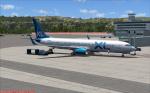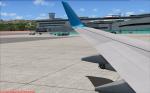 4.05Mb (2673 downloads)
This is an fix for the previous released B737-900ER XL Airways. Fixes the aircraft sinking into the ground and baggage carts and jetway are now working. I have also added a couple of views.
Posted May 30, 2011 20:43 by SkyRyder642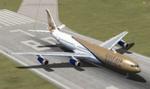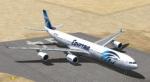 0.41Mb (4556 downloads)
Reworked and additional views ( defined by camera definitions in the aircraft.cfg file ) for the following models by Thomas Ruth : Airbus A340-200, A340-300, A340-500, A340-600. 13 outside views of the aircraft and 5 VC views. See Read me.txt file for very easy installation procedures. Also included are two text files that contains the new camera definitions. Enjoy !
Posted May 30, 2011 00:09 by Marc Renaud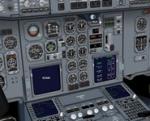 0.39Mb (4301 downloads)
The 3D cockpit mode shows that one of the ECAMS is turned off. This is easily fixed by a simple modification in the panel.cfg files of the 2 models. Instructions in the PDF file.
Posted May 28, 2011 18:48 by Marc Renaud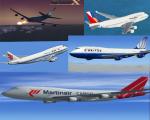 86.62Mb (13679 downloads)
Includes 20 Boeing 737-800 textures and 5 Boeing 747-400 textures. Boeing 737: Swiss airlines, Air Philippines, Air Berlin, Air China, Air France, British Airways, American Airlines, Ryanair, Southwest Airlines(Gold and Blue liveries), Tuifly(Haribo livery), DHL Cargo, Continental, KLM, Singapore Airlines, QANTAS (Indigenous plane), QANTAS, FedEx, Virgin Blue, Lufthansa. Boeing 747: Martinair Cargo Korean Air Air China United Airlines Air Philippines Credits to various repainters.
Posted May 27, 2011 20:00 by Nathan