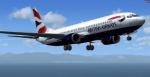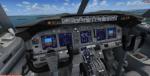 54.46Mb (9211 downloads)
FSX British Airways B737-800 Flying Start. This Boeing 737-800 British Airways repaint features the most realistic shadow, shine and reflective effects. Modified for FSX using the default 737-800 VC and panel. Features custom 737-800 sounds. Aircraft.cfg edited to work in FSX. Featuring 32bit Highly Detailed graphics with night light effects, the model includes all the usual things as a steering nose wheel, taxi and landing lights, dynamics shine and all moving parts, including a fully animated landing gear animation. Some special things include three opening doors, with visible interior. Flexing wings, wing views and trim animation for the horizontal stabilizers. Model, dynamics by: Project Opensky, Repaint By: Aziz Palas. Modified for FSX by Chris Evans.
Posted Aug 7, 2011 07:38 by Chris Evans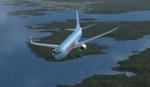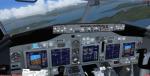 13.34Mb (6450 downloads)
Boeing 737-800 Thomson Airways package with VC. Model by Project Opensky. Thomson textures by Svante Fagerstrom. Thomson Airways is a large UK based charter airline, offering scheduled and charter flights from the UK to destinations across Europe, Africa, Asia and North America. The company commenced operations on 1 November 2008, following the merger and subsequent re-branding of Thomsonfly and First Choice Airways. Configured for FSX with VC, by Chris Evans.
Posted Aug 6, 2011 15:07 by Chris Evans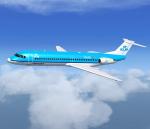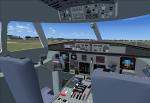 9.41Mb (21268 downloads)
The Fokker 100 is a 107 seat, twin jet, regional airliner which first went into airline operation in 1988 and is still in service all over the world. The Fokker 100 is a good design, popular with passengers and airlines, but was not a great commercial success for Fokker due to high production costs and increasing competition in the regional airliner market from the likes of Bombardier and Embraer. Production ceased in 1997 after 283 had been delivered. Full package for FSX/SP2, with custom panel and VC with FMC. 3D passenger cabin, animated airstair and cargo doors, airbrakes and reverse thrust. Kneeboard check and ref lists included. Four liveries. Realistic performance and pleasant hand flying qualities. By Jean-Pierre Brisard and Bob May - Premier Aircraft Design. More liveries and paint kit available on the PAD web site.
Posted Aug 5, 2011 07:23 by Bob May (PAD)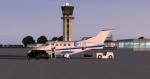 5.07Mb (4840 downloads)
FSX N784JP, Embraer Phenom 100 Biz Jet by CamSim, including exterior Animated Ground Servicing (AGS) and special interior animations and configuration: 4 passengers in seating position and 1 passenger who will stand up and walk back and forth in the cabin and return to is "seating position", plus pilot and co-pilot moving arms. For these animations press (Shift+E+2). 2d panel but no VC. Model design and paint: Camil Valiquette
Posted Aug 3, 2011 11:36 by Camil Valiquette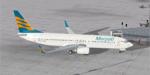 3.16Mb (2184 downloads)
Boeing 737-800 Merpati Nusantara Airlines textures for the default FSX 737. Merpati Nusantara Airlines is an airline based in Central Jakarta, Jakarta, Indonesia. It is a major domestic airline operating scheduled services to more than 25 destinations in Indonesia, as well as scheduled international services to East Timor and Malaysia. Its main base is Soekarno-Hatta International Airport, Jakarta
Posted Aug 2, 2011 03:03 by muhamad didi muchtar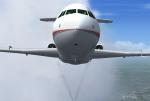 0.06Mb (692 downloads)
FSX BAC 1-11-200 with hush kits engine smoke coordinates for the freeware FS2004 BAC 1-11-200 with hush kits by David Maltby, which you must have previously installed in FSX, and which is available at (www.dmflightsim.co.uk) Easy installation. By Tom Tiedman
Posted Aug 1, 2011 03:02 by Tom Tiedman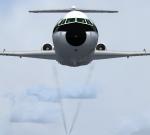 0.04Mb (544 downloads)
FSX BAC 1-11-200 engine smoke coordinates for the freeware FS2004 BAC 1-11-200 by David Maltby, which you must have previously installed in FSX, and which is available at (www.dmflightsim.co.uk) Easy installation. By Tom Tiedman
Posted Aug 1, 2011 03:00 by Tom Tiedman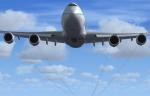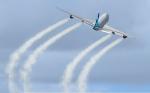 0.49Mb (1836 downloads)
FSX Boeing 747-8F freighter gray engine smoke effect (or white airshow engine smoke effect so you can wow them at Oshkosh) for the freeware Project Opensky 747-8F when used in FSX. Requires previous installation in FSX of a Posky 747-8F, such as the N5017Q model in rollout colors shown in these screenshots (newposky748fwvc.zip). Easy installation. By Tom Tiedman
Posted Jul 31, 2011 23:22 by Tom Tiedman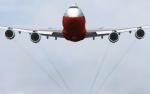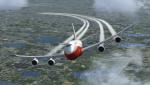 0.24Mb (2317 downloads)
FSX Boeing 747-8i passenger model gray engine smoke effect (or white airshow engine smoke effect so you can wow them at Oshkosh) for the freeware SkySpirit2011 747-8i when used in FSX. Requires previous installation in FSX of a SkySpirit2011 747-8i, such as the N6067E model in rollout colors shown in these screenshots (ssp748v4_genx_n6067e.zip). Easy installation. By Tom Tiedman
Posted Jul 31, 2011 22:26 by Tom Tiedman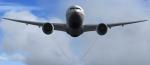 0.05Mb (1679 downloads)
FSX Boeing 777-200ER engine smoke coordinates for the Project Opensky Boeing 777-200ER when used in FSX. Easy installation. By Tom Tiedman
Posted Jul 30, 2011 22:12 by Tom Tiedman