1.21Mb (33 downloads)
These are fantasy objects for Meigs Field in Chicago. There is a T-Rex at the end of the runway (his name is Ogelthorpe), a pier with covered parking for boats or float planes and two large hangers for crazy bi-plane pilots to barnstorm thru upside down. You can repaint the pier sign with your own name. No "it's mine" claims or rules, do what you want with it
Posted Sep 28, 2017 11:06 by Wm. R. Pulick
1.19Mb (34 downloads)
Miss the MS blimp that flew over Chicago in FS2002? If so, replace it in FS2004 with your own personal blimp bearing your name and/or picture. Just place the files in Addon scenery directory and edit the BMP textures replacing my name with yours. No "it's mine" claims or rules, do what you want with it.
Posted Sep 28, 2017 11:01 by Wm. R. Pulick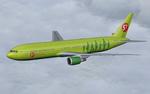 17.00Mb (118 downloads)
Boeing 767-300 S7 Airlines. Model features High resolution textures, Dynamic flexing wings, Body gear steering, Nose gear steering, Rudder lock, Ground spoilers, Low speed aileron locks at high speed, Fully animated control surfaces, Fully independent suspension, Trim Animation, Opening Passenger Doors, Animated tilting bogies, Rolling wheels, Animated thrust reverser's with reverser block doors, Detailed textures, Full night lighting, Crash affects, Ground Service Vehicles And more. Model Designer Hiroshi Igami/Yosuke Ube. Flight Dynamics Designer Warren C. Daniel. Textures by Philip Foglar. Livery by Philip Foglar.
Posted Sep 28, 2017 05:54 by chrisE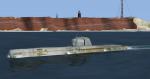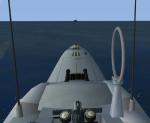 19.11Mb (420 downloads)
FSX/Acceleration/FS2004 (probably also P3Dv3) German U-Boat Type XXI. It was a class of German diesel-electric submarines from 1943-45 with a length of 76.7 m. It was the most sophisticated submarine that time with a great hydrodynamical design for conning tower, hull and guns which allowed up to 17 knots submerged speed, improved batteries and powerfull 3.700 kw electro motors allowed a range of 15500 nmi. The technic included snorkel, sonar- and radar detectors and a radar transmitter plus an electric torpedo-reloading system. The boat entered the war too late to succeed in any battle but the design directly influenced advanced post-war submarines of nations like USA, UK, France and Soviet Union. The only surviving boat is Wilhelm Bauer (ex. U-2540) which is now a museum ship in Bremerhaven/Germany. The FS-model has many animations including sub merging. 2D periscope panel graphics combined with camera views allows 360° look around and zoom functions plus watching the submerging from the eyepoint of the commander. From the attack periscope a torpedo, with a delayed explosion effect, can be launched. Optional ten more original submarine sounds can be activated by R.L. Clark's sound switches like: Rough sea, hatch, merging, diving, submerging, sonar-pings, torpedo launch and attackes by depth charges; even movie soundtrack is possible. Some extra sounds are included but due to the copyrights some specials sounds are not included but they can all easyly downloaded at boataces.com. FSDS 3.5 model with 2D panel view and a simple virtual central by Erwin Welker.
Posted Sep 24, 2017 05:50 by Erwin Welker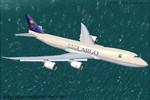 21.13Mb (151 downloads)
FS2004 Boeing 747-8F Saudi Arabian Cargo, registration HZ-AI3. Model by Skyspirit. Repaint By Carlos Eduardo Salas
Posted Sep 18, 2017 08:17 by chrisE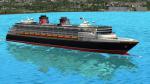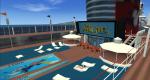 20.39Mb (368 downloads)
FSX/Acceleration/FS2004 Cruise ship package Disney Magic. She was the first cruiseship of the Disney Cruise Line. She sails under the flag of Bahamas since 1998. She has a length of 294 m, a power of 57600 kw allows 24 knots of speed and the ship carries 945 men of crew and up to 3600 passengers, mostly families with children. The colors of the boat and the two chimneys honors the classical style of the trans Atlantic liners like "Queen Elisabeth" or "United States". The package contains a pilotable version with 2D navigation bridge and a ai-versions. UPDATED to include FS2004 specific files. FSDS 3.5 models and 2D panel by Erwin Welker
Posted Sep 17, 2017 05:16 by Erwin Welker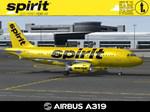 8.44Mb (309 downloads)
FS2004 Project Airbus A319-132 Spirit Airlines 'BARE FARE', registration N534NK. Spirit Airlines, a discount carrier in the US based in Atlantic City, New Jersey (KACY), started a marketing campaign in July of 2014 called the "Bare Fare" campaign. By some measures it was cheeky with obvious sexual overtones, including $69 fares and celebs that stripped to their underwear in their provocative online ad videos. It even drew the eire of the American Family Association (AFA) from a member group called "One Million Moms." All that aside, the campaign includes several A319s and most recently an A320 painted to promote the campaign. This is one of those A319s, reg N534NK, painted taxi cab yellow and adorned with the campaign logos. The repainted textures in this package are 32-bit with no mipmaps for best clarity and quality. Full Installation package, Project Airbus A319-132 V2.1 model and air files included (FS2004 only). Repaint by Jeffrey S. Bryner, Model by Project Airbus. Uses default 737-400 panel and sounds.
Posted Sep 16, 2017 01:58 by chrisE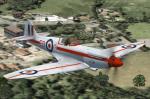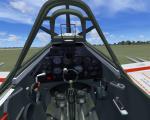 18.89Mb (522 downloads)
Fs2004/FSX/FSX St Ed Spitfire F 21 With the Mk 21 the elliptical wing gave way to a new one with blunted tips and changes to the flaps and ailerons. The wing was made even stronger and carried four 20mm cannon. The fuselage was redesigned and the whole airframe was heavier than previous Spitfires, meaning the undercarriage had to be made more robust. The wheels were now fully covered by undercarriage doors in flight . This is the contaraprop variant from No 41 Squadron R.A.F., flown in the Blackpool races 1947. GMAX model by A.F.Scrub
Posted Sep 11, 2017 09:15 by A.F.Scrub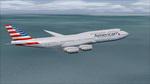 31.63Mb (297 downloads)
Boeing 747-81 American Airlines. Full model. A fictional livery for the skyspirit Boeing 747-8i. American have not ordered the new Boeing 747-8i (yet). Model by Skyspirit/Project Opensky. Textures by Luis Castro.
Posted Sep 11, 2017 07:59 by chrisE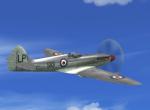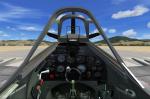 18.56Mb (404 downloads)
Fs2004/FSX/FSX St Ed Seafire Mk 45. With the Mk 21 the elliptical wing gave way to a new one with blunted tips and changes to the flaps and ailerons. The wing was made even stronger and carried four 20mm cannon. The fuselage was redesigned and the whole airframe was heavier than previous Spitfires, meaning the undercarriage had to be made more robust. The wheels were now fully covered by undercarriage doors in flight . The Mk 45 was the naval variant with tailhook but fixed wings. This is Seafire Mk.45 LA 486, 583/LP, of No 771 NAS, 51st Miscellaneous Air Group, RNAS Lee-on-Solent, summer 1950 GMAX model by A.F.Scrub
Posted Sep 11, 2017 07:56 by A.F.Scrub