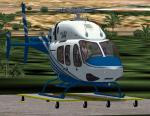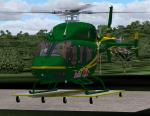 184.70Mb (1095 downloads)
Bell 429 Civilian Pack. This is the first extension pack for the Bell 429 and it requires the installation of the Bell 429 Base Pack in order to work correctly. Included are 9 new model variants and 13 repaints: / Author: Sergio Kauffman.
Posted Sep 14, 2016 13:58 by Sergio Kauffman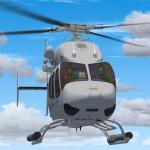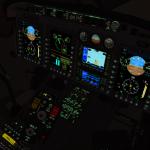 151.33Mb (5803 downloads)
A large number of different models based on the real rotorcraft and with at least one different livery per model (32 in total) / A great variety of animations: All doors (including the clamshell in the rear of the ship). Main rotor, which is fully articulated. Show/hide flight controls feature by a single mouse click. Show/hide passengers feature by a single mouse click. Show/hide pilots feature. Depending if the helicopter is on the ground, with both engines off and the battery switch off, some other objects will show or hide. And much more, find it out yourself! / Clickable Virtual Cockpit; the most important switches and knobs do its job! Engine starter, fuel valves, etc., you name it! / Integration between 2d panel gauges and virtual cockpit gauges, switches and clickspots. Caution and warning messages, depending on helicopterís conditions and limits. / Instrument backlighting effects at sunset, night and dawn! / Your flight experience will be enhanced by a sophisticated sound system which resembles the Pratt&Whiney PW207D1 Turboshaft Engines. You will be able to enjoy the start up and shuting down sequences for both engines from interior and exterior perspectives; audible transitions between idling, on ground at 100% rpm and also in flight conditions. I have included -as a bonus- a set of two audio files meant to be used beside the BladeSlapSND (Helicopter Blade Slap Sound Gauge) by Stephan Siebertz. / Author: Sergio Kauffman.
Posted Sep 14, 2016 10:08 by Sergio Kauffman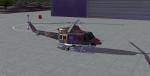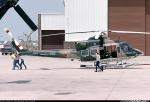 17.15Mb (1218 downloads)
Bell-412EP Venezuelan Air Force Hovercontrol Bell 412 Personal Edition version 1.0 By Jordan Moore. Textures by Brian Josep. Complete aircraft.
Posted Jul 20, 2016 03:08 by Brian Josep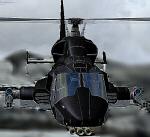 9.83Mb (5622 downloads)
Freeware with 2d panel (VC is available for payment) and external model; AFS-design brings a excellent rendition of the famous supersonic helicopter AIRWOLF from the same 80 years cult series AIRWOLF, and 2 models of possible opponents ( Concept Aircrafts ) of AIRWOLF, out for the Flight Simulator FSX and FS2004. The original series AIRWOLF is an American television series that ran from 1984 to 1987. It was about the sophisticated spy high-tech military helicopter, code named AIRWOLF, and took their team, which various missions. It was a lot of espionage and the theme of the Cold War. The series was produced by Donald P. Bellisario. There were 79 episodes, each with 45 minutes in length, in 4 Stafeln. In the first three seasons Jan-Michael Vincent played as Stringfellow Hawke for the pilot of AIRWOLF, Ernest Borgnine as Mr. Dominic Santini, owner of Santini Air Services and Systems Officer of the AIRWOLF, Alex Cord as Michael Coldsmith Briggs III ( CIA Code Name: Archangel ) CIA agent and in the second and third season, Jean Bruce Scott as Caitlin O'Shannessy, co-pilot of AIRWOLF with. The last season was recast with new actors. Panel, GAUGES, model, sound and textures by www.afs-design.de - Author: A.Meyer.
Posted Jul 17, 2015 04:27 by Andreas Meyer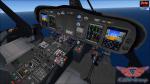 76.51Mb (4697 downloads)
WORKS ONLY IN FS2004 OR FSX BASIC - PROBLEM IN VC IF SP1 OR SP1 INSTALLED AND WILL NOT WORK OK IN FSX ACCELERATION - AW139 Carabineros de Chile FSX-FS9 - NEW! helicopter AgustaWestland AW139 Carabineros de Chile for FSX (without SP1 or 2 or Acceleration) / FS9 Model by icaro , textures by juan30005
Posted May 14, 2015 10:11 by juan30005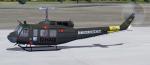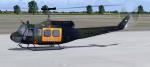 22.98Mb (4766 downloads)
FS2004 Bell UH-1H Huey. This is a complete aircraft. Package contents the liveries of German Bundesgrenzschutz and SAR. Original model by Mathias Bien and Michael Vader. Repaints by Ingo Schwan.
Posted Dec 12, 2014 02:44 by Ingo Schwan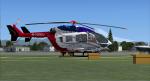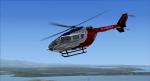 24.57Mb (613 downloads)
Textures only for your H&s Designs EC145. Textures reflect the EC145 used by Stanford Life Flight in Palo Alto,CA.
Posted Jul 17, 2014 12:36 by Mike Blackwell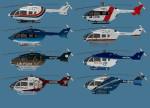 269.94Mb (1392 downloads)
H&S Design EC145 EXT2 Pack 1.0 for FS2004 This repaint pack requires the installation of the H&S EC145 base, H&S EC145 norm, H&S EC145 normrad, H&S EC145 UShems, H&S EC145 trans, H&S EC145 lacota packages in order to work correctly. Included are mainly military and police 50 repaints: Author: Wolfgang Urbschat
Posted Jul 17, 2014 12:30 by uploader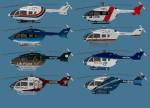 55.53Mb (854 downloads)
H&S Design EC145 EXT1 Pack 1.0 for FS2004 Author: Wolfgang Urbschat This repaint pack requires the installation of the H&S EC145 normrad, H&S EC145 UShems and the H&S EC145 lacota packages in order to work correctly. Included are 10 repaints: Meravo D-HAUN, Rossiya RA-01888, Australia Customs VH-WGO, EAST CARE N854EC+N854UH, AirCare N145UH, Travis N392TC, Florida N145FH, LIFE FLIGHT N373LF, AirLink N885AL, FLIGHT FOR LIFE N745TX and Russia MCHS RA-01882. Created by wolfgang Urbschat and H&S Design Team
Posted Jul 17, 2014 10:52 by uploader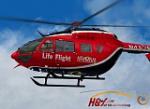 116.23Mb (755 downloads)
H&S Design EC145 US HEMS Pack 1.0 for FS2004 This EC145 package with many different US HEMS models requires the installation of the H&S EC145 Base pack in order to work correctly. Included are 6 different models with half glass cockpit and 2 repaints. Please note, that 4 models have blank textures. Thomas Roehl
Posted Jul 17, 2014 09:42 by uploader