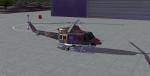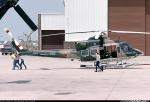 17.15Mb (1100 downloads)
Bell-412EP Venezuelan Air Force Hovercontrol Bell 412 Personal Edition version 1.0 By Jordan Moore. Textures by Brian Josep. Complete aircraft.
Posted Jul 20, 2016 03:08 by Brian Josep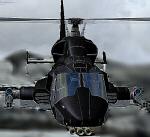 9.83Mb (5254 downloads)
Freeware with 2d panel (VC is available for payment) and external model; AFS-design brings a excellent rendition of the famous supersonic helicopter AIRWOLF from the same 80 years cult series AIRWOLF, and 2 models of possible opponents ( Concept Aircrafts ) of AIRWOLF, out for the Flight Simulator FSX and FS2004. The original series AIRWOLF is an American television series that ran from 1984 to 1987. It was about the sophisticated spy high-tech military helicopter, code named AIRWOLF, and took their team, which various missions. It was a lot of espionage and the theme of the Cold War. The series was produced by Donald P. Bellisario. There were 79 episodes, each with 45 minutes in length, in 4 Stafeln. In the first three seasons Jan-Michael Vincent played as Stringfellow Hawke for the pilot of AIRWOLF, Ernest Borgnine as Mr. Dominic Santini, owner of Santini Air Services and Systems Officer of the AIRWOLF, Alex Cord as Michael Coldsmith Briggs III ( CIA Code Name: Archangel ) CIA agent and in the second and third season, Jean Bruce Scott as Caitlin O'Shannessy, co-pilot of AIRWOLF with. The last season was recast with new actors. Panel, GAUGES, model, sound and textures by www.afs-design.de - Author: A.Meyer.
Posted Jul 17, 2015 04:27 by Andreas Meyer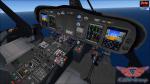 76.51Mb (4182 downloads)
WORKS ONLY IN FS2004 OR FSX BASIC - PROBLEM IN VC IF SP1 OR SP1 INSTALLED AND WILL NOT WORK OK IN FSX ACCELERATION - AW139 Carabineros de Chile FSX-FS9 - NEW! helicopter AgustaWestland AW139 Carabineros de Chile for FSX (without SP1 or 2 or Acceleration) / FS9 Model by icaro , textures by juan30005
Posted May 14, 2015 10:11 by juan30005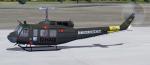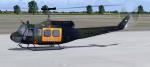 22.98Mb (4444 downloads)
FS2004 Bell UH-1H Huey. This is a complete aircraft. Package contents the liveries of German Bundesgrenzschutz and SAR. Original model by Mathias Bien and Michael Vader. Repaints by Ingo Schwan.
Posted Dec 12, 2014 02:44 by Ingo Schwan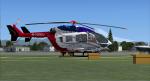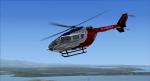 24.57Mb (562 downloads)
Textures only for your H&s Designs EC145. Textures reflect the EC145 used by Stanford Life Flight in Palo Alto,CA.
Posted Jul 17, 2014 12:36 by Mike Blackwell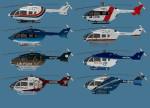 269.94Mb (1273 downloads)
H&S Design EC145 EXT2 Pack 1.0 for FS2004 This repaint pack requires the installation of the H&S EC145 base, H&S EC145 norm, H&S EC145 normrad, H&S EC145 UShems, H&S EC145 trans, H&S EC145 lacota packages in order to work correctly. Included are mainly military and police 50 repaints: Author: Wolfgang Urbschat
Posted Jul 17, 2014 12:30 by uploader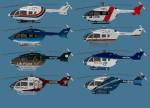 55.53Mb (788 downloads)
H&S Design EC145 EXT1 Pack 1.0 for FS2004 Author: Wolfgang Urbschat This repaint pack requires the installation of the H&S EC145 normrad, H&S EC145 UShems and the H&S EC145 lacota packages in order to work correctly. Included are 10 repaints: Meravo D-HAUN, Rossiya RA-01888, Australia Customs VH-WGO, EAST CARE N854EC+N854UH, AirCare N145UH, Travis N392TC, Florida N145FH, LIFE FLIGHT N373LF, AirLink N885AL, FLIGHT FOR LIFE N745TX and Russia MCHS RA-01882. Created by wolfgang Urbschat and H&S Design Team
Posted Jul 17, 2014 10:52 by uploader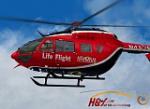 116.23Mb (677 downloads)
H&S Design EC145 US HEMS Pack 1.0 for FS2004 This EC145 package with many different US HEMS models requires the installation of the H&S EC145 Base pack in order to work correctly. Included are 6 different models with half glass cockpit and 2 repaints. Please note, that 4 models have blank textures. Thomas Roehl
Posted Jul 17, 2014 09:42 by uploader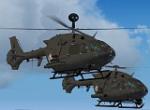 24.58Mb (1890 downloads)
H&S Design AAS-72X+ Pack 1.0 for FS2004 The AAS-72X+ is an armed derivative of the Armys UH-72A Lakota Light Utility Helicopter. This AAS-7X+ Demonstrator package requires the installation of the H&S EC145 Base pack in order to work correctly. Included are 4 different models and one fictitious Army repaint. Thomas Roehl
Posted Jul 17, 2014 09:11 by uploader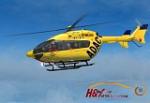 148.67Mb (1225 downloads)
H&S Design EC145 Norm Rad Pack 1.0 for FS2004 This EC145 Norm_Rad package requires the installation of the H&S EC145 Base pack in order to work correctly. Included are 8 different HEMS, Transport, VIP models different radar noses and 6 repaints. Thomas Roehl
Posted Jul 17, 2014 08:35 by uploader