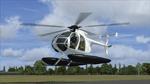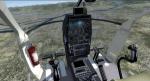 111.96Mb (3367 downloads)
Originally designed by Peter and Tamas Nemeth (Nemeth Designs), now available as FSX native models. Features 14 models, specular mapping, bump mapping, virtual cockpit. Converted using Model Convertor X (MCX) Please see enclosed documents for additional credits and information. By Eagle Rotorcraft Simulations
Posted Jan 8, 2020 02:03 by George Arana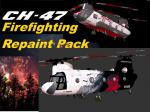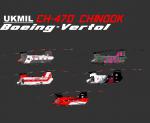 11.67Mb (986 downloads)
This is a repaint pack for the UKMIL CH-47D Chinook. The Boeing Vertol CH-47 or model 234 Chinook is one of the world's best heavy lift helicopters. This package represents civilian and military operators of the CH-47D for Aerial Firefighting. The Chinook has been proven in the aerial firefighting arena as a firefighter transport, supply/utility, and fire suppression platform. In it's firefighting configuration it can be equipped with a 1,000 gallon bambi bucket under the fuselage, or a new roll on style internal tank capable of holding 2,800 gallons of water or fire retardant. The tank's snorkel system is powered by the powerful turbines of the Chinook and can be refilled in under 60 seconds. Similar to the S-64E Skycrane. This pack does not include either of those modifications unfortunately, it is just the repaints. Repaints represent Billings Flying Service, California Army National Guard, Columbia Helicopters, Coulson-Unical, and Helimax Aviation. These repaints were created in P3D v4+ but should also work in earlier sims. Repaints by: Nicholas Mitchell
Posted Oct 13, 2019 02:31 by Nicholas Mitchell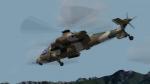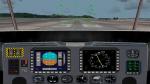 13.92Mb (1026 downloads)
FSX / P3Dv3 Fix Denel Atlas AH-2 Rooivalk. New avionics and improved 2D and VC panel textures, alpha channel of revised rotor textures. See readme file to make changes. Enjoyment....
Posted Aug 23, 2019 13:12 by Rodolfo Valery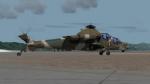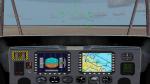 83.96Mb (1397 downloads)
FSX / P3Dv3 update Denel Atlas AH-2 Rooivalk. Previously designated Atlas CSH-2,it is a South African anti-tank helicopter manufactured by the company Denel Aerospace Systems thanks to the support obtained in collaborations with Western companies and the experiences acquired in the South African Border War. The Rooivalk was the result of the need of the previous South African army to obtain a combat helicopter prepared for the conditions of sub-Saharan Africa and especially the fight against tanks, of which many were lived in the South African Border War. Thanks to technology transfers made by several European countries, the United States and mainly Israel; South African companies such as Denel acquired the necessary technology for the construction and production of this type of aircraft. The first prototype flew in 1985; but the series devices arrived too late to intervene in the conflict in Namibia, as the first series device took off on November 17, 1997; already when the war was over. At that time the South African Air Force had acquired 12 units to equip two squadrons. On the excellent model of Johan Jacobs to whom the merits go, I have made changes in VC Cockpit textures and a 2d panel has been designed, sounds, rotor textures and other details have been changed, tested in FSX up to P3Dv3. Enjoyment....
Posted Aug 22, 2019 21:35 by Rodolfo Valery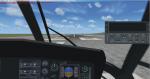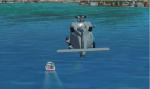 34.16Mb (1988 downloads)
This is an update for FSX of the Seahawk Model by Jordan Moore and Repainted in Spanish Navy colours by Jorge GM. I am including the Cougar autopilot gauge by Dirk Fassbender and a tutorial for the autopilot by Ronald Vermeij. I have added the 4th wheel and corrected any contact points that needed correcting. I have updated the flight dynamics so it is easier to fly; similar to the default EH101. It has both 2D and 3D cockpits. Whole aircraft included.
Posted Oct 16, 2018 13:19 by Bob Chicilo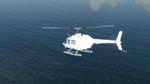 348.92Mb (2259 downloads)
Originally designed by Owen Hewitt for FS2004, now available as FSX native models and compatible with P3D4+. Now featuring 12 models, 3D gauges, 3D lighting throughout, volumetric rotor side effects, custom switch sound and warning horns, different options that can be changed within FSX/P3D, payload manager that allows users to add or remove weight "On The Fly" and more. Tested in FSX Acceleration and P3DV4.3 in Windows 7 Professional 64 bit. By Eagle Rotorcraft Simulations. This is a base file with blank textures. !!IMPORTANT!!: Requires Shift +2 to display rotors and doors.
Posted Jul 6, 2018 09:45 by George Arana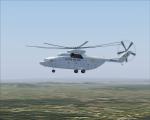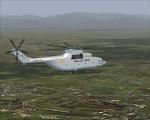 25.78Mb (2412 downloads)
FSX Indian Air Force Mil Mi-26. Model by Alphasim. Repaint by Mohammad Faali.
Posted Apr 14, 2018 09:13 by Mohammad Faali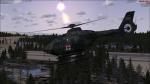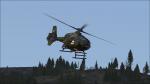 2.73Mb (620 downloads)
Medevac Helicopter used by the German Army, textures only for the H&S Design EC135 Pack (Required).
Posted Nov 12, 2017 09:08 by Dennis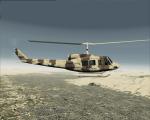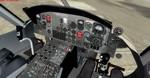 70.91Mb (6140 downloads)
FSX Iran Army Aviation Bell 214. The Bell 214 is a medium-lift helicopter derived from Bell Helicopters ubiquitous UH-1 Huey series. Credits: Jordan Moore , Kirk Sunley , Dave Eckert , Brian McIntyre , Nobu Aki , Nate Rosentrauch , Shawn Lund , Stephen Chase , Greg Spellman , James Edmond , Thomas Roehl , Robert Finnegan , William Dyer , M. Faali .
Posted Jun 8, 2017 08:31 by Mohammad Faali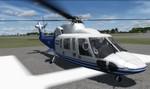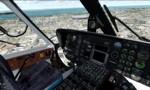 311.89Mb (11365 downloads)
Formally a Nemeth Designs payware product, then released as freeware for Microsoft Flight 9 (FS2004 ACOF). Now available as FSX native taking advantage of specific features such as bump mapping, specular mapping and self shadowing. Also features 2 simulated engines, torque, live fuel and payload manager, multiple liveries and much more. Tested in FSX Acceleration and Lockheed Martin P3D up to V4. By Eagle Rotorcraft Designs. Also works in P3D.
Posted May 31, 2017 03:56 by George Arana