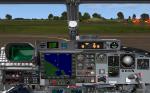 54.89Mb (3760 downloads)
Westland Lynx SH-14D Royal Dutch Navy. This heli was dedicated to 7 en 860 squadron MLD, because i was living near the (now closed) naval base Valkenburg MVKV in the Netherlands. I've upgrade some textures, and the 2D Panel made by myself with FSPS. Bugs: - A common bug are the invisible Rotor-blades when you fly trough heavy clouds. - And no working VC..sorry Credits: AlphaSim (Basics) Virtavia, Microsoft, Danny Garnier, PanelBasher. Best Regards, Arthur Vince NL
Posted May 21, 2017 21:38 by Arthur Vince NL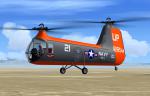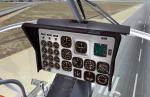 1.85Mb (1813 downloads)
This is an important update for the Piasecki HUP Retriever. It corrects the contact points as the wheels were more than half hidden in the runway and the helicopter got out of control while landing at a too tilted angle. Evidently, the updater forgot to add the folder "Texture.VC.Military" from the Piasecki H 21 Shawnee, as the VC interior was pitch black for the most part. I also changed the viewpoint of the VC and the 2D panel and added smoke effect. In addition, I added a "hover" gauge to the VC and 2D panel. All updates by Michael Pook.
Posted Apr 26, 2017 10:13 by Michael Pook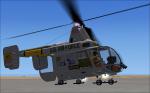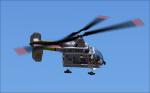 33.90Mb (1782 downloads)
2017 update of Paul Dee's Kaman HH-43 Huskey syncropter. FSX native, MDLX materials and animations. Pilot by Piglet The VC is on place holders for most of the switches, the big stuff is working. The mouse point issue still eludes me, and going through all the switch assignments...if I wait for me to het around to it, it's never going to get issued, and I can update latter. For now, the eggbeater looks and flys very nicely. original model(FS9) Paul Dee, incidental bits by Y.T. I held it down to a single model by putting optional equipment and clamshells on the following conditions: Bearpaws, doppler dome and loud hailers- hide on tailhook command. rear doors remove- weight condition 1=0, show rear doors-weight condition 1=75 Pilots side door- shift+E+1+2 side cabin door only shift+E2 cojo's door(right side) Shift+E3 Rear doors(clamshells) Shift+E4
Posted Apr 26, 2017 04:33 by LLS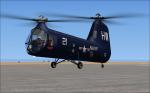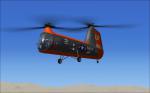 5.72Mb (2096 downloads)
Quick and dirty update of Jim Jacobson's original HUP to FSX MDLX native format, doors and DV windows on the usual door commands. The VC is from Mick Posch's H-21 Banana, it's all set up for that, viz: textures and eye points. NOTE: you will have to copy over the H-21 VC mdl file to the HUP model folder, the entry's are all made in the cfg file. Sound aliased to the H-21C, so you'll need that one installed. Bearing in mind that this is an ancient CFS2 model, the old hubschraber looks pretty good, and would benefit greatly from detailed textures. Skins by SOH's own Mick, adjusted for FSX viz: format and colour, some font adjustments. Model-Jim Jacobson, Baldy, and I guess I've added my own set of filemarks... Pilot by Tim Conrad, incidental bits, Y.T. LLS, 2017
Posted Apr 25, 2017 17:45 by LLS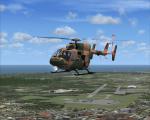 8.80Mb (1573 downloads)
Messerschmitt Bolko-Blohm – Kawasaki - Eurocopter BK 117 of No. 15 Squadron, South African Air Force. This offering doesn't exactly lend itself to the creation of a 'politically correct' SAAF BK-117, but as I've stated so many times before, I can only do what I can with what I have to work with. Textures only. Requires the IKARO BK-117 for FSX/FS2004
Posted Feb 12, 2017 23:51 by Andre Ludick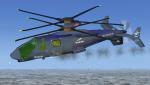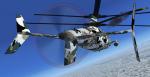 14.71Mb (2782 downloads)
FSX/Acceleration Concept Helicopter Sikorsky S-97 Raider. It is Sikorsky's proposed high-speed scout and attack compound helicopter which can carry 2&6 men as crew plus armed soldiers. Cruising speed is 253 mph/407 kmh. It is Sikorsky's earliest attempt for a fast helicopter with stiff coaxial rotors and is buildt in 2 different styles of prototyp. The first flight was in May 2015. The FS-model has a VC with animated sticks and HUD. The exterior provides animated multible rockets and a fast rotating gatling gun. Twelve cameras shows all the features. FSDS 3.5 model and panel and all configurations by Erwin Welker
Posted Nov 16, 2016 03:06 by Erwin Welker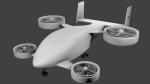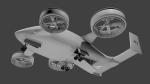 8.15Mb (2704 downloads)
Created as a means to display the potential of a ducted fan rotorcraft powered by multiple electric motors. The system made its launch in 2015, since then advances and improvements have been completed to the airframe and power plant configurations. Delivering an efficient means of lift using smaller and therefore quieter propeller then traditional helicopters. The function of the ducted system serves as a mean of channeling pressure and vectoring thrust. Giving the UV-4 a unique control system and improved maneuverability. The design of a low speed "T-Tail" houses the function of yaw control with multiple rudders located on its vertical stabilizer, and elevators on its horizontal stabilizer. In addition the rear ducted systems may pivot up to less then sixty degrees forward and backwards to deliver the vector thrust where the aircraft needs it to be. The cargo bay may house up to four thousand pounds of deliverable payload. As its max gross take-off weight is designed to reach twelve thousand five hundred pounds. The electrical systems on the aircraft use a network of batteries, generators, and its two electrical motors. Proving five hundred horse power each, totaling an amount of one thousand horse power. An electrical charge then powers the mechanization used to spin the propeller to its desired rate per minute. Perhaps in the near future an additional system can be created to then generate electrical charges created by the spinning propeller of inside the duct back into the aircraft to then power systems or recharge the battery. We forward to providing this aircraft on Microsoft Flight Simulator X, Lockheed-Martin Prepar3d, and X-Plane 10 for download by the end of 2016. Aircraft by Rob Gomez & Kris Pyatt
Posted Sep 6, 2016 11:42 by Robert Gomez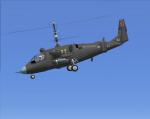 34.59Mb (1531 downloads)
Kamov Ka-52 , Update for Kazunori Ito's FS2004 Kamov Ka-52 Alligator to use in FSX.
Posted Aug 9, 2016 15:49 by Rodrigo Franco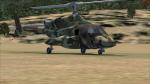 29.15Mb (917 downloads)
New Camouflage textures for the William Roger's Airwolf package previously uploaded by Mark Cranko. Enjoy
Posted Aug 5, 2016 20:30 by Mark Cranko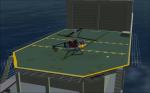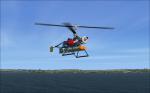 5.15Mb (1783 downloads)
QH-50C Drone, Anti-Submarine Helicopter entered service in 1962-3 as one of the primary ASW weapons aboard Knox class FF's and FRAMII ASW DD's. Updated to FSX native by LLS, model: Lasse Lindh, 2003. Rotor disc's, MK46's,pylons, fiddling and releasable MK46 object, effects controler by LLS
Posted May 26, 2016 06:54 by LLS