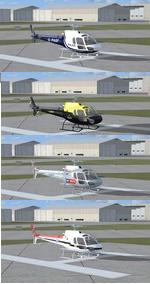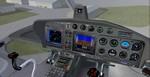 34.07Mb (5387 downloads)
AS350 Ecureuil/Squirrel/AStar UK pack. Includes - Sky News, Metropolitan (London) Police, Northumberland Police and RAF Queens VIP Transport. Includes VC. High quality model and VC by Tamas and Peter Nemeth. I included the textures by Josh Moody, Andy Nott, Dave Torkington. FSX upgrade panel files included from NorCal and Yiannis Katehis Tsetsas Custom packaged with FSX texture conversions and alphas added by Chris Evans
Posted Oct 6, 2015 06:28 by chris evans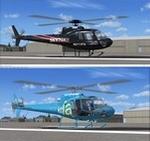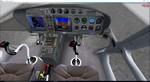 27.14Mb (3376 downloads)
AS 350 AStar/Squirrel KTLA-TV 5 Los Angeles and KTTV-TV Fox 11 Los Angeles "SkyFox" new twin pack for FSX. Includes VC. High quality model and VC by Tamas and Peter Nemeth. AS350 Squirrel/Ecureuil sounds included with the great textures by David Kissling. FSX upgrade panel files included from NorCal and Yiannis Katehis Tsetsas. Custom packaged with further FSX conversions by Chris Evans
Posted Oct 1, 2015 06:30 by chris evans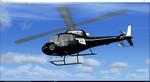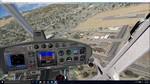 23.19Mb (1628 downloads)
AS350 Astar/Ecureuil/Squirrel Oklahoma Highway Patrol for FSX. Includes VC. Model and VC by Tamas and Peter Nemeth. I included the textures by Lloyd Horton. FSX upgrade files included from Yiannis Katehis Tsetsas. Custom packaged with FSX conversions by Chris Evans
Posted Sep 29, 2015 14:15 by chris evans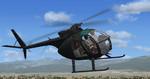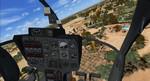 7.29Mb (4122 downloads)
FSX Hughes MH-6C "Vee Tail" Only used by the 160th Special Operations Aviation Regiment to train future A/MH-6J "Little Bird" pilots. Called "Vee Tails" due to the origional OH-6A style tail. This model has VC and some extra gauges. Removed 'too low flaps' sound. Changed tail rotor texture. Model FS2004 created by Tim Conrad. Mods by Chris Evans
Posted Sep 27, 2015 11:32 by chris evans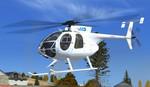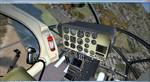 33.44Mb (6921 downloads)
MD500 Package MD500 from Nemeth brothers updated for FSX. I changed the viewpoint for correct helicopter view, removed the 'don't sink' and 'flaps' sounds. Added missing gauges and thumbnails. Included added hover gauge originally modified VC and 2d panel by M Mathiau. 3 liveries included - MD Helicopters, Air Service Hungary and Hahn Helicopter. The MD Helicopters MD 500 series is an American family of light utility civilian and military helicopters. The MD 500 was developed from the Hughes 500, a civilian version of the US Army's OH-6A Cayuse/Loach. Updated for FSX by Chris Evans.
Posted Sep 19, 2015 04:33 by chris evans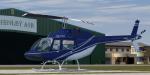 2.85Mb (565 downloads)
Henley Air (Sth Africa) texture ZS-RDR for the Eagle RotorCraft Simulations Bell 206 for FSX
Posted Sep 5, 2015 16:16 by Ali Gaffoor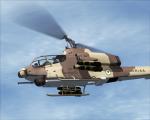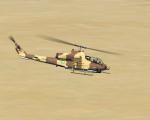 9.18Mb (1413 downloads)
The Iranian Army Aviation textures for the ex-payware Alphasim Super Cobra helicopter package available on Simviation.
Posted Aug 9, 2015 15:54 by Mohammad Faali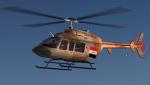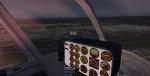 30.96Mb (2866 downloads)
Bell 407 Iraqi Air Force for FSX. Gmax Bell 407 by Alan Devins and Rory Kelly originally for Fs2004, The model features reflective textures, specular lighting, animated pilot, opening doors and DVC.
Posted Jun 29, 2015 10:22 by Mora Roddo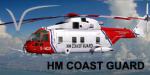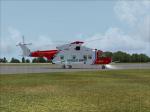 203.20Mb (9641 downloads)
Virtavia's FSX freeware EH101 Merlin reworked for FSX and Prepar3D with new VC only panel, new lights, new paint, new FSX/P3D gauges, new sounds and new effects
Posted Jun 26, 2015 23:42 by David Robles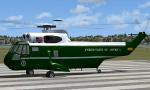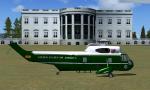 2.51Mb (2720 downloads)
Repaint of the UKmil Sea King as Marine One of HMX-1 Squadron. This helicopter has carried U.S. Presidents on short trips from the White House since the early 1960's. Requires MNSeaking.zip. Repainted by R.E. Wyman.
Posted Jun 11, 2015 23:40 by R.E. Wyman