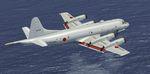 140.85Mb (8475 downloads)
FSX Lockheed P-3C Orion package v3.31. This is a native FSX model, however, it is not compatible with DX10. VC and 2D panel are beta versions, and part of operation cannot be done. Exterior and painting of this model have been created in more detail than previous work, Especially, the main wing relation (flap and engine nasser, etc.) is the new designs. Several kinds of P-3C were prepared like symbolizing P-3C that was during transition now. It is 11 types in total. By Team FS KBT.
Posted Jul 9, 2014 17:08 by kbt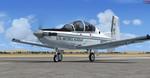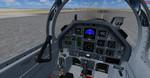 84.36Mb (10731 downloads)
The IRIS Pro Series T-6/A Texan II has been designed from the ground up based on the Joint Primary Aircraft Training System (JPATS) Student Guide Our main criticism in the past has been performance related and as such, we have paid special attention to frame rates over a variety of different systems. The FSX version of the T-6/A Texan II is our first 'Built for FSX' product which features, self-shadowing, normal mapping and reflective bloom. Furthermore, designing the FSX version using the FSX exporter has resulted in the ability to provide much higher levels of detail in the virtual cockpit than obtained in Microsoft Flight Simulator 2004 products. Features: A choice of high quality 32 bit textures or medium quality DXT3 Textures for improved frame rates in high detail environments. Backlit canopy gauges for accuate night-time flying. Interactive Virtual Cockpit including a wide variety of custom interactive objects. Appearing warning labels, prop restraints and intake covers plus more from a pre-boarding checklist. Custom Soundpack designed by Christoffer Petersen from Turbine Sound Studios. Custom designed simulation systems including the Trim Aid Device. Enhanced flight dynamics from flight dynamics modeller Rick Piper complete with spin ability in both FS9 and FSX. Two external models covering the Texan II and the Texan II NTA with external fuel tanks. Authentic new 2D panel with VFR and popup windows, all with custom programmed XML gauges throughout. Ex payware stock from Iris Simulations.
Posted Apr 27, 2014 14:04 by irisfan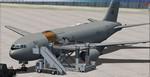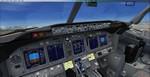 65.75Mb (8527 downloads)
FSX/P3D KC-767J/KC46A USAF 60001 with advanced VC for FSX FSX KC-767J model by Skyspirit with advanced 737-800 VC added. Includes utility for ground services, cargo, stairs, etc (find it under - Views - Instrument panel - Posky Utility) The wonderful creation from Project Opensky will be enjoyed by many more people who do not know how to install a VC, views, exits, Utilities etc into a FSX native model. So now this 767-300 has the nearest VC I can find -- the 737-800. The layout fof the 767 cockpit is not a million miles away from the advanced 737-800. The VC is the Alejandro Rojas Lucena/FSND fantastic revised Boeing 737-800 VC model. This VC model includes Working wipers (right mouse click on switch) with rain effect. Switches for LCD Screens, EICAS, PFD, MFT. Autobrake switch. Opening pilots window. Cabin Lights switch. Realistic FMC. More Realistic night VC textures. There are custom Boeing 767 sounds included for that extra realism. I have added the great KC46A textures fromSean Kneppers. Also added 767 sounds for more realism. Model is not modified in any way. Aircraft.cfg edited to allow correct VC views. Skyspirit wonderful native FSX Boeing KC-767J model. See VC docs to get the best out of the VC and FMC. Prepared and assembled for P3D/FSX by Chris Evans. (Press Shift+Q for refuelling boom)
Posted Apr 21, 2014 05:48 by chris evans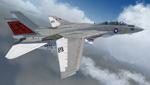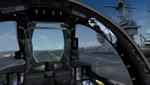 125.28Mb (40501 downloads)
The Grumman F14D Tomcat is a supersonic, twin-engine, two-seat, variable-sweep wing fighter aircraft employed by U.S.Navy from 1991 to 2006. This package contains an entirely new visual model with self shadowing, bump mapping and hi-res textures, working virtual cockpit for pilot and RIO, 3D gauges,and reasonably accurate flight model. Includes custom HUD by Jivko "Neutrino" Rusev and Scott Printz, sound package by Serge "fsxnavypilot" Lsa, and repaints by Jiri Soukup. Designed by Dino Cattaneo. Requires FSX:Acceleration or Gold versions. Note: This is not an update and old versions should be uninstalled prior to installing this package
Posted Mar 20, 2013 06:46 by Dino Cattaneo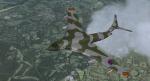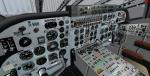 24.71Mb (7937 downloads)
The Handley Page Victor was a British jet bomber aircraft produced by the Handley Page Aircraft Company during the Cold War. It was the third and final of the V-bombers that provided Britain's nuclear deterrent. The other two V-bombers were the Avro Vulcan and the Vickers Valiant. Some aircraft were modified for strategic reconnaissance role using both cameras and radar. After the Royal Navy assumed the nuclear deterrence mission using submarine-launched Polaris missiles in 1969 many surviving bombers were converted into aerial refuelling tankers. The last Victor was retired from service on 15 October 1993. Freeware package by Virtavia.
Posted Mar 4, 2013 04:34 by alphasim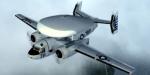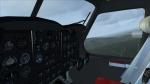 64.80Mb (13565 downloads)
Functional VC model included; Package includes one beautifully crafted exterior livery, a great flight model, authentic custom radial sounds, and custom panels with aircraft specific gauges, and easy-to-read clickable virtual cockpits. FSX native upgrade by Eagle Rotorcraft Simulations This aircraft release is one of 7 aircraft in a series that will be released. FSX Only. DirectX 10 compatible.
Posted Nov 18, 2012 02:04 by Milton Shupe, George Arana, Brandon Filer, Sim-Outhouse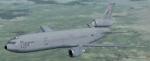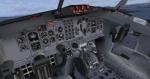 23.10Mb (17086 downloads)
McDonnell Douglas KC-10 with VC. The McDonnell Douglas KC-10 Extender is the military adaptation of the three-engined DC-10 airliner for the United States Air Force (USAF).[N 1] The KC-10 incorporates military-specific equipment for its primary roles of transport and aerial refueling. It was developed to supplement the KC-135 Stratotanker. Original by Thomas Ruth. Includes USAF livery.
Posted Feb 19, 2012 03:44 by ricardo_tv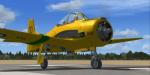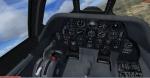 26.72Mb (11554 downloads)
T-28 Trojan Package for FSX. The North American Aviation T-28 Trojan is a piston-engined military trainer aircraft used by the United States Air Force and United States Navy beginning in the 1950s. Besides its use as a trainer, the T-28 was successfully employed as a Counter-insurgency (COIN) aircraft, primarily during the Vietnam War. Features comprehensive VC and model. Ex payware from Alphasim/Virtuavia.
Posted Aug 13, 2011 06:44 by alphasim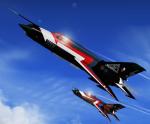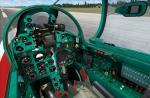 38.92Mb (28446 downloads)
MiG-21 MF for FSX/P3D only. For more info see Readme. Author: Ivan Jurcaga, VC based on model by Peter Priskin
Posted Jul 3, 2011 02:20 by Ivan Jurcaga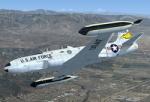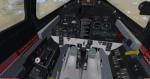 91.28Mb (9531 downloads)
FSX/P3D native version Lockheed T-33A T-Bird Jet Training Aircraft. Developed from Lockheed's F-80 Shooting Star jet fighter, the T-33 went on to become one of the most successful jet trainers in history. Over 5000 were built with license production in Canada and Japan adding several hundred more. This FS2002/4 model has multiple paint schemes, full ani's, full VC, and custom gauges. Master repaint textures coming soon. By Tim (Piglet) Conrad. -Addition of revised VC canopy -EW-133 aircraft -specular mapping -Additional textures by Radioman123
Posted Jul 1, 2011 05:15 by Radioman123