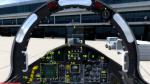 136.24Mb (248 downloads)
Original aircrafts by IRIS Simulations, sublime native FSX conversion by ignoti et quasi occulti. Both the F-15C and F-15D come with 2 models: a clean variant and an armed variant with an extra tank. Earlier releases of these aircraft models did have some (small) issues which I did fix. Also I did implement some new XML gauges and did enhance existing XML gauges. Fixes exists of the ability to set the NAV1 frequency in VC, a working compass gauge, disabling of the standard GPWS, a working Flaps indicator, mouse triggering of the Landing Gear and Airbrake levers, repair of the Gear up warning sound, and expanding of the Auto Pilot systems. More than 35 modifications have been made to this aircraft. This is a complete aircraft. All modifications have been tested in Prepar3D v4. A FSX configuration is also provided althoiugh not tested. For an installation guide see the fileINSTALL.txt For a full credits list as well as other info see file: IRIS_F-15_mod.pdf For a full modifications and fixes list see also the file 'Flanker256.txt' in the 'Docs' folder of the aircraft. Happy flights and stay safe.
Posted Jan 19, 2022 11:51 by Flanker256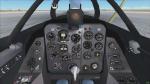 38.97Mb (317 downloads)
This is an update for the Yak-23 Flora by Kazunori Ito, converted to FSX native by Flywheel J. Wolff, now including three new camera views and a more realistic VC and 2D panel with now all authentic Russian gauges. Flywheel adapted the gauges and the original 2D panel I used in my previous 2013 FSX update and now, in retrospect, I feel that should be corrected. VC and 2D panel don't match at all and some of the gauges I used back then don't even belong in a jet plane, particularly in such a nice FSX native model, so thanks to Flywheel for his conversion. Also included are automatic burner and exhaust smoke effects and now there are visible gauges in outside view as well. I've also slightly tweaked the flight dynamics for better take off and manoeuverability. New thumbnails and Empire sound included as well. This is the whole package although I've not changed any fuselage texture files but most simmers don't like to play around with installing new stuff into an existing model. Thanks to Kazunori Ito for the original model and particularly to Flywheel J. Wolff for his conversion. New panel design, effects and tweaks by Michael Pook.
Posted Jan 10, 2022 06:16 by Michael Pook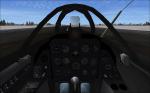 17.75Mb (289 downloads)
The ultimate development of the Yak-3 fighter flew on 8 July 1947, under power of a pirated RR Derwent V. A developed version of the Yak-15/Yak-17, it did not carry very much very far, though pilots praised it's maneuverability and climb rate. One machine was obtained by the USAF from Yugoslava for testing at AFTC, and flown in US marks. Kazunori Ito's lovely FLORA from FS9, in model X standard materials, and a number of wicked skins from L'iguaine, Mike Pook FSX VC. With and without tiptanks. Slick FPS, nice flyer, fun little jet.
Posted Jan 8, 2022 01:44 by Flywheel J.Wolf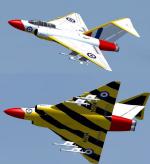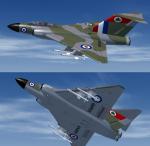 1.03Mb (146 downloads)
Two new textures for the gloster javelin by Kazunori Ito I posted on the 2nd of Jan. Javelin FAW.5 XA699 Built in 1957, XA699 served with 151 and 5 Squadrons at Leuchars and Laarbruch respectively. Javelin FAW.7 XH754 was used by the Royal Aircraft Establishment Farnborough UK for experimental flying from 1964.It was well know for its jazzy livery.
Posted Jan 7, 2022 10:16 by STEPHEN BROWNING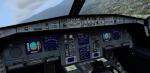 74.01Mb (204 downloads)
FSX/P3D Airbus A340-300 Luftwaffe German Air Force package. Germany currently operate 2 A340-300 use for military and government transport. Model by Thomas Ruth. Added the better Thomas Ruth modified VC with latest updates by Chris Evans and Louis Quintero. Added correct jetway configs, wing views and wheel levels. Manual included. Zip preview for larger pictures. Checklist by Werner Schott included. Textured and assembled for P3D 5.3 by Chris Evans. Should work in FSX and earlier P3D versions. Recommend the Trent engine soundpack https://simviation.com/1/search?submit=1&keywords=trent&categoryId=112
Posted Jan 4, 2022 11:48 by chris evans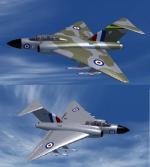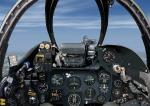 23.44Mb (540 downloads)
I have painted two new textures for this Gloster Javelin .I have changed the 2D panel, added a new smoke effect (I) changed tyre landing smoke,(thats tire for you american's) Original aircraft design by Kazunori Ito Adaptation for FSX, by Philippe Wallaert Textures by Stephen Browning.
Posted Jan 2, 2022 14:08 by STEPHEN BROWNING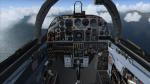 35.58Mb (305 downloads)
FSX/Acceleration Upgrade For Kazunori Ito's Grumman X-29 Experimental Aircraft in two paint schemes. Kazunori Ito is my idol for twenty years. It is a pity that he was forced to stop to continiue with his great hobby in building an incredible high amount of interesting aircrafts. Honouring his work but beeing afraid that this very rare and special aircraft will be lost for actual or newer simulators I allowed myself to upgrade this futuristic aircraft with a VC. Probably the model will also fly in P3dV3 and FS2004 but it is not tested and no guarantee and support ist given. Original model and 2D panel by Kazunori Ito (now with FSX-compatible gauges), virtual cockpit implementation by Erwin Welker
Posted Dec 29, 2021 03:02 by Erwin Welker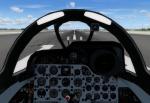 54.05Mb (483 downloads)
Fixes and updates for the 1-str Voodoo. Main fix is the Avionics fix so that now you can do IFR flights and use AutoPilot. Also added is a missing vital Effect file and adjusted the tailhook length and made Afterburner effects available for FSX SP2. 'Updates' consist more of additions like a bunch of VC Gauges for e,g, Anti-Ice, Pitot Heat, Drag Chute switch, and Cockpit Sounds etc. See the WhatIsThis.txt for more info and a Credits list as well. There are files for both for 32-bit and 64-bit simulators. See the INSTALL.txt This is NOT a complete aircraft package. Happy Flights,
Posted Dec 21, 2021 12:03 by Flanker256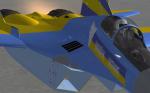 1.23Mb (124 downloads)
MiG-29 "9-13" Fulcrum-C "01" of Historical 1992 "Ukrainian Tridents" Display Duo - Repaint by BAA (First Release) for IRIS MiG-29 FS2004 model (Mig_29_3.mdl 2006-09-01)0 and FSX version. Nice, simple but effective, distinct colorful aerobatic display livery. Includes distinct textures ONLY - requires original IRIS model and common textures:
Posted Dec 21, 2021 01:41 by BAA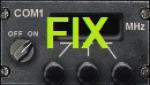 0.01Mb (210 downloads)
This patch will fix the COM1 radio in the Radio Stack popup window,so that now you can adjust the frequency. Sorry for the inconvenience.
Posted Dec 16, 2021 01:33 by Flanker256