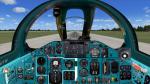 43.39Mb (775 downloads)
Redesigned 2D instrument panel. Changed the textures and inserted instruments in the virtual cockpit. Fixed flight dynamics. Model by Kazunori Ito. FSX conversion by unknown. Works in P3D4+ and FSX.
Posted Apr 15, 2023 11:43 by uploader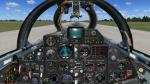 30.48Mb (585 downloads)
Made a separate Su-15 model with a modified wing for FSX. It is not possible to combine all Su-15 modifications into one file for FSX, since the Su-15 with a delta wing without influx, and the Su-15 with a modified wing, have different takeoff and landing dynamics. Since the Su-15 with a modified wing did not have a separate name, in order not to confuse it with the regular Su-15 FSX called it the Su-15M. Model Designer : Brett Hoskins Panel : Jan Moravec.
Posted Apr 13, 2023 11:02 by Golubenko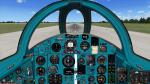 69.68Mb (820 downloads)
MiG-25 for FSX/P3D with multiple liveries. FSX native conversion by LLS. Original Model by Alphasim. The 2D cockpit has been redone, the textures have been replaced and new instruments have been inserted into the 3D cockpit, the dynamics have been fixed.
Posted Apr 10, 2023 04:41 by Golubenko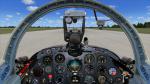 83.10Mb (621 downloads)
L-29 for FSX. Model by Tim Conrad. FSX native conversion by LLS. Remade the instrument panel and changed the textures in the virtual cockpit. Fixed flight dynamics. Should work in FSX an P3D4+
Posted Apr 9, 2023 03:41 by Golubenko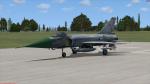 26.84Mb (453 downloads)
FSX/FS2004 Sukhoi Su-15A in Red Falcons, Red 47, and Red 11. Model Designer : Brett Hoskins Panel : Jan Moravec. Redone 2D cockpit and flight dynamics.
Posted Apr 8, 2023 23:44 by Golubenko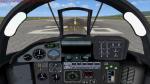 52.24Mb (356 downloads)
This is my second update of the Iris Mig-29 Display Team for FSX. I have given it a 2D panel made from a picture of the VC; most of the gauges are the same for both panels; and I updated the flight dynamics.
Posted Feb 21, 2023 10:33 by Bob Chicilo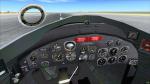 66.48Mb (632 downloads)
This is an update for the recently posted English Electric Canberra packages, converted to native FSX by Heath Robinson. The main reason for this update is the extremely basic VC which, according to the designer's description text, does need further improvement. So here it is with new gauges. In addition, the new 2D panel matches the VC in every respect. The original 2D panel didn't match the VC as the cockpit is a bubble cockpit. I also added new thumbnails, automatic smoke and burner effect and corrected some of the lights, particularly vclight. I haven't changed any of the airplane textures, the texture files have all remained the same. Credits go to Bill Holker for the original model and to Heath Robinson for his conversion and texture compilation. All new updates by Michael Pook.
Posted Feb 11, 2023 11:08 by Michael Pook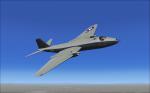 27.56Mb (635 downloads)
Bill Holker's various Canberra's, B.2, T.4, B-57A, B.6, for starts, FSX native, some sweet skins collected from GWK? over the years. B.2 Door on wingfold, bomb bay on tail hook, eject sequence on door-1 B.2-B.6-T.4 door on door 1, bomb bay on tailhook. Textures collected from all over. Sound alised to Republic F-84G_X sound. It's nice and shreiky My thanks To Bill Holker for these wicked jets, Arno for the tools to un-fcuk them, and get them into FSX. VC working, needs some work, and I have a radar gauge in the VC for LABS development work. Updates on the VC latter, it's interm. Moar latter.
Posted Feb 6, 2023 22:22 by Heath Robinson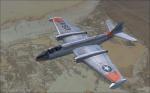 108.92Mb (681 downloads)
This update of the Alphasim (www.virtavia.com) B-57B features a native FSX model, textures and weapon features. A bunch of skins, and I corrected the colours of the SEA cam. Models now: Clean Baseline B-57B, HVAR armed, 500lbs bomb arme, Strike model with kiloton-range Mk-7 bomb, either LABS of Free-fall FSX Animations: Canopy : Door-1 key [Shift-E] Bomb Door:Tailhook Tactical Models: Weapons from saved flight It took a long time to get the materials just so-black paintjobs! I'm very happy with the results. Tiles: (strike) Mk-7_Tactical_gravity_bomb (B_Armed) bomb_c (B_Rocket) HVAR Example saved flights included
Posted Feb 6, 2023 21:52 by Jack D. Ripper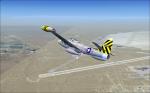 41.29Mb (580 downloads)
Jens B. Kristensens great Republic F-84G Thunderjet, FSX native. FSX native update, and tactical models Weapons dropable obj condition unless noted weapons in saved flight only Droptanks on ext tank fuel load Except Strike, left tank on tailhook, Mk-7 on dropable obj condition Rocket one type or other from a saved flight. 1000lb GP Bomb on Dropable Obj condition. weapons title list For F-84G use 1000b, Mk-7 bomb, 11.75, 5 inch rocket
Posted Feb 6, 2023 19:00 by Flameout Freddy