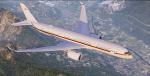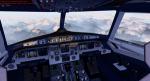 81.28Mb (1001 downloads)
FSX/P3D Airbus A350-900XWB Bundesrepublik Deutschland (German Air Force One) package. This is the new Airbus A350-900 XWB for the German Government. Maybe the most luxurious aircraft ever produced? FSX native AI model by FS Painter. 2020 updated vc by Speedbird77. Textures, assembled and tested in P3D v5 and should be ok in FSX and earlier P3D versions. By Chris Evans.
Posted Sep 6, 2020 01:42 by chris evans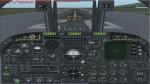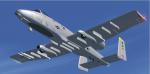 5.84Mb (701 downloads)
This is an update for FSX of the A-10 Thunderbolt (clean) by Mike Stone. I have added some gauges to the panel; changed the size and position of the GPS; and updated the flight dynamics. No VC. Note: new e-mail address.
Posted Aug 28, 2020 11:50 by Bob Chicilo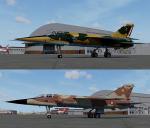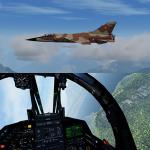 69.27Mb (1162 downloads)
Kirk Olsson's FS9 gmax Mirage F1 converted for use in P3Dv4 and 5. Includes: New textures, configuration manager. The cockpit is almost completely rebuild and features a.o. 3D modeled gauges/switches and P3D dynamic mirrors. Just like the original FS9 model, the layout is based on the Mirage F1.CR version. This package is created for / tested in P3Dv4 (also works in P3Dv5) and requires XMLTools (64bit) to enable all features (weight and fuel gets updated by changing payload/fuel options, dumping fuel or in flight refueling. Radio preset frequencies are loaded from a customizable text file). Credits: Kirk Olsson for allowing use of his files, Frank Safranek for his valuable feedback and testing, Jens Ole Kjolberg for the F.1ZA textures. Henk Schuitemaker
Posted Aug 25, 2020 08:19 by admin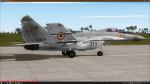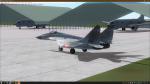 4.34Mb (513 downloads)
Updated texture and fix for the Indian Air Force Mig29K
Posted Aug 22, 2020 02:02 by Kalyan Mukherjee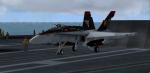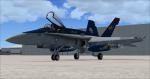 52.44Mb (328 downloads)
This package for the FSXBA F/A-18C Hornet contains two squadrons (VFA-15 & VFA-87) with two textures each. This file comes with textures only so you will have to place them into any FSXBA F/A-18C file that is already downloaded.
Posted Aug 17, 2020 02:40 by Dustin Kosman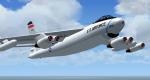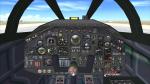 15.15Mb (1313 downloads)
The Boeing B-47 Stratojet (Boeing company designation Model 450) is a retired American long-range, six-engined, turbojet-powered strategic bomber designed to fly at high subsonic speed and at high altitude to avoid enemy interceptor aircraft. The primary mission of the B-47 was as a nuclear bomber capable of striking targets within the Soviet Union. This is a new FSX update of my previous 2015 update, now featuring modified and highly authentic virtual cockpit and 2D panel. The VC now includes functioning throttles and gear lever as well as a more realistic interior giving the pilot a better feeling of being in the real cockpit. I've also tweaked the FDE for better performance and flight stability. Automatic exhaust smoke and burner effect added. Thanks to Bill Holker for the great model he had designed for FS2004. All new updates by Michael Pook. The model nay also work in FS2004 and P3D (version3).
Posted Aug 14, 2020 05:47 by Michael Pook
0.37Mb (149 downloads)
This file contains a correction to the VFA-34 LINE texture from the FSX CVW-2 mega bundle. Download this file along with the CVW-2 mega bundle and you should have pretty accurate liveries.
Posted Aug 9, 2020 13:55 by Dustin Kosman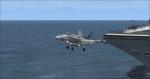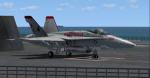 79.75Mb (301 downloads)
For FSXBA/P3D F/A-18C 5 squadrons 2 repaints for each VFA-37 Ragin Bulls, VFA-83 Rampagers, VFA-97 Warhawks, VFA-105 Gunslingers, VFA-131 Wildcats. Textures only. Intended as freeware.
Posted Aug 5, 2020 15:49 by Dustin Kosman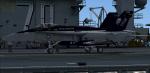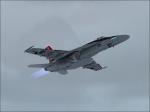 729.17Mb (746 downloads)
All files complete with base texture. This is the CVW-2 bundle for FSX representing the air wing from 2018. This is a large sized file. Enjoy if you like. VFA-2 Bounty Hunters (FS KBT F/A-18F), VFA-137 Kestrels (VRS F/A-18E), VFA-192 Golden Dragons (VRS F/A-18E), VFA-34 Blue Blasters (FSXBA F/A-18C), VAQ-136 Gauntlets (FS KBT EA-18G), VAW-113 Black Eagles (Abacus E-2C), HSC-4 Black Knights (Abacus UH-60), HSM-78 Blue Hawks (Abacus SH-60).
Posted Aug 4, 2020 14:16 by Dustin Kosman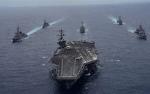 61.15Mb (1096 downloads)
Here is a representation of the USS Carl Vinson (CVN-70) from RIMPAC 2018. I changed the Air Wing from CVW-11 from the Javier's USS Nimitz to CVW-2.
Posted Aug 4, 2020 00:13 by Dustin Kosman