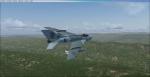 16.07Mb (141 downloads)
Six historical textures for Yan Tao's MiG-19 in the colors of Bangladesh, Vietnam, China and Pakistan. Works in FSX/FS2004 and P3D up to v3.
Posted Aug 13, 2022 00:37 by Nilsson.J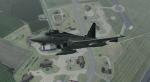 12.80Mb (272 downloads)
Repaint for the IndiaFoxtEcho Typhoon. ZH588 Development Aircraft #1. Depicted in its original roll out scheme (two tone) shortly after being fitted with the EJ200 Engines. A short while later it was painted all black. Tested in P3DV5.3
Posted Aug 5, 2022 06:27 by Ash Oxley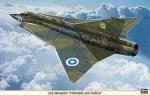 7.54Mb (223 downloads)
The SAAB J35 Draken V4.0 from Bookmark Flightsim Software in historical Finnish colors. Works in FSX.
Posted Aug 5, 2022 02:25 by Nilsson.J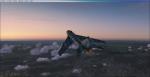 20.08Mb (202 downloads)
Textures for various Eastern Bloc and Arab countries for Yan Tao's MiG-19. Works in FSX, P3D up to v3 and FS2004
Posted Aug 5, 2022 01:33 by Nilsson.J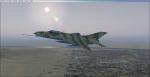 49.05Mb (152 downloads)
Textures for Ivan Jurcaga's MiG-21 F-13 in the colors of Bulgaria, Egypt, East Germany, Poland, Indonesia, Syria and Hungary.
Posted Aug 3, 2022 20:44 by Nilsson.J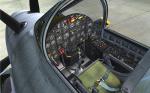 55.96Mb (759 downloads)
The Lockheed XFV-1 is a US Navy tail-sitter VTOL prototype manufactured in the early 1950s. When I first saw the XFV-1, I was fascinated by its unique shape. The protruding cockpit and canopy, the large inflated propeller spinner, the beauty of the curves around the air intake, the tail wing tires like casters on an office chair, and the simple landing gear like training wheels on a kid's bicycle. On the ground, it looks like an animal standing on two legs. The more I look at it, the more attractive it is, so I wanted to make it the FS model. This model has bump mapping and specular mapping. I haven't tested it to work other than FSX. (Admin: Also tested well in P3Dv5) FSDS v3.5 model by UENOSHING.
Posted Aug 2, 2022 10:31 by UENOSHING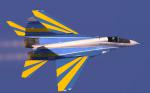 2.88Mb (220 downloads)
MiG-29 Fulcrum-C of Ukraine Air Force "Ukrainian Falcons" aerobatic display team in its 1997 RIAT debut colors. Repaint by BAA (First Release) for IRIS MiG-29 FS2004 model. Includes six "101" - "106" tail numbers and one 2017 commemoration livery. Tested in FS2004 and FSX SP2. This release commemorates Ukrainian Falcons 1997 debut performances. Includes distinct textures ONLY - needs original IRIS model and common textures: https://simviation.com/1/search?submit=1&filename=Y&keywords=irismig29.zip
Posted Jul 23, 2022 12:17 by BAA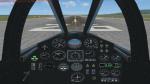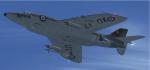 63.82Mb (316 downloads)
This is an update of the Supermarine Scimitar by Robert Richardson. I have given it a 2D panel from a picture of the VC; changed the size and position of the radios and the GPS; added an autopilot in a window; added a HUD; corrected any contact points that needed it; and updated the flight dynamics.
Posted Jul 12, 2022 11:09 by Bob Chicilo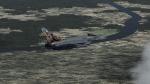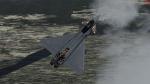 15.45Mb (129 downloads)
Textures for FSX-P3D Dino Cattaneo Eurofighter, Wing 14, Tiger Meet 2018 Based in Albacete AB. This work has been done in collaboration with my friend Ramon Ep
Posted Jul 12, 2022 01:52 by Antonio Diaz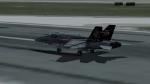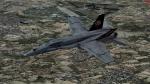 8.49Mb (156 downloads)
Textures for default FSX-P3D F-18. Livery Spanish Air Force Tiger Meet 2022 , Wing 15 , based in Zaragoza AB
Posted Jul 11, 2022 01:04 by Antonio Diaz