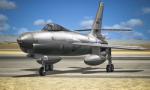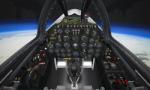 36.19Mb (841 downloads)
FSX/P3D Republic XF-91B Thunderceptor v1.0 (Big nose). This aircraft was developed in 1949, a US Air Force prototype jet fighter. The feature of the XF-91 Thunderceptor is to have an inverse tapered wing that increases in thickness as it goes outward. And the combination of the jet engine and the rocket engine exceeded the speed of sound for the first time as a fighter aircraft. This package is type B of XF-91 which added a large radome nose. This is a native FSX acceleration project. I enclosed a large drop tank model and a clean model. VC has animation aircraft control. By Uenoshing
Posted Feb 5, 2019 01:17 by Uenoshing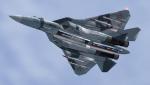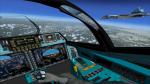 16.74Mb (2838 downloads)
FSX/Accel/P3dv3/FS2004 Sukhoi-57 T50 fifth generation fighter. This superiority fighter made its first flight in 2010 and will enter service in 2019 and will replace the Su-27. This fighter allows supercruising with Mach 1, has advanced avionics and the maneuverability seems to exceed all physical limits but the stealth abilities are allready obsolete. The FS-model comes with two models, has two or four animated missiles, swinging brake chutes and an almost photorealistic 2D panal and a fully matching VC. Thirteen cameras with two wingman views showes you all the beauty, the details and animations. FSDS 3.5 model by Erwin Welker
Posted Feb 4, 2019 06:33 by Erwin Welker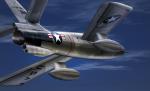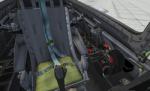 33.01Mb (954 downloads)
Republic XF-91 Thunderceptor was an prototype interceptor fighter in 1949 with the sole purpose of protecting the US airspace. The feature of XF - 91 is the beautiful reverse tapered wing and the dual power of jet and rocket. According to the plan, the time allocated to the combat operation of XF-91 was about 25.5 minutes. The XF-91 was required to have a climbing power of 47,500 feet in 2 minutes, a cruising speed of 486 knots, a combat duration of 688 knots for 3 minutes and a descent time from 47,500 feet of 5 minutes. This model reproduced the Curtiss-Wright XLR 27 CW-1 rocket motor of the high power which could not be obtained. The maximum speed was expected to be Mach 2. I like American fighters full of adventure in this era. By Uenoshing
Posted Feb 1, 2019 20:53 by Uenoshing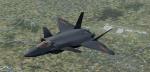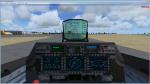 10.48Mb (942 downloads)
The Chengdu J-20 is a stealth fighter produced by the People's Republic of China. Original model by Erwin Welker. New VC, panels for wide and standard screen, gauges including GPWS callout by Philippe wallaert. Compatible with FSX versions and P3D up to v3. See instructions in the readme.txt file.
Posted Jan 31, 2019 07:49 by philippe Wallaert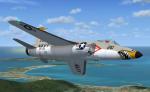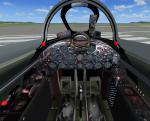 33.72Mb (1194 downloads)
FSX/P3Dv3,v4_Grumman Tiger The Grumman F11F/F-11 Tiger is a supersonic, single-seat carrier-based United States Navy fighter aircraft in operation during the 1950s and 1960s. The F11F/F-11 was used by the Blue Angels flight team from 1957–1969. Grumman Aircraft Corporation made 200 Tigers, with the last aircraft being delivered to the U.S. Navy on 23 January 1959. FSX/P3D mdl by A.F.Scrub
Posted Jan 24, 2019 03:28 by A.F.Scrub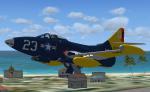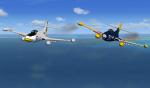 30.01Mb (1147 downloads)
FSX/P3D Grumman Panther The Grumman F9F Panther is one of the United States Navy's first successful carrier-based jet fighters, as well as Grumman's first jet fighter. A single-engined, straight-winged day fighter, it was armed with four 20 mm cannons and could carry a wide assortment of air-to-ground munitions. FSX/P3D (tested up to v4) mdl by A.F.Scrub
Posted Jan 19, 2019 12:27 by A.F.Scrub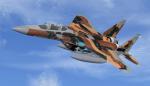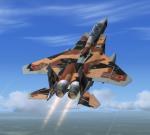 3.16Mb (322 downloads)
FS2004/FSX/Accel/Japanese dessert camo textures for the Iris F15E Strike Eagle. Repaint by Erwin Welker
Posted Jan 16, 2019 04:38 by Erwin Welker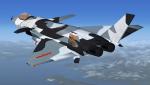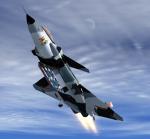 2.34Mb (282 downloads)
FS2004/FSX/Accel/P3dv3 Winter camo textures for my chinese stealth fighter Chengdu J-20 (requires j20-chengdu.zip). Repaint and original model by Erwin Welker
Posted Jan 16, 2019 04:11 by Erwin Welker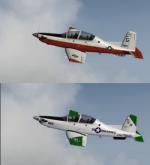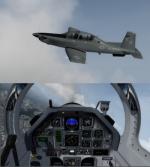 65.83Mb (1871 downloads)
FSX/P3D Raytheon/Beechcraft T-6 Texan II US Military Pack 3. This is the ex-payware T-6 II Texan from Iris in 3 US liveries. US Navy 180, USMC VMFAT-101, and USMC OT-6B VMO-1 ER. The Beechcraft T-6 Texan II is a single-engine turboprop aircraft built by the Raytheon Aircraft Company. A trainer aircraft based on the Pilatus PC-9, the T-6 has replaced the Air Force's Cessna T-37B Tweet and the Navy's T-34C Turbo Mentor. Special thanks to Iris Simulations/Dave Brice for allowing this to be distributed free. Thanks to Robbie Nauffts, John Detrick for the great textures. Put together and tested in P3Dv4 by Chris Evans. Should work in FSX and all previous P3D versions.
Posted Jan 9, 2019 08:33 by chris evans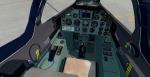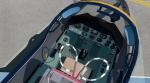 17.73Mb (406 downloads)
This are alternate virtuel cockpit models without pilot figure for the AlphaBleuCiel Dassault/Dornier Alphajet-E FSX native packs for FSX / P3Dv 1-4+ For all users, who wish to have an empty cockpit without pilot figure. Have fun Jan2019, Bluebear
Posted Jan 7, 2019 13:06 by Bluebear