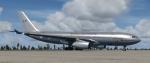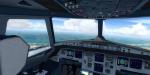 87.69Mb (2316 downloads)
FSX/P3D Airbus A330 MRTT KC2 Voyager RAF Package. The KC-2 Voyager is the UK's Royal Air Force version of the military Airbus A330 MRTT (Multi Role Tanker Transport). The RAF currently operate 10 KC2. Model by Thomas Ruth. Added the better Thomas Ruth FSX native VC converted by Speedbird77. Fixed contact points. Added wing views. Includes built in FMC by Garret Smith. FMC will display in VC. Includes A330 manual. Custom A330 sounds and checklist included. FSX users: requires either FSX Acceleration or Service packs 1 & 2. Textured, assembled and tested for P3Dv4.5 by Chris Evans Should also be fine in FSX and earlier P3D versions.
Posted May 20, 2020 17:10 by chris evans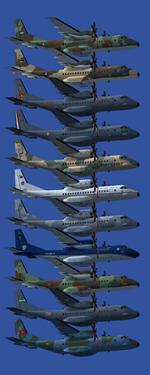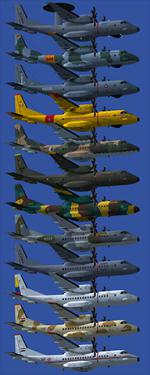 116.94Mb (2414 downloads)
23 completely new HD-textures with overworked base files for the CASA C-295 by Premier Aircraft Design: Algerian AF, Austrian AF (fictional), Bangladesh Army, Brazilian AF (MP), Chilean Navy (MP), Czech AF, EADS, EADS (AEW), Ecuadorian AF, Egyptian AF Camo, Egyptian AF White, Indonesian AF, Jordanian AF, Kazakhstan AF, Mexican AF, Oman AF, Philippine AF, Polish AF, RCAF (MP), Saudi Arabian AF, Thai Army, Uzbekistan AF and Vietnamese AF. I modified the panel as well, but the original one is included. Credit goes to Jean-Pierre Brisard & Bob May from Premier Aircraft Design: https://www.premaircraft.com/index.html Will not work in P3D v4+. Enjoy and Greetz, Dagobert
Posted May 17, 2020 05:02 by Dagobert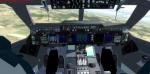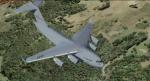 29.95Mb (4722 downloads)
FSX/P3D Boeing C-17 Globemaster III FSX Native package. This is the Boeing C17 originally by Gmax Academy converted to FSX native format and compatible with P3D v4.5+ Added the A400M internal VC by Patrick Le Luyer which is the nearest I can find to the military cockpit of the C17. Model conversion by Speedbird77. Packaged for P3D/FSX by Chris Evans.
Posted May 16, 2020 02:08 by chris evans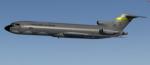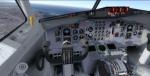 60.62Mb (1268 downloads)
Boeing 727-200 Fuerza Aerea Colombiana (Vulcano). Model by TDS. VC by Thomas Ruth. Textures by PhotoshopFSX
Posted May 2, 2020 06:27 by PhotoshopFSX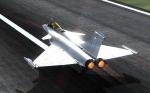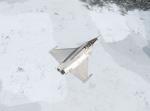 11.35Mb (731 downloads)
Indian Air Force Dassault Rafale M. Model by Bruno "Thor's Hammer" Merelle Only Texture by Kalyan Mukherjee Installation: Copy Paste the texture files into the default Rafale texture folder Model can be downloaded here:
Posted May 2, 2020 00:45 by Kalyan Mukherjee
47.77Mb (1925 downloads)
FSX/P3D Boeing C-22 USAF package. The C-22A and C-22B are Boeing 727 aircraft used by the USAF mainly for transporting National Air Guard personnel. Boeing made the classic 727-200 between the early 1960's to 1984. It has a max. range of 2700nm. Boeing 727-200 model by TDS/ Tenkuu Developers Studio with Thomas Ruth's great Boeing 727 VC added. Includes utility for ground services, Passenger bus, cargo, stairs, refuelling truck etc (find it under - Views - Instrument panel - Util) Thomas Ruth VC added and aircraft.cfg edited to allow correct VC views. The VC includes working wipers, Honeywell FMC and more. See Panel manual for more info. Used the TDS native FSX Boeing 727-200 model and paintkit. See panel docs to get the best out of the VC. Zip preview for more imgages. Textured and assembled for P3D v4.5 and should be ok in older P3D & FSX by Chris Evans
Posted Apr 2, 2020 09:13 by chris evans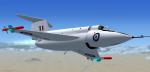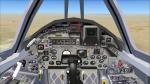 16.09Mb (943 downloads)
This is a panel update for the Saunders Roe SR-53, designed and posted by Hubert Mueller. It's a great model but definitely deserves better panels. So here is a panel update including all the required gauges as well as automatic exhaust and afterburner effects. As the designer didn't include an E-mail address I couldn't ask his permission but I trust he won't mind me posting the entire package without it - it's always easier for users to get a whole package instead of having to install bits and pieces into an existing package. So this is the whole aircraft. I didn't change anything in the aircraft's look, just the panels and added effects. Thanks to Hubert Mueller for his nice model. Panel update and effects by Michael Pook.
Posted Mar 31, 2020 12:47 by Michael Pook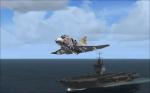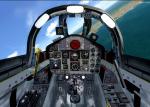 30.31Mb (3891 downloads)
F-4 Phantom II for FSX and P3D incl. v4.5. FEATURES: 1) Animations All flight controls correct in sense and direction. Front canopy : shift-e Rear canopy : shift-e-2 Tailhook - x key or assigned tailhook Wingfold - wing fold key key Drag chute - thrust reverse FSX native material, animations and conditions. Finally cracked the roll spoiler-aileron animation sequence. This is the basic air defense-equipped model. More to follow latter, as this one is a tedious convert process. Made available by Alphasim's generous freeware policy, and with the permission and encouragement of Phil at www.virtavia.com.
Posted Mar 29, 2020 01:53 by Anon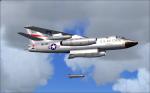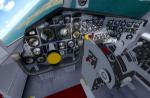 23.41Mb (1564 downloads)
Fighter pilots make headlines Bomber pilots make History. Alphasim (www.virtavia.com) Douglas B-66 Destroyer light bomber for FSX/P3D. FSX materials, full VC, extra nuclear strike options (B.28 laydown). B-66B, RB-66B and EB-66B models. B-66 by alphasim. Conversion, B28 stores by YT Effects by Drongo-(thanks!)
Posted Mar 29, 2020 01:04 by Anon
46.78Mb (2051 downloads)
FSX/P3D Boeing KC-46a Pegasus USAF package. The Boeing KC-46 is a military aerial refueling and transport aircraft developed from the Boeing 767-200. Package includes Skyspirit FSX native KC-46A model with the upgraded 737-800 VC added. Includes utility for ground services, cargo, stairs, etc (FSX find it under - Views/P3D Vehicle - Instrument panel - - Posky Utility) Added the Philippe Wallaert Boeing 767 2d panel plus Alejandro Rojas Lucena/FSND much improved Boeing 737-800 VC model. The layout of the 767 cockpit is not a million miles away from the advanced 737-800. Added HUD. This virtual cockpit includes working wipers (right mouse click on switch) with rain effect. Switches for LCD Screens, EICAS, PFD, MFT. Autobrake switch. Opening pilots window. Cabin Lights switch. Realistic FMC. Ground Proximity Warning System (GPWS). Includes added MFD and PFD panels. Exits, wheel levels, jetways and views corrected for FSX/P3d. See VC docs to get the best out of the VC and FMC. Textured and packaged for P3D/FSX by Chris Evans.
Posted Mar 29, 2020 00:21 by chris evans