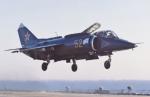 4.32Mb (196 downloads)
Free repaint of existing number 52 of the great Yak-38 model by Harri Thaha. Use zip preview to see more screenshots. Tested in P3Dv4, but should work also in FSX.
Posted Jun 5, 2021 14:20 by Flanker256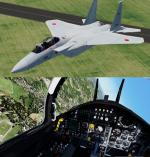 63.25Mb (572 downloads)
Made for P3d and FSX. Iris F-154 package FSX native JASDF Pack . Repaints : JASDF 50th Aniversary '52-8850, JASDF 303 TFS, 10th Anniversary & . Original aircraft by IRIS Simulations. Depictions by Andy Knott and Mike Pearson. FSX Native conversion by ignoti et quasi occulti Package by Danny Garnier
Posted Jun 3, 2021 10:48 by GARNIER D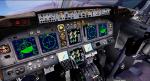 59.52Mb (544 downloads)
FSX/P3D Boeing P-8A Poseidon Royal Australian Air Force package. The Royal Australian Air Force currently operate 20 Boeing P-8 Poseidon used for maritime patrol and surveillance. Package includes advanced miltary themed 737-800 VC added. The VC is the Alejandro Rojas Lucena/FSND/Ken Wiggington upgraded Boeing 737-800 VC model. This virtual cockpit model includes working wipers (right mouse click on switch) with rain effect. Switches for LCD Screens, EICAS, PFD, MFT. Autobrake switch. Opening pilots window. Cabin Lights switch. Realistic FMC. Ground Proximity Warning System (GPWS), More Realistic night VC textures. Custom sounds included for that extra realism. VC added and aircraft.cfg edited to allow correct VC views, jetways, wheel levels and wing views. Thank you for the high quality Boeing P8A model and paintkit from TDS. Textured and assembled for P3D v5 by Chris Evans. Should also work in earlier P3D versions as well as FSX.
Posted May 31, 2021 07:26 by chris evans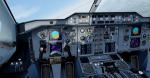 48.68Mb (778 downloads)
FSX/P3D Airbus A310-300MRTT Luftwaffe German Air Force package. 10+26 The A310MRTT (or CC-150T) is a military version of the Airbus A310. The German Air Force currently operate 3 MRTT versions. A310MRT model by Thomas Ruth in FSX native format with A310 VC. Includes FMC by Garret Smith. Includes A310 operation manual. Airbus sounds included. Textured and assembled for P3D v5 by Chris Evans. Should work in FSX and other P3D
Posted May 30, 2021 04:56 by chris evans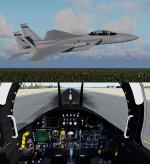 61.87Mb (764 downloads)
Made for P3d and FSX. Iris F-15 package FSX native USAF Pack 6. Repaints : 101st FS, 110th FS, St Louis IAP and 159th FS Jacksonville AFB. Original aircraft by IRIS Simulations. Depictions by Andy Knott. FSX Native conversion by ignoti et quasi occulti Package by Danny Garnier
Posted May 29, 2021 13:09 by GARNIER D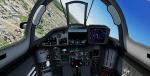 46.20Mb (531 downloads)
Iris Mikoyan MIG-29 Fulcrum Pack 6 for P3D and FSX. Indian Navy, INAS 300 - The White Tigers, Ukrainian Air Force and Syrian Air Force. The ex payware Iris MIG 29 Fulcrum packge updated to FSX native by ignoti et quasi occulti. Textures converted to dds format. I use the textures by Andy Knott and Mike Pearson. Package by Danny Garnier
Posted May 27, 2021 12:32 by GARNIER D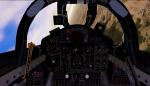 75.49Mb (522 downloads)
McDonnell Douglas F-4 Phantom II Marines/Navy Pack 2 for P3D/FSX. Liveries: MARINE Air Reserve Squadron VMFA-351, NAVY Fight Squadron VF-41 Black Aces aboard USS F.D. Roosevelt . The ex Virtavia McDonnell Douglas F-4 Phantom II package updated to FSX native. Textures converted to dds format. I use the textures by Steve Bryant. FSX Native conversion by lls at simviation. Package by Danny Garnier
Posted May 26, 2021 09:44 by GARNIER D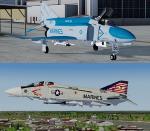 71.05Mb (758 downloads)
McDonnell Douglas F-4 Phantom II Marines/Navy Pack 1 for P3D and FSX. Liveries: U.S. Marine Corps VMFA-321, US Navy 'Grim Reapers' and U.S. Marine Corps VMFA-232, BuNo 155783 WT76. The ex Virtavia McDonnell Douglas F-4 Phantom II package updated to FSX native. Textures converted to dds format. I use the textures by Steven Kreusser and Mike Pearson. FSX Native conversion by LLS at simviation. Package by Danny Garnier
Posted May 24, 2021 03:21 by GARNIER D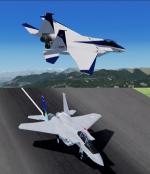 62.09Mb (527 downloads)
Iris F-15 package FSX native USAF Pack 5. Repaints : Eagle Operation Iraqi Freedom 'Dragon', USAF 0290 Prototype and 19th FS, Elmendorf AFB. Original aircraft by IRIS Simulations. Depictions by Andy Knott. Nick Degnan. Matt Wynn. FSX Native conversion by ignoti et quasi occulti Package by Danny Garnier
Posted May 22, 2021 13:14 by GARNIER D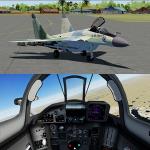 44.07Mb (566 downloads)
Iris Mikoyan MIG-29 Fulcrum Pack 5. Democratic People's Republic (North Korean Air Force), Uzbekistan Air Force and Myanmar Air Force. The ex payware Iris MIG 29 Fulcrum packge updated to FSX native by ignoti et quasi occulti. Textures converted to dds format. I use the textures by Mike Pearson. Package by Danny Garnier
Posted May 21, 2021 12:04 by GARNIER D