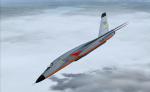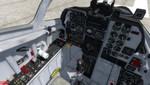 41.08Mb (1464 downloads)
FSX/P3D (up to v4+) North American A5 Vigilante World Meteorological Organisation Package (fictional). A5 turned into meteorological research airplane. Original ex-payware model by Virtavia converted to FSX native format by LLS. Great VC included! Assembled for FSX Acceleration by Chris Evans. Textures by J Lopez
Posted Oct 27, 2017 04:13 by JALopezR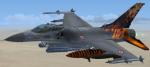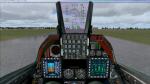 62.61Mb (3642 downloads)
Lockheed-Martin F-16 in several liveries. Original model by Kirk Olsson, improvements by Michael Pook. New panels with VC, gauges including GPWS callout by Philippe Wallaert. See instructions in the readme.txt file. Nice flights!
Posted Oct 26, 2017 02:09 by Philippe Wallaert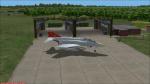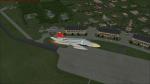 8.67Mb (583 downloads)
Here is an update for the IRIS Simulations F4UK Phantom FGR2. The ECM Block at the top of the tail wasnt visible in the previous upload. Single livery included is XV424 of 56 Squadron
Posted Oct 23, 2017 04:52 by Ash Oxley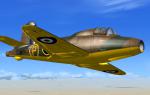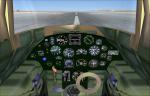 12.58Mb (897 downloads)
The Gloster E.28/39, (also referred to as the Gloster Whittle, Gloster Pioneer, or Gloster G.40) was the first British jet-engined aircraft to fly, in 1941. It was the third successful jet to fly after the German Heinkel He 178 (1939) and the Italian Caproni Campini N.1 (1940). This is an FSX update for the FS2002/2004 Gloster Pioneer. It features FSX compatible gauges for both the VC and 2D panel. Correct smoke and effect added. Original model and textures by Felipe Belalcazar and Tony Marinac, basic panel design by Warren Wright. All FSX updates by Michael Pook. Not known if the model functions in FS2004 and P3D/3 as well but it very likely will.
Posted Oct 21, 2017 11:05 by Michael Pook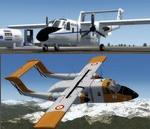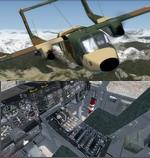 12.89Mb (1634 downloads)
FSX/P3D 3/4 CV-10T Bronco Spanish Air Force 3 livery package. The CV-10 Bronco is an American twin–turboprop light attack and observation aircraft. It was developed in the 1960's as a special aircraft for counter-insurgency (COIN) combat, and one of its primary missions was as a forward air control (FAC) aircraft. It can carry up to three tons of external arms, internal loads such as troopers or medical aid, and can fly for three or more hours. Model by Tim Conrad with FSX native conversion and updates by LLS . Textures by Juan Arruna. Wheel levels corrected. Assembled and edited for FSX Acceleration and P3D 3 & 4 by Chris Evans.
Posted Oct 2, 2017 06:28 by chris evans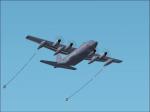 12.15Mb (1861 downloads)
FSX native Lockheed KC-130 Hercules heli-tanker with fictitious AI flightplan. This AI aircraft comes from FS2002, it was converted to FSX native format with MDLX Converter and it is a very basic, but flyable AI model (2D panel and sound, no VC) with automatically activated tank hoses. for FSX and P3D V 1 - 4.
Posted Oct 1, 2017 06:11 by Bluebear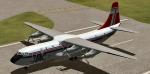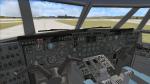 36.24Mb (1570 downloads)
The Short Belfast was a heavy transport turboprop built in the UK in 1964. Original design by Virtavia. New panels, VC and gauges for wide and standard screen by Philippe Wallaert. See instructions in the readme.txt file. Enjoy!
Posted Sep 28, 2017 11:40 by Philippe Wallaert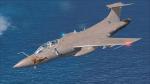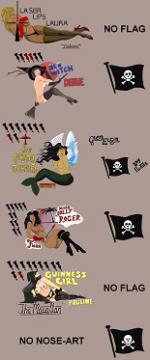 69.78Mb (1683 downloads)
As with my earlier package that contained Desert Storm Tornadoes, I also realized that now someone might want to have a nice Desert Storm Buccaneer package as well. As with that package I also re-drew all the Nose-arts and Pirate Flags where necessary to the best of my abilities, and it is thus not a copy & paste business from a photograph. Most available photographs from that era are not of good quality anyway. I trust that you'll enjoy flying these specimens as much as I do. All credit to UKMIL for an excellent product.
Posted Sep 27, 2017 00:29 by Andre Ludick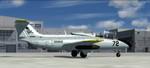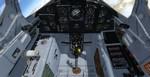 43.42Mb (1971 downloads)
P3D >3 & 4/FSX Aero Vodochod L-29 Delphin updated package. Liveries include Czech SASOL Tigers, Czech Air Force Tigermeet, Viper Warbirds of Delaware Conversion and Civil Registration 72. Panel updated to include P3D v4 compatible gauges. Corrected wheel levels. Gauges by Milton Shupe and others. Model by Tim Conrad with FSX native conversion by LLS. Textures by Damian Radice, Lobo da Silva, Paul Cornish. Zip preview for images. Updated for P3D v4 + FSX/P3D > 3.4 by Chris Evans
Posted Sep 17, 2017 06:06 by chris evans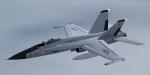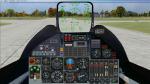 4.87Mb (1493 downloads)
The YF17 was designed in the seventies as a prototye for a light weight fighter. Finally the F16 was choosen and only two prototypes were built. Original design by JR Lucariny. Adaptation to FSX, panels and gauges for wide and standard screen (no VC) by Philippe Wallaert. Credit: Michael Pook for smoke effects. See instructions in the readme.txt file. Nice flights!
Posted Sep 15, 2017 12:49 by Philippe Wallaert