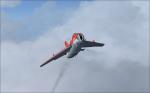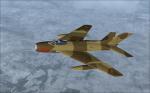 20.34Mb (1191 downloads)
The Mikoyan-Gurevich MiG-19S(NATO: name: Farmer-C is a Soviet second generation, single-seat, twinjet fighter aircraft, the world's first mass-produced supersonic aircraft. It was the first Soviet production aircraft capable of supersonic speeds in level flight, and a dread foe in a knife fight. 2020 FSX native update of the Yan Yao MiG-19. It's the one out of all the freeware FARMERs that gets the shape and belligerent look of the MiG-19 down cold. The model is an elderly GMAX, and has a fes minor glitches I could not entirely minimize or fix, see the readme for details. It's still a great looking model, the glitch isn't too glaring. It's not, really. And, the price is right. No VC, so I Frankenstein`d a 'soviet twin' together out of a Su-15 VC. Model by Yan Tao.
Posted Dec 26, 2020 20:06 by Dread Pilot Roberts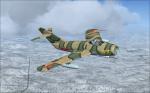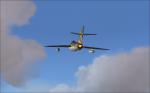 11.40Mb (821 downloads)
The MiG-17 is a refined version of the famous MiG 15 of the Korean War. Although similar in appearance to the MiG-15, the MiG-17 has more sharply swept wings, is about three feet longer, reheat fitted and most of the MiG-15`s bad manners ameliorated. 2020 FSX native update, for FSX/P3D; just the tanked and clean model-the armed versions arms look a bit hokey. It's typical Ito-San Ca.2004, still an nice, slippery model,a number of good repaints, great fun. Effects are all in place, VC is AlphaBlu MiG-15Bis. NOTE: You must have the ALPHA BLEU CIEL MiG-15Bis installed. There are a number of file dependenciies pointing back at the ALPHA BLEU CIEL MiG-15Bis folder. Model by Kazunori Ito
Posted Dec 26, 2020 19:55 by Sheygetz Goy Boychik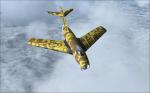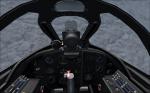 25.38Mb (1662 downloads)
The Mikoyan-Gurevich MiG-15 (NATO:FAGOT) is a jet fighter aircraft developed by Mikoyan-Gurevich for the Soviet Union. The MiG-15 was one of the first successful jet fighters to incorporate swept wings to achieve high transonic speeds. The MiG-15 is believed to have been one of the most produced jet aircraft; in excess of 13,000 were manufactured. Licensed foreign production may have raised the production total to almost 18,000. The MiG-15 remains in service with the Korean People's Army Air Force as an advanced trainer. 2020 FSX native update to FSX/P3D of the ALPHA BLEU CIEL MiG-15Bis Simple, pretty, gorgeous external and clickable VC. A schwack of paints by Sean Doran. This is one fabulous FAGOT.
Posted Dec 26, 2020 19:41 by Eyegore Kropotkin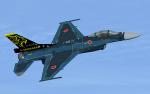 4.93Mb (253 downloads)
Mitsubishi F-2A #13-8508 "Black Panthers" repaint textures for freeware "Team FS KBT F-2A" These textures depict F-2A 508 in the special "Black Panthers" paint scheme of the 8th TF Sqdrn, Misawa AB.
Posted Dec 21, 2020 02:09 by Daniel Gregory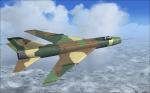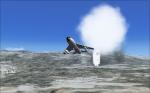 59.74Mb (1098 downloads)
The Sukhoi Su-7 (NATO designation name: Fitter-A) is a swept wing, supersonic fighter aircraft developed by the Soviet Union in 1955, with service introduction in 1959. The Su-7B series became the main Soviet fighter-bomber and ground-attack aircraft of the 1960s. FITTERs were rugged and simple, but short ranged and had a light weapon load. The Su-9/11-Su-7B family was well-liked by aircrews, and led to the Su-15 series and the very effective Su-17/22 family of combat jets. Su-7B FITTER by Mehlin Rainer, for FS9, ca.2010 FSX native version 2020 by Y.T. Models included for clean and various weapon load-outs: Long range interdictor, Nuclear Strike, Close Air Support bomb (FAB100M46), and S-24 heavy rocket. Bombs and rockets provided, load-outs from a saved flight, see readme for simple instructions. Merged in DRStalker80's Su-9 VC. It's largely identical in aircraft systems, though the nav-attack suite differs- the Su-9 has a full search/track/fire control radar system and other all-weather IA-PVO interceptor kit. The Su-7B carries a ranging set and largely VFR nav-attack suite. NOTE: You must have the DRSTALKER80 Su-9B FISHPOT for FSX installed for this to work. There are a number of dependencies for textures, panel, sounds aliased back to the Su-9B(DS). Weapons from a CFS2 kit by Laszlo Becz. Nuclear stores and auto-cannon object by Y.T.
Posted Dec 20, 2020 03:23 by Aardvark Ratnik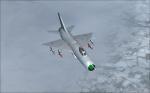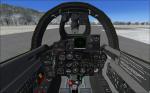 74.82Mb (1046 downloads)
Sukhoi's Su-9B and Su-11 FISHPOT were large, single engine all weather interceptors that served with the IA-PVO Strany from 1959 to the mid eighties. These are new and old FS9 models updated to FSX standard materials and tags. Su-9B(DS) by By Drstalker80, systems by Alex Belov. Conversion to FSX with gracious permission of the author. Su-9B(BH), Su-11(BH), and R8M AAM by Brett Hoskins. FSX native conversions, features, scut work by Y.T. NOTE: You must have the (enclosed)DRSTALKER80 Su-9B FISHPOT for FSX installed for this to work. There are a number of dependencies for textures, panel, sounds aliased back to the Su-9B(DS).
Posted Dec 20, 2020 02:56 by Aardvark Ratnik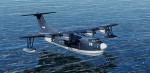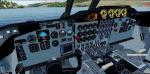 20.49Mb (1230 downloads)
We all know and love Mr. KBT. He is working on a Shin-Meiwa US-2A amphibian, but it's not quite ready yet. These things take time. Mr. KBT has, however, made a sneak peek avaliable. It is an AI version, for water only, so the gear is not modeled, and things are simplified. It looks great, the flight controls are there, and the main door opens. So, for a boat enthusiast, it wets the whistle. The KBT US-2 page is here: https://viperhiro.wordpress.com/category/shinmaywa/ The external AI model may be down loaded here: https://drive.google.com/drive/folders/1F_E9a62J-nZTxvIawTOdBY2xMxENUUBM These files are for a temporary merge of the KBT P-3 VC, and the config file set up with L'Azur seaplane performance mod. It also works fine as an AI model, retaining the more realistic water performance. This also pemits realistic scooping for fire bombing, curved take-off and landings, and general wet fun.
Posted Dec 5, 2020 03:39 by Goto Dengo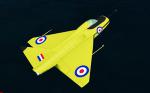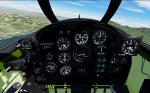 23.01Mb (482 downloads)
Boulton Paul P.111A for FSX. Boulton Paul P.111A 'Yellow Peril' British experiimental high speed tailless delta-wing research and test aircraft. Modified from the P.111 after an earlier landing accident, the P.111A first flight was on 2nd July 1953 and the last flight was on 20th june 1958. It reached Mach 0.93 at 35,000 ft and Mach 0.96 in a shallow dive. Boulton Paul Chief Test Pilot A.E. 'Ben' Gunn described the P.111 as 'touchy' and 'like flying a razor's edge'. Also, when the undercarriage was raised or lowered there was a large trim change of 4 degrees or more and the landing speeds were high. Tyler Gladman
Posted Dec 4, 2020 02:47 by Tyler Gladman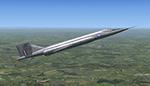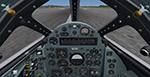 50.43Mb (692 downloads)
Bristol Type 188, the 'Flaming Pencil' was a British highspeed research aircraft. Designed to meet operational requirement ER.134T for a testbed capable of speeds greater than Mach 2. Due to the anticipated effects of kinetic heating at high Mach numbers, the fuselage was constructed of stainless steel. Two aircraft were built, XF923 and XF926. First flight of XF923 was on 14th April 1962 and then XF926 with upgraded Gyron Junior engines on 29th April 1963. Ironically, the Maximum speed achieved was Mach 1.88 at 36,000 ft. Although the top speed of the Type 188 was disappointing, the airframe advanced understanding and knowledge of structures, oils, electrics, hydraulic fluid, bearings, tires, windows and cabin environment at high temperatures as well as telemetry which was used during the development of Concorde. Last flight was 11th January 1964. One Bristol Type 188 remains at the RAF Museum, Cosford. FSX SE SDK native design with custom 3D gauges and cockpit. By Tyler Gladman.
Posted Dec 3, 2020 21:26 by Tyler Gladman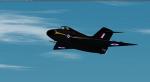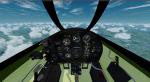 23.08Mb (429 downloads)
Boulton Paul P.120 for FSX. "Boulton Paul P.120 'the Black Widow Maker' British experimental highspeed delta-wing research and test aircraft. An advanced version of the previous P.111. The P.120 first flight was on 6th August 1952 and the last flight was on 29th August 1952 which resulted in the loss of the aircraft. The redesigned tail added extra weight to the P.120 and made it slightly sluggish compared to the lighter P.111. As test pilot A.E. 'Ben' Gunn found on his first flight, positive trimming of the delta tailplane is required to reduce the take-off run! Tyler Gladman
Posted Dec 3, 2020 02:21 by Tyler Gladman