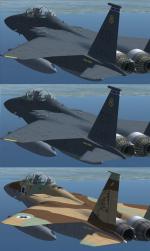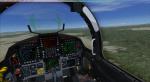 148.69Mb (5291 downloads)
IRIS Simulations F-15E and F-15SG Eagle for FSX and P3D up to V3.*. I've fixed a throttle problem, replaced the glitchy hud with Jivko Rusev Realistic F/A-18 HUD. Added default radios, GPS, autopilot, radar to panel. Made missing aircraft selection menu thumbnails... Original flight dynamics. (Please note that this product is freeware and no longer supported by IRIS Flight Simulation Software. Furthermore this aircraft is no longer indicative of the quality of our commercial products. Please refer to our website for information and screenshots of our commercial product range. Copyright © 2005-2010 IRIS Flight Simulation Software. Not compatible with P3D v4.
Posted Aug 22, 2017 02:15 by T Marson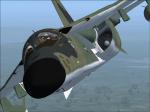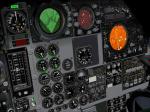 85.92Mb (3366 downloads)
Our goal is give you the best F-111 flight simulator flying experience possible. This is what a real f-111 pilot has to say about the version 1.0 "I was fortunate to be among the group that took the first six production F111s to Thailand in 1968 and even though we had our problems, we did major damage with this fantastic aircraft.I love this plane and you have done a great job duplicating the real plane. You seem to be as passionate about the F-111 as I, so you can imagine how elated I was to see a realistic TFR in action." The Heart and soul of the F-111 is it's Terrain Following Radar ability. Our update has the only True Terrain Following Radar system with Pitch and Roll Stabilization that looks ahead of the aircraft to avoid mountains. It is integrated into the Autopilot and Instrument systems for Auto or Manual TF operation. The autopilot system models the real F-111 autopilot Stability Augmentation Modes with pitch and roll sub-channels. Control Stick Steering uses Pitch and/or Roll control stick input to override the pitch and/or roll autopilot channel(s) without disengaging the autopilot settings. There are 7 different Custom 2D and VC Cockpits. Included are f-111B, F-111C, F-111E, F-111F, F-111G, FB-111A, FB-111A-CF, FB-111A with pre AMPS avionics, YFB-111A and the NASA, AFTI & TACT F-111A aircraft. 26 aircraft with a description for that tail number in the aircraft details menu. Over 200 functional gauges and switches. Over 80 Effects. Included is a custom sound package. See the features Doc for more details. A configurator allows you to set the engine and preformance for the F-111 model you are flying, or just use the default for fun flying.
Posted Aug 20, 2017 10:57 by Steve Hess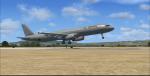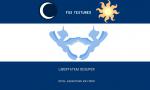 46.07Mb (236 downloads)
MLP Royal Equestrian Air Force Airlift Command Textures pack. This contains: * 2 Textures for the default 737-800. * 1 Texture for the default 747-400. * 1 Texture for the default King Air. * 1 Texture for the default A321. * 1 Texture for the default CRJ-700 and * 1 Texture for the Virtavia/Alphasim C-5 Galaxy. Plus the readme with credits, and [fltsim.xx]s
Posted Aug 15, 2017 14:49 by Airhogsborne (AKA Steel Wings)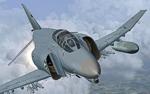 14.20Mb (911 downloads)
The McDonnell F-4F Phantom II is a two-seater and supersonic fighter capable of long range, all-weather fighter-bomber capabilities as well. It is located in the Federal Republic of Germany still in service. 2d panel but no VC. By Andreas Meyer
Posted Aug 13, 2017 09:25 by Andreas Meyer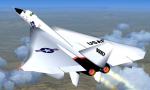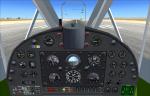 7.93Mb (1149 downloads)
The XF-108 was designed to be a Mach 3 long range fighter primarily to escort the XB-70 Valkyrie. It originally had a simple delta wing and a delta shaped canard above and behind the cockpit. A mockup was built based on this final design but the project was canceled just after the mockup was approved in mid 1959. This is an FSX update of the FS9 model by the late Paul Clawson and features an entirely remodeled and improved VC and a 2D panel matching it. It was quite a project to get the VC to look somewhat like a real panel with pretty much authentic gauges. However, the interior still looks kind of basic with its green color and plain texture, which, unfortunately, could not be altered in any way. But as the aircraft looks really awesome, I considered it worth giving it new panels. Thanks to the late Paul Clawson for the original model. Also thanks to Philippe Wallaert for his excellent and authentic XB-70 gauges I've used in the panels for the most part. Credits also go to Erwin Welker for the extra camera views. The model may work in FS2004 and in P3D, but I'm not sure. New panels and FSX update by Michael Pook.
Posted Aug 5, 2017 13:08 by Michael Pook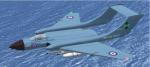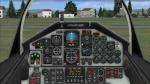 5.84Mb (815 downloads)
The De Havilland DH110 was a carrier based fighter introduced in the Royal Navy in 1959 and retired in 1972. Original design by Brian Douglas. Adaptation to FSX, panels for wide and standard screen (no VC), gauges by Philippe Wallaert. See instructions in the readme.txt file. Nice flights!
Posted Aug 3, 2017 10:35 by Philippe Wallaert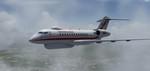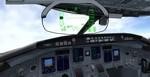 39.89Mb (1712 downloads)
P3D 3/4 /FSX Bombardier E-11a Sentinal/BD700 Polish Air Force Package. The BD-700 has carried the High-Altitude Lidar Operational Experiment (HALOE) in order to survey large areas rapidly. FSX Native model by Iris with added enhanced CRJ700 VC, including HUD/HGS, FMC and more. Upgraded VC by Robert Taylor, includes HUD/HGS, GPWS, better VC textures. Includes Honeywell FMC (Find it in Instrument panel - Views) and revised MFD and custom sounds. High quality model with opening doors and stairs. Using updates by Chris Evans. Textures by Voiteh
Posted Jul 30, 2017 02:24 by voiteh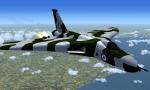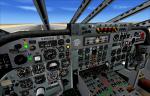 35.41Mb (3322 downloads)
This is an FSX update of the legendary FS2002/2004 AlphasimAvro Vulcan B2 with VC. However, the VC contained gauges but, strangely, they were not visible. Cirrus N210MS (real name unknown) has posted a native FSX conversion at SOH, which made it possible to incorporate the interior and VC from another native FSX model. So I've added the interior of the Alphasim Victor bomber to the Vulcan, which doesn't match the original panels in every respect but resembles them to some extent with original Vulcan gauges added. Also, new smoke and burner effects have been added, which are automatically activated by opening the throttle. This package includes the two default liveries (Camo and White) and is adressed particularly to those who would like to have a functioning VC with this beautiful Vulcan model. My idea was to bring it back to life for FSX users who like flying with VC view. Original model by Alphasim, credits go to the unknown designer Cirrus for his FSX conversion, to Philippe Wallaert for his phantastic Vulcan gauges and to FS Soundstudio (Darren Law) for the great original whine sound. May work in P3D v3 but will not work in V4. VC and 2D panels as well as all new effect configurations by Michael Pook.
Posted Jul 29, 2017 02:52 by Michael Pook
0.11Mb (501 downloads)
This is the missing gauge that controls the smoke and burner effects. Sorry for the inconvenience.
Posted Jul 15, 2017 02:12 by Michael Pook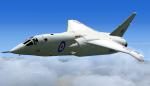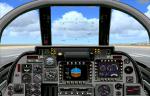 12.60Mb (989 downloads)
The British Aircraft Corporation TSR-2 was a cancelled Cold War strike and reconnaissance aircraft developed by the British Aircraft Corporation (BAC) for the Royal Air Force (RAF) in the late 1950s and early 1960s. The package is an FSX update of Kazunori Ito's FS2004 model. It features the original 2D panel with now FSX compatible gauges as well as a new static VC (non-functional gauges), smoke and afterburner effects. I also added smoke and burner effects and rear-seat view and improved the flight dynamics. Original model by Kazunori Ito, smoke and burner configuration, improved flight dynamics as well as new static vc by Michael Pook.
Posted Jul 14, 2017 05:25 by Michael Pook