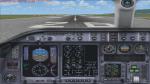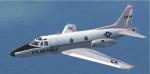 27.11Mb (684 downloads)
This is an update for FSX of A.F.Scrub's update of Mike Stone's T-39. I did the usual update of the flight dynamics; changed the smoke effect; got rid of the cab file that was making the aircraft load real slow; all that was needed from it was the gauge for the auto slats, when you use the default Lear 45 gauges; corrected the contact points; changed the view for the 2D panel, and changed the size of the GPS. This is the whole aircraft.
Posted Jul 8, 2019 01:14 by Bob Chicilo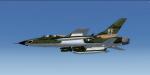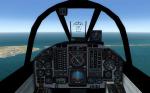 43.86Mb (2126 downloads)
Republic F-105D Thunderchief for FSX and P3D4. The Republic F105 Thunderchief was a USA supersonic flighter bomber in service between 1958 and 1984. Original model by Alphasim. Used the FSX native MDL X conversion by Cirrus N210MS at simouthouse and the FSX pansl and VC mods by Philipe Walleart. Sounds added. FSX native /P3D4 model. Danny Garnier
Posted Jul 7, 2019 03:14 by GARNIER D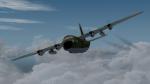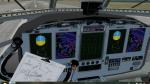 160.81Mb (6913 downloads)
FSX / P3Dv3 C-130 Hercules. This is a medium-heavy tactical transport aircraft powered by four turboprop engines, manufactured in the United States since the 1950s by the company Lockheed (now Lockheed Martin). The Hercules is the main transport plane of many armed forces in the world. It has served in more than 50 countries, in its nearly 40 different versions and models, in countless military, civilian and humanitarian aid operations. In December 2006, the C-130 became the fifth aircraft (after the English Electric Canberra, Boeing B-52 Stratofortress, Tupolev Tu-95 and Boeing KC-135 Stratotanker) to reach 50 years of continuous use with its original primary client, in this case the United States Air Force. And, in addition, it is one of the few military aircraft that continues in production after 50 years, currently it is making the updated Lockheed Martin C-130J Super Hercules version. On the model of Simshed and multiple skins of several authors to whom the merits go, I have personally made changes in sound, textures and gauges, smoke system, props and other details for its correct use in FSX up to P3Dv3. See the readme file for the correct vcualization of vc cockpit. Enjoyment....
Posted Jul 6, 2019 14:18 by Rodolfo Valery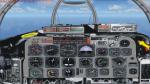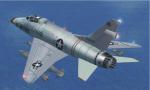 3.83Mb (480 downloads)
This is an update for FSX of the F-100 Sabre by Capt. I. D'Attomo. I updated the flight dynamics; changed some of the gauges on the 2D panel; changed the afterburner effect and changed the smoke effect; added the external tanks to the fuel section; and fixed the problem with the plane gaining speed while descending on autopilot. I also got rid of the afterburner effects gauge as it was interfering with the autopilot. There is a VC but I am unsure if it is flyable. This is the whole aircraft.
Posted Jul 5, 2019 01:48 by Bob Chicilo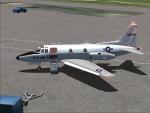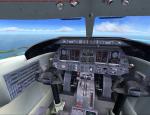 28.49Mb (1641 downloads)
FSX/P3Dv3,v4 T-39 Sabreliner The North American Sabreliner, later sold as the Rockwell Sabreliner, is an American mid-sized business jet developed by North American Aviation. It was offered to the United States Air Force (USAF) in response to its Utility Trainer Experimental (UTX) program. It was named "Sabreliner" due to the similarity of the wing and tail to North American's F-86 Sabre jet fighter. Military variants, designated T-39 Sabreliner, were used by the USAF, United States Navy (USN) and United States Marine Corps (USMC) after the USAF placed an initial order in 1959. The Sabreliner was also developed into a commercial variant. FSX/P3Dv3,v4 native upgrade by A.F.Scrub
Posted Jul 2, 2019 01:59 by A.F.Scrub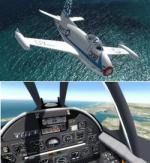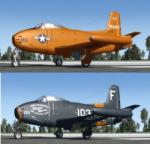 75.01Mb (1155 downloads)
North American FJ-1 Fury Package for FSX and P3D4. USN, NAS, NATC liveries included. The North American FJ-1 Fury was the first operational jet aircraft in United States Navy service, and was developed by North American Aviation as the NA-135. Original model by Kazunori Ito. FSX native MDL X conversion by LLS. Panel and basic VC modified with P4D4 compatible gauges. Sounds added. . FSX native /P3D4 model. Sorry I forget radio stack in 1st version. Danny Garnier
Posted Jul 2, 2019 01:28 by GARNIER D
84.60Mb (1225 downloads)
FSX/P3D V3 & 4 Boeing C-40A Clipper United States Navy package with enhanced VC. The Boeing C40 is a military version of the Boeing 737-700C and incorporates many sophisticated military additions, such as advanced GPS, collision advoidance and the latest navigational equipment. Model by TDS/ Tenkuu Developers Studio with improved Boeing 737-800 VC added with better textures. Includes utility for ground services, Passenger bus, cargo, stairs, refuelling truck etc (find it under - Views - Instrument panel - Util) The wonderful Boeing 737-800 from TDS will be enjoyed by many more people who do not know how to install a VC into a FSX native model. The VC is the Alejandro Rojas Lucena/FSND fantastic revised Boeing 737-800 VC model. This VC model includes Working wipers (right mouse click on switch) with rain effect. Switches for LCD Screens, EICAS, PFD, MFT. Autobrake switch. Opening pilots window. Cabin Lights switch. Realistic FMC. Ground Proximity Warning System (GPWS), More Realistic night VC textures. There are custom Boeing 737 sounds included for that extra realism. TDS wonderful native FSX Boeing 737-800 model. See VC docs to get the best out of the VC and FMC. Textured, assembled and prepared for FSX/P3D by Chris Evans.
Posted Jun 15, 2019 00:20 by chris evans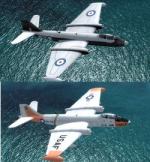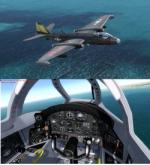 84.99Mb (2645 downloads)
English Electric Canberra Package for FSX and P3D4. The world's 1st jet powered bomber. 7 Liveries added: USAF, RAF and Rhodesian AF. Original ex-payware model by Alphasim/Virtavia. FSX native MDL X conversion by Henk Schuitemaker. Extra missing gauge added. Sounds added. See readmes for more credits. FSX native /P3D4 model. Pack by Danny Garnier
Posted Jun 14, 2019 02:35 by GARNIER D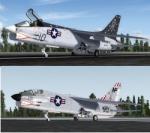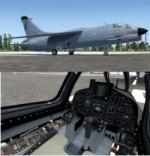 80.65Mb (2727 downloads)
FSX/P3D Alphasim Vought Crusader for FSX native Version 2 This fsx native conversion of the original FS2004 freeware F-8 Crusader features: - 4 native FSX models: US Navy F-8C + F-8J / Aeronavale F-8E(FN) / USMC F-8K - New FSX glass textures and generic specular maps for the exterior - Updated VC radar scope for the long nose late models - Removable pilot - Weapons can be loaded by entering their FSX Payload weight - When the afterburner kicks in: BOOM! - New fuel dump switch and wing vents vapour trails fx - Extra Kneepad checklist explaining the refueling probe animation etc. Original by Virtavia. Converted to FSX native with panel updates by Henk Schuitemaker. Added sounds. Works in P3D4 and should work in FSX. Danny Garnier
Posted Jun 8, 2019 15:36 by GARNIER D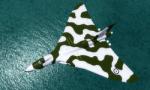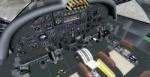 70.66Mb (3433 downloads)
FSX/P3D (incl v4) Avro Vulcan Bomber. The Avro Vulcan is a jet-powered tailless delta wing high-altitude strategic bomber, which was operated by the Royal Air Force from 1956 until 1984. Aircraft manufacturer A.V. Roe and Company designed the Vulcan in response to Specification B.35/46. Original model by Alphasim/Virtavia with FSX native conversion by Cirrus N210MS at simouthouse. Panel and VC modified to work with gauges added. Sounds added. Tested in P3D4 and should work in FSX also. Danny Garnier
Posted Jun 5, 2019 09:44 by GARNIER D