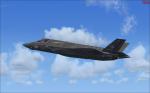 1.16Mb (1017 downloads)
This is a repaint of Dino Cattaneo's freeware F-35B for FSX. It shows how the Lightning II may look in service with the Royal Navy's Fleet Air Arm when 809 Naval Air Squadron reforms on that type in 2024. This repaint to commemorate the maiden voyage of HMS Queen Elizabeth, the Royal Navy's new aircraft carrier which begins her sea trials today. Repaint by Cameron Slater.
Posted Jun 27, 2017 05:23 by Cameron Slater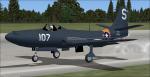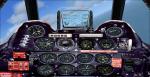 4.65Mb (399 downloads)
This is an update to the Kazunori Ito FS2002/FS2004 McDonnell FH-1 Phantom. The 2D panel has been re-gauged with all XML gauges. 2D panel only, has non-functional VC panel.
Posted Jun 25, 2017 12:08 by Michael E. Roberts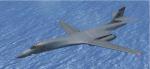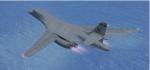 32.62Mb (2682 downloads)
This is my second update of the Alpha B-1B Lancer for FSX. I have fixed the problem with the nose bobbing up and down at low altitude while on autopilot. The fix also changed the throttle setting at cruise speed and altitude to between 60 and 75% instead of over 90%. This update includes everything I did for the previous update.
Posted Jun 23, 2017 13:15 by Bob Chicilo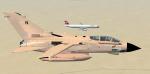 0.04Mb (659 downloads)
I apologise for this mistake. Here is a texture fix for 'Black Magic' Just add this file into Black Magic's folder and over-write…that's all, enjoy.
Posted Jun 23, 2017 00:18 by Andre Ludick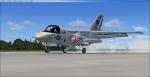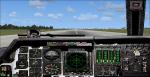 15.02Mb (1000 downloads)
This is an update to the Kazunori Ito FS2002/FS2004 USN Lockheed S-3 Viking. The 2D panel has been re-gauged with XML gauges (only one GAU. radar file). Also included are the Juan Antonio Martinez US Navy Lockheed S-3 Viking Texture Six Pack including texture thumbnails. Contains eight aircraft with three possible configurations. 2D panel only, has non-functional VC panel.
Posted Jun 22, 2017 23:43 by Michael E. Roberts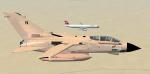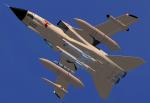 38.44Mb (1948 downloads)
I realized the need for some Desert Storm Tornadoes and during a recent long weekend that we had, I figured that there are not a better time than during that weekend to do something about it. The available models aren't exactly the correct version, but as stated so many times before – I can only work with what there is to work with. As usual I had to improvise here and there, but the end result looks pretty good. The colour-palette that I've decided on are sourced from the best colour photos of Tornadoes from that war that I could obtain off the Internet. It gives one a good idea of how a rather freshly painted Tornado would have looked like. But in my modelling career that has started in 1978, I learned that the choice of the correct colour for an aircraft model can lead to hefty discussions. I've also re-drawn the respective aircraft's Nose-arts to the best of my abilities (Not a cut-n-paste business from a photograph). Please refer to all 'Read Me' files and Manual for appropriate credits given. This is a stand-alone package and thus doesn't require any other downloads. Revised Instrument Panel by Mr. Pook. Credit to Iris for fantastic original package.
Posted Jun 22, 2017 00:35 by Andre Ludick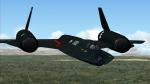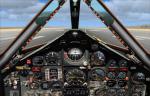 1.34Mb (1572 downloads)
These are three missing gauges for the SR-71 Blackbird. Sorry for the inconvenience. Required file "fsx_sr71_blackbird".
Posted Jun 20, 2017 02:14 by Michael Pook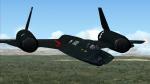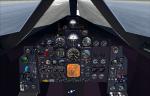 15.47Mb (3590 downloads)
This is a panel update for the Lockheed SR-71 Blackbird, originally designed for FS2004 by Stephane Masset and Pierre Marchadier and updated for FSX by Danny Garnier. It features a new VC design and the original 2D panel with all new gauges as well as a grey instead of the original blue window frame in the VC. Smoke burner and afterburner effects are all automatically activated by opening the throttle. Unfortunately, the yellow specific reconnaisance radar gauge is just static as there is no gauge like it for FSX nor could it be incorporated in the VC if there was. But at least, unlike in the Alphasim model, thanks to the original designers, it is displayed here. Nothing can be done about the "too low, flaps" announcement when starting the plane. All credits go to the designers mentioned above. New VC design, slight interior enhancement, effect configuration and new gauge configuration by Michael Pook.
Posted Jun 9, 2017 10:30 by Michael Pook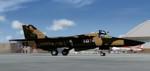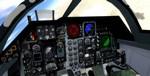 64.65Mb (2906 downloads)
F-111 / FB-111 Aardvark package updated for FSX and P3Dv3. F-111 A, G, F with droptank and bombs options. Updated panel with XML compatible gauges. Multiple models and liveries included. Original ex payware model and textures by Virtavia. Gauges by Iris, Virtavia. Updated by Danny Garnier.
Posted Jun 4, 2017 04:55 by GARNIERD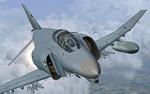 15.99Mb (1135 downloads)
The McDonnell F-4F Phantom II is a two-seater and supersonic fighter capable of long range, all-weather fighter-bomber capabilities as well. It is located in the Federal Republic of Germany still in service. No virtual cockpit. Free for private use. By Andreas Meyer - www.afs-design.de
Posted Jun 4, 2017 04:31 by Andreas Meyer