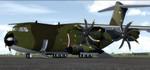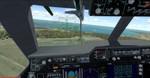 41.65Mb (6859 downloads)
FSX/P3D 3/4 Airbus A400M Luftwaffe Camo package. The airbus 400M is a military tactical airlifter and strategic role aircraft developed by Airbus in France and can carry heavier loads than the C-130, while able to use rough landing strips. Germany currently (2017) operate 53 A400M with another 10 on order. Model by Patrick Le Luyer with additional credits to Dietmar Loleit, Philippe Wallaert, FS France Team, Garrett Smith, Erwin Welker, Andiroto, Bob Chicilo and me, Chris Evans. Textures. Assembled and edited for FSX Acceleration and P3D 3 & 4 by Chris Evans.
Posted Sep 7, 2017 09:54 by chris evans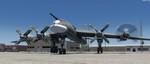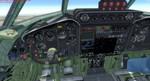 32.96Mb (3897 downloads)
FSX/P3D 3/4 Tupolev TU-95 P3D flyable package. The Tupolev Tu-95 is a large, four-engine turboprop-powered strategic bomber and missile platform. First flown in 1952, the Tu-95 entered service with the Soviet Union in 1956 and is expected to serve the Russian Air Force until at least 2040. A simple assembly of the high quality Tu-95 AI model included with P3D. This model is in fact good quality and well worth flying. Look at the preview images. Model by P3D/Maurice Go with the internal model/VC by Vladimir Zhyhulskiy converted to FSX native format by LLS. I hope later to add a bomb option to this package. Assembled and edited for FSX Acceleration and P3D 3 & 4 by Chris Evans.
Posted Sep 6, 2017 04:25 by chris evans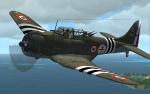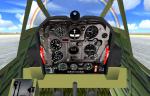 15.29Mb (2185 downloads)
The Douglas SBD Dauntless was a World War II American naval scout plane and dive bomber that was manufactured by Douglas Aircraft from 1940 through 1944. The SBD ("Scout Bomber Douglas") was the United States Navy's main carrier-borne scout plane and dive bomber from mid-1940 through mid-1944. The SBD is best remembered as the bomber that delivered the fatal blows to the Japanese carriers at the Battle of Midway in June 1942. This is an FSX update for the Dauntless SBD-3, originally designed for FS2004 by the late Paul Clawson. It combines the original model and an earliar panel update by Erwin Welker. This package features a modified VC with e few more gauges added and an enhanced and more realistic appearance. Both the VC and 2D panel are based upon Pierre Langer's photo-realistic panel designs. Credits go to Paul Clawson for the original model, to Pierre Langer for the original panel design and the Dauntless gauges as well as to Erwin Welker for his panel modifications, extra camera views including rear gunner view. New enhanced VC and new gauge configuration by Michael Pook.
Posted Sep 2, 2017 16:20 by Michael Pook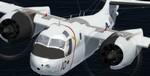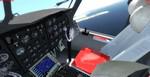 65.82Mb (2306 downloads)
FSX/P3D 3/4 Grumman S2F-3 Tracker US Navy VX-1 JA10 package. A simple assembly of the brilliant Tracker S3 with the USN textures and sound pack added. Model by Milton Shupe, flight model by Tom Falley, sounds by Nigel, paintkit by Todd Disrud, FSX conversion by Eagle Rotorcraft Simulations. This repaint represents VX-1's S2F-3 BuNo 147873 ("Eyesight 10") as it was in 1968. Added texture files and missing sound pack. Repaint by: Joe Bowers Assembled for FSX Acceleration and P3D 3 & 4 by Chris Evans.
Posted Sep 1, 2017 07:17 by chris evans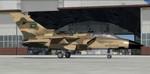 44.12Mb (3221 downloads)
FSX/P3D 3/4 Panavia Tornado package. This is the P3Dv3 AI Tornado Saudi AF made flyable with the modified internal FSXA FA-18 interior model/VC added. Sounds added by LM. P3D native model. Configs edited to get views etc correct. Not tested in FSX but should be OK. The Panavia Tornado is a series of twin-engine, sweep wing combat aircraft, which was jointly developed and manufactured by Italy, the UK and Germany. Assembled for FSX Acceleration and P3D 3 & 4 by Chris Evans.
Posted Aug 30, 2017 09:32 by chris evans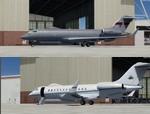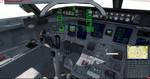 47.14Mb (2700 downloads)
P3D 3/4 /FSX Bombardier E-11a Sentinel R1 and Global Express in the colours of USAF E-11A serials 11-9001 (R1), 11-9355 (GLEX), 11-9358 (GLEX) and 12-9506 (GLEX) Package. The E11a/BD-700 has carried the High-Altitude Lidar Operational Experiment (HALOE) in order to survey large areas rapidly. FSX Native model by Iris with added enhanced CRJ700 VC, including HUD/HGS, FMC and more. Upgraded VC by Robert Taylor, includes HUD/HGS, GPWS, better VC textures. Added the high quality textures by S Peterson. Includes Honeywell FMC (Find it in Instrument panel - Views) and revised MFD and custom sounds. High quality model with opening doors and stairs. Updates by Chris Evans.
Posted Aug 27, 2017 06:15 by chris evans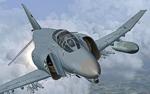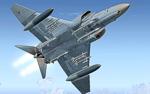 16.74Mb (1171 downloads)
The McDonnell F-4F Phantom II is a two-seater and supersonic fighter capable of long range, all-weather fighter-bomber capabilities as well. It is located in the Federal Republic of Germany still in service. Without virtual cockpit. Free for private use. By Andreas Meyer - www.afs-design.de
Posted Aug 26, 2017 15:37 by Andreas Meyer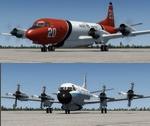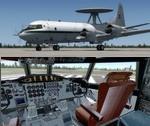 95.13Mb (6811 downloads)
FSX/P3D 3/4 Lockheed P-3 Orion package. This is the great KBT P-3 Orion v3.31 package assembled with the models and liveries for Aerostar Firefighter, AEW US Customs & Border Protection, AEW US Customs Service, Lockheed WP-3D Hurricane Hunters Black and Grey Nose. The Lockheed P-3 Orion is a four-engine turboprop anti-submarine and maritime surveillance aircraft developed for the United States Navy and introduced in the 1960s. Lockheed based it on the L-188 Electra commercial airliner. The aircraft is easily distinguished from the Electra by its distinctive tail stinger or "MAD Boom", used for the magnetic detection of submarines. Assembled for FSX Acceleration and P3D 3 & 4 by Chris Evans.
Posted Aug 26, 2017 07:52 by chris evans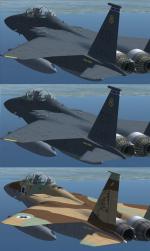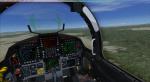 148.69Mb (5595 downloads)
IRIS Simulations F-15E and F-15SG Eagle for FSX and P3D up to V3.*. I've fixed a throttle problem, replaced the glitchy hud with Jivko Rusev Realistic F/A-18 HUD. Added default radios, GPS, autopilot, radar to panel. Made missing aircraft selection menu thumbnails... Original flight dynamics. (Please note that this product is freeware and no longer supported by IRIS Flight Simulation Software. Furthermore this aircraft is no longer indicative of the quality of our commercial products. Please refer to our website for information and screenshots of our commercial product range. Copyright © 2005-2010 IRIS Flight Simulation Software. Not compatible with P3D v4.
Posted Aug 22, 2017 02:15 by T Marson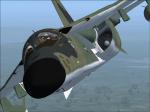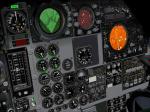 85.92Mb (3545 downloads)
Our goal is give you the best F-111 flight simulator flying experience possible. This is what a real f-111 pilot has to say about the version 1.0 "I was fortunate to be among the group that took the first six production F111s to Thailand in 1968 and even though we had our problems, we did major damage with this fantastic aircraft.I love this plane and you have done a great job duplicating the real plane. You seem to be as passionate about the F-111 as I, so you can imagine how elated I was to see a realistic TFR in action." The Heart and soul of the F-111 is it's Terrain Following Radar ability. Our update has the only True Terrain Following Radar system with Pitch and Roll Stabilization that looks ahead of the aircraft to avoid mountains. It is integrated into the Autopilot and Instrument systems for Auto or Manual TF operation. The autopilot system models the real F-111 autopilot Stability Augmentation Modes with pitch and roll sub-channels. Control Stick Steering uses Pitch and/or Roll control stick input to override the pitch and/or roll autopilot channel(s) without disengaging the autopilot settings. There are 7 different Custom 2D and VC Cockpits. Included are f-111B, F-111C, F-111E, F-111F, F-111G, FB-111A, FB-111A-CF, FB-111A with pre AMPS avionics, YFB-111A and the NASA, AFTI & TACT F-111A aircraft. 26 aircraft with a description for that tail number in the aircraft details menu. Over 200 functional gauges and switches. Over 80 Effects. Included is a custom sound package. See the features Doc for more details. A configurator allows you to set the engine and preformance for the F-111 model you are flying, or just use the default for fun flying.
Posted Aug 20, 2017 10:57 by Steve Hess