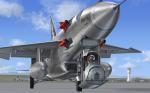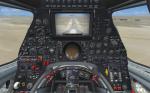 16.77Mb (1660 downloads)
I found a defect in the texture of the aircraft nose and fixed it. Also, I modified the silhouette and texture of the rear part of the fuselage. Overall, I think it has become more like the XF-103 than ever before. Therefore, I update to version 1.1. Republic XF-103 Thunderwarrior is one of the missing aircraft in the Century series fighters. This is an aircraft that has never been realized, but enjoy the "what if" world! I made this model for FSX. I have not checked the operation except FSX. And Mr. Erwin Welker provided me with the improved Camera View for XF-103. I used it for XF-103 v1.1. Thank you very much. Model design, panels, textures and flight dynamics are by uenoshing.
Posted Jun 14, 2020 18:02 by uenoshing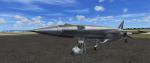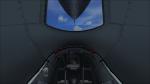 0.63Mb (372 downloads)
FSX/Accel/P3d Improved Camera Views for the XF-103 Thunderwarrior_v1 from Uenoshing_JP. The new camera definitions adds aditional views including the pilots view with the ejects seat cabin in lowered ground position. Requires "zue_republic-xf103_v1.zip" Just replace the original cameras and the eyepoint with mine. By Erwin Welker
Posted Jun 10, 2020 06:42 by Erwin Welker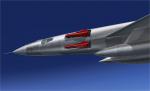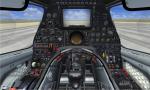 17.35Mb (1288 downloads)
XF-103 was planned by the US Air Force in the mid-1950s, but it never came true. It has a sharp pencil-like body, triangular wings, and a large mouth air intake. Innovative ramjet engine delivers speeds above Mach 3. VC features animations of aircraft maneuvers. After releasing XF-91 last year, I started making this XF-103. The exterior model of the XF-103 was completed several years ago, so I was planning to make a few updates and create only the virtual cockpit. However, while I was creating it, I changed my mind and decided to rebuild everything. I had a lot of problems in the process, and I thought I would stop it many times, but I didn't want to cancel it like the actual XF-103. The joy after completion resets all difficulties. I made this model for FSX. I have not checked the operation except FSX. By uenoshing.
Posted Jun 2, 2020 10:15 by uenoshing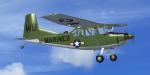 6.82Mb (1889 downloads)
FSXA - Cessna OE-2 (O-1C), US Marines version. This is a new model specific to represent the O-1C version of the aircraft. Archive contains the model, panel and two set of textures depicting two examples of the aircraft during the period it was used by US Marines . Texture 1 is for VMO-6 South Vietnam 1960 and Texture 2 is for NAS Patuxent River ca.1965. The model, developed with FSDS 3.5 from ABACUS features a complete set of animations and an animated 3d virtual cockpit. Visual 3d Model and textures by Massimo Taccoli Panel works by Massimo Taccoli with gauges coming from various freeware sources. Copyright © October 2019 by M.Taccoli
Posted May 30, 2020 07:34 by Massimo Taccoli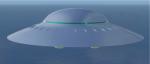 4.05Mb (1061 downloads)
This is an update for FSX of the Alpha UFO. I have given it a 2D panel as the panel folder it came with was empty. I have added all the wheels, and added some float points so you can land on water if you choose to. I have added some nav lights so it is a bit easier to tell which way it is going; and I have updated the flight dynamics. This is the whole aircraft. No VC.
Posted May 28, 2020 11:49 by Bob Chicilo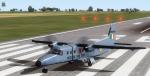 1.07Mb (484 downloads)
Indian Airporce textures for the Premier Aircract Dornier Do-228
Posted May 27, 2020 14:33 by Kalyan Mukherjee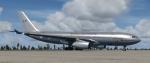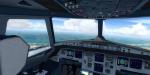 87.69Mb (2605 downloads)
FSX/P3D Airbus A330 MRTT KC2 Voyager RAF Package. The KC-2 Voyager is the UK's Royal Air Force version of the military Airbus A330 MRTT (Multi Role Tanker Transport). The RAF currently operate 10 KC2. Model by Thomas Ruth. Added the better Thomas Ruth FSX native VC converted by Speedbird77. Fixed contact points. Added wing views. Includes built in FMC by Garret Smith. FMC will display in VC. Includes A330 manual. Custom A330 sounds and checklist included. FSX users: requires either FSX Acceleration or Service packs 1 & 2. Textured, assembled and tested for P3Dv4.5 by Chris Evans Should also be fine in FSX and earlier P3D versions.
Posted May 20, 2020 17:10 by chris evans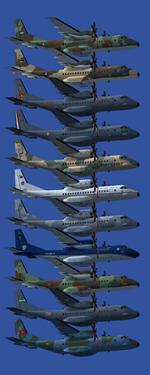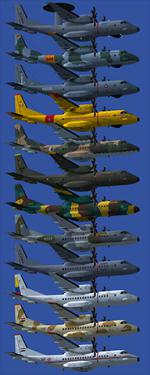 116.94Mb (2845 downloads)
23 completely new HD-textures with overworked base files for the CASA C-295 by Premier Aircraft Design: Algerian AF, Austrian AF (fictional), Bangladesh Army, Brazilian AF (MP), Chilean Navy (MP), Czech AF, EADS, EADS (AEW), Ecuadorian AF, Egyptian AF Camo, Egyptian AF White, Indonesian AF, Jordanian AF, Kazakhstan AF, Mexican AF, Oman AF, Philippine AF, Polish AF, RCAF (MP), Saudi Arabian AF, Thai Army, Uzbekistan AF and Vietnamese AF. I modified the panel as well, but the original one is included. Credit goes to Jean-Pierre Brisard & Bob May from Premier Aircraft Design: https://www.premaircraft.com/index.html Will not work in P3D v4+. Enjoy and Greetz, Dagobert
Posted May 17, 2020 05:02 by Dagobert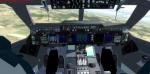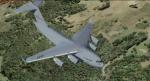 29.95Mb (5844 downloads)
FSX/P3D Boeing C-17 Globemaster III FSX Native package. This is the Boeing C17 originally by Gmax Academy converted to FSX native format and compatible with P3D v4.5+ Added the A400M internal VC by Patrick Le Luyer which is the nearest I can find to the military cockpit of the C17. Model conversion by Speedbird77. Packaged for P3D/FSX by Chris Evans.
Posted May 16, 2020 02:08 by chris evans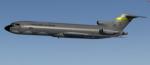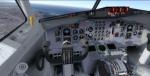 60.62Mb (1411 downloads)
Boeing 727-200 Fuerza Aerea Colombiana (Vulcano). Model by TDS. VC by Thomas Ruth. Textures by PhotoshopFSX
Posted May 2, 2020 06:27 by PhotoshopFSX