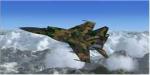 1.88Mb (814 downloads)
MIG25 Libyan Textures only. The MiG-25 Foxbat is capable of 1,864 m.p.h. at optimum altitude. The first prototype first flew in 1964 and series production commenced in 1969. The type is still in service in several of the once Soviet-aligned states, such as Libya, Syria, Algeria and India. Textures only - requires the Alphasim model adapted for fsx by Danny Garnier
Posted Apr 7, 2011 19:36 by Robert Wahrenbrock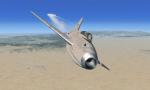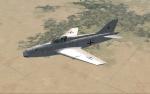 9.89Mb (444 downloads)
Aerfer Ariete Luftwaffe Textures. Requires the Aircraft model by Capt. I. D'Attomo,Capt. G.Quai Giovanni. This fictional texture of the Aerfer Ariete Luftwaffe repainted by SJ Avila.
Posted Apr 6, 2011 19:09 by Steven J. Avila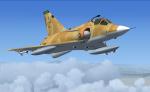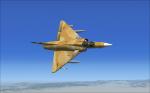 6.72Mb (1421 downloads)
FS2004/FSX Cheetah C Desert Textures. Requires the Cheetah package for FSX and FS2004 by Thinus Pretorius This texture of the Atlas Cheetah C repainted in Desert colours by SJ Avila
Posted Apr 6, 2011 16:57 by Steven J. Avila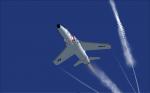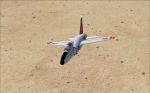 8.00Mb (576 downloads)
Grumman F11F Tiger US Navy Textures only. Texture for FSX of the Grumman F-11F Tiger by Capt. I. D'Attomo and Capt. G.Quai., repainted by SJ Avila using the fs repaint v2 by Abacus.
Posted Apr 6, 2011 16:49 by Steven J. Avila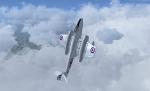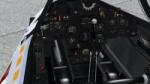 21.18Mb (7725 downloads)
Native FSX acceleration Meteor F Mk 8, 1950s British interceptor fighter, For acceleration ONLY. Quality detailed model that includes a virtual cockpit and several liveries.
Posted Apr 5, 2011 09:21 by Robert Richardson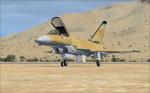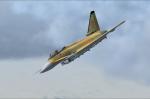 4.19Mb (2393 downloads)
Fictional Desert textures for the Alpha EF2000 Typhoon. Texture for FSX of the Alphasim EF2000 Typhoon, and Bob Chicilo.Repainted by SJ Avila using the FS Repaint v2 by Abacus. The Eurofighter Typhoon is an agile, single seat, multi-role aircraft optimized for high altitude supersonic Air Superiority capable of operating throughout the range of Counter Air Operations and Anti Surface Force Operations. It is built by a quadrinational consortium comprised of European partner companies from the UK, Germany, Italy and Spain. The airframe is constructed mainly from carbon fibre composite materials and lightweight alloys. It is powered by 2 x EJ 200 engines, each producing 20,000 lbs of thrust. The Typhoon is scheduled to enter service in the very near future and reach its full operational capability some three years later. It will be a world beating Fourth Generation fighter capable of dominating the airspace against any currently perceived future threat. This variation repainted by SJA, of a fictional Marine EF2000 Desert Typhoon.
Posted Apr 1, 2011 03:14 by Steven J. Avila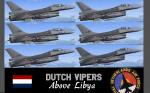 44.19Mb (4908 downloads)
This Pack contains the 6 Dutch F16A Block 20-25 planes to control that are helping the no fly zone above Libya. This is an addon for the Dutch Viper Package... Model made by Kirk Olsson VC updated by Danny Garnier 2D Cockpit and skins made by Arthur Vince Standalone no other files needed. "The Dutch government said Tuesday it will deploy six F-16 fighter jets,to help enforce the arms embargo against Libya." J-008, J-009, J-060, J-262, J-616, J-868
Posted Mar 25, 2011 18:28 by Arthur"Vince"Gilhuys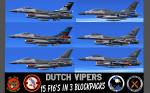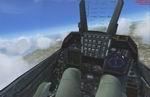 128.88Mb (12267 downloads)
15 Dutch F16's for FSX, different types and block's, thanks to Kirk Olsson, stand alone no other files needed. skins, VC updated by Danny Garnier and 2d Panel made by myself.
Posted Mar 24, 2011 12:12 by Arthur "Vince" Gilhuys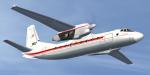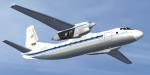 58.59Mb (5501 downloads)
Antonov An-24 complete pack for FS9/FSX with old colours of Hungarian Air Force's two passenger airplanes. Original FS9 model by Samdim. With AN-26 2d panel but no VC.
Posted Mar 22, 2011 06:32 by T.Feri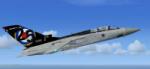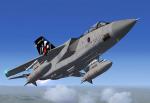 0.90Mb (791 downloads)
UKMil Tornado RAF ADV 25th Anniversary Textures only. Requires the UKMil Tornado base package.
Posted Mar 21, 2011 16:34 by UKMIL