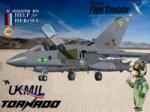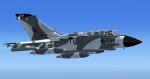 24.42Mb (3421 downloads)
Tornado GR1 expansion pack for the FSX UK Mil Tornado package. You need the Shared files base pack to use this file. Please donate to Help for Heroes, as detailed in the pack
Posted Jan 24, 2011 07:14 by UKMIL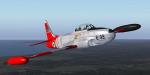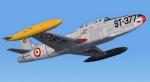 6.13Mb (5936 downloads)
A variant of Lockheed's F80 "Shooting Star" the T-33A have been the most widely used tandem two-seat advanced trainer in the world. It has been supplied to the air arms of some twenty-five countries, and built under licence in Japan by Kawasaki, (210 machines) and in Canada by Canadair as the CL-30 Silver Star (T-33AN), (656 examples). The parent company had manufactured a total of 5,691 T-33A and T-33B trainers when the last was delivered in August 1959, the latter being a version for the U.S. Navy.The prototype flew for the first time on March 22, 1948. Full package includes: Aircraft,Textures and panel: Massimo Taccoli FD files : by Dennis Seeley Gauges : Dennis Seeley & Massimo Taccoli
Posted Jan 18, 2011 10:02 by Massimo Taccoli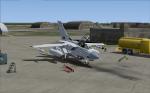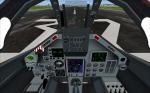 83.89Mb (15040 downloads)
Pre-Released as freeware by Iris. Re-Uploaded for those who don't have the fixes for the foggy VC Glass. I have inverted Alpha Channeling, added rearseat, overshoulder VC views and port intake external view. Panel conversions by Danny Garnier. Other mods by 'Hotzoner'
Posted Jan 17, 2011 15:27 by HOTZONER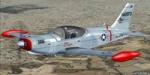 2.17Mb (6412 downloads)
The Siai-Marchetti SF-260 is a light aircraft marketed as Light attack/aerobatic military trainer. It was designed by (the great) STELIO FRATI. First flight of the prototype on July 15, 1964. The model :Features , the usual animations, such as flight controls, spinning wheels, pilot scannig the sky etc, plus two textures, the orange texture is the Italian Air Force test pilots scool the other is the 'Usa Air Combat' livery that i tried to imitate. The textures and panel have been created entirely from drawings or photos found on internet or shots taken by myself .The Virtual Cockpit is provided with working essential gauges and animated flight controls. Giovanni Quai
Posted Jan 15, 2011 10:13 by Giovanni Quai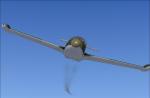 0.07Mb (1050 downloads)
An FSX compatible engine smoke system for the Tim Conrad freeware Morane Saulnier MS-760, which you must have previously installed in FSX. Easy installation. By Tom Tiedman
Posted Jan 15, 2011 06:06 by Tom Tiedman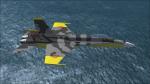 0.94Mb (1792 downloads)
Textures for the default FSX Acceleration Hornet in Yellow Squadron Colours from ace comabat 4.
Posted Jan 13, 2011 01:19 by (OverG)Wolf_G6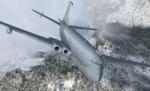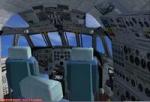 101.33Mb (28005 downloads)
FSX RAF Nimrod Package from Simshed. The recently retired Nimrod served the RAF well for 40 years and provide an unparalled level of maritime patrol and SAR cover. Based on the DeHavilland Comet 4 the sircraft was fitted with Rolls Royce Spey engines and was home to the largest bomb bay of any NATO aircraft. The Package is for FSX only and contains models of the Nimrod MR1, MR2 and R1 aircraft. Several paint schemes for each have been included. The model is designed to be flown entirely from the VC so please enjoy it.
Posted Jan 12, 2011 14:19 by Brian Franklin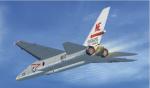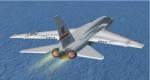 1.78Mb (2660 downloads)
This is an update for FSX of the Alphasim RA-5C Vigilante made for FS9. I have given it a 2-D panel and put gauges on the virtual cockpit so both look similar. Best of all, the hud shows properly in the VC. I have adjusted the flight dynamics some as well. This is the whole aircraft.
Posted Jan 10, 2011 12:04 by Bob Chicilo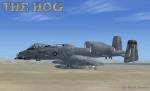 18.93Mb (13491 downloads)
This is Kazunori Ito's A-10 Thunderbolt II Modified for Microsoft Flight Simulator X .This aircraft is from the 358th Fighter Squadron, The 358th upgraded to the A-10 Thunderbolt II aircraft in 1979.The 358 Has flown the A-10 for the past 30 years as part of Tactical Air Command and later Air Combat Command, engaging in combat with the aircraft as part of the Global War on Terrorism FW, provides close air support, including the capability to carry out a forward air control role in support of ground forces in combat.This aircraft is painted in a Low Visibility Digital Camo . Aircraft PKG Includes pictures and history. 2d panel but no VC. Textures By Mark " Fireball " Rooks of RDG Aircraft.
Posted Jan 9, 2011 20:17 by Mark Fireball Rooks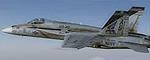 43.16Mb (15538 downloads)
FSX Sludge Hornet Modification v1.2 with updated features and new effects. Realistic HUD upgraded and improved. Stand-alone 2D HUD w/AoA indexer and carrier wire trap gauge. UFC/Blackbox gauge with new and improved "Betty" warnings, now combined with refueling gauge. Newer wingtip vapor effect along with remodeled LEX vapor and EG smoke effects. 2D HUD/VC IFLOLS gauge. Improved nose gear approach light assembly gauge. Sound pack for F-18 using FSX sound cone technology. PLAT Cam. Also, there are seven new repaints (courtesy of Ray Gagnon). By Christian Snow. (Previous version had 1531 downloads)
Posted Jan 8, 2011 19:01 by David