13.32Mb (7152 downloads)
FSX/FS2004 F-15 Active. Another experimental technology demonstrator STOL variant of the all-weather tactical fighter, F-15 Eagle. Taking its origins from the F-15 S/MTD, The F-15 ACTIVE has F-18's elevators as canards wings and a 3D thrust vectoring system. The same aircraft would later be used for the F-15 IFCS (with improved avionic). Features new thust vectoring, new .AIR file plus a few other improvements from the F-15 S/MTD Model made in Gmax by Thomas Lebel. 13.6MB
Posted Nov 24, 2009 12:18 by archive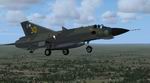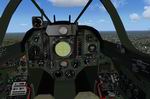 11.00Mb (10297 downloads)
FSX Saab 35 Draken Package. Advanced systems simulation, drop tanks, chute, afterburner, visual fx, authentic sounds and full Virtual Cockpit. Configuration panel for different loadouts. Includes 80-page illustrated manual and check lists. Swedish J35J, Austrian 35OE and Finnish 35FS exterior models included. By Thomas Nilsson/Bookmark Digital Graphics. Config and sound gauges by Doug Dawson, Traffic Radar y Arne Bartels. I found this great jet in my FS2004 collection & as it works fine in my FSX SP2 I have prepared thumbnails to make it easier for FSX users. Thumbnails for FSX by Danny Garnier . 11.2MB
Posted Nov 24, 2009 12:18 by archive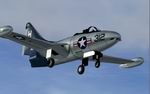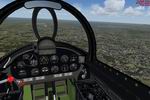 1.94Mb (7632 downloads)
FSX Grumman F9F-5 Panther Package, USAF. Model Design by Daisuke Yamamoto. I found this to work fine in FSX so have added thumbs to make it easier & let FSX users know of this great plane. Uploaded, tested and thumbnails for FSX by Danny Garnier . 2MB
Posted Nov 24, 2009 12:18 by archive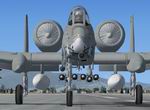 1.08Mb (3895 downloads)
FSX/FS2004 A-10 Thunderbolt II Barksdale AFB, LA Dogpatchers Textures only. . This file contains the fuselage, wing, and engine texture files only for the A-10 Thunderbolt II of the Barksdale Dogpatchers Fighter Squadron. This A-10 squadron has the trademark eyes, ears, and teeth of the warthog. The excellent A-10 attack and support jet of Kazunori Ito is required and may be obtained here . Be sure to download his fix (spoiler) also, which is on the same page. Repainted by Dana Eng. 1.1MB
Posted Nov 24, 2009 12:18 by archive

3.22Mb (3953 downloads)
FSX/FS2004 A-10 Thunderbolt II Nellis AFB Textures only. This file contains the fuselage and wing texture files only for 4 A-10 Thunderbolt II squadrons. These A-10's can be flown in and out of Nellis AFB, NV. However, the excellent A-10 attack and support jet of Kazunori Ito is required and may be obtained here. . Be sure to download his fix (spoiler) also, which is on the same page. Repainted by Dana Eng. 3.3MB
Posted Nov 24, 2009 12:18 by archive
2.15Mb (4210 downloads)
FSX/FS2004 Alpha Jet Belgian Air Force Textures only. This is a repaint of the GMax Model created for FS9 by JP Langer (JP3A); JP Bourgeois (Bee Gee); Benoit Dubé; Flyboys French Air Force texture sets by Jérôme Severe. Original aircraft available above. Textures by Freddy De Pues. 2.2MB
Posted Nov 24, 2009 12:18 by archive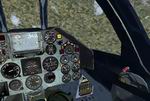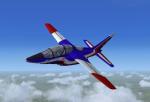 23.44Mb (26475 downloads)
FSX/FS2004 AlphaJet -E Patrouille de France Flyboys Complete set. GMax Alpha Jet Model created for FS9 by JP Langer (JP3A)JP Bourgeois (Bee Gee)Benoit Dube Flyboys French Air Force texture sets by Jerome Severe. I found this great jet in my FS2004 collection & as it works fine in my FSX SP2 I have prepared thumbnails to make it easier for FSX users. Includes VC (virtual cockpit). Presented by Danny Garnier. 24MB
Posted Nov 24, 2009 12:18 by archive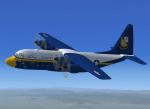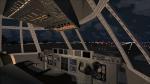 48.08Mb (50582 downloads)
FSX Lockheed Martin C-130J-30 Package for FSX. The C-130J is the newest version of the Hercules and the only model still in production. Externally similar to the classic Hercules in general appearance, the J model is a very different aircraft. These differences include new Rolls-Royce AE 2100 D3 turboprops with Dowty R391 composite scimitar propellers, digital avionics (including Head-Up Displays (HUDs) for each pilot) and reduced crew requirements, two pilots, one load master, and one crew chief. The C-130J flies faster, higher and further than all previous C-130 models. Full package for FSX/SP2 (DX9 graphics), custom 2D and VC panels with HUD, & Garmin avionics. Custom sound, fully animated parts, realistic flight model. Four liveries included - USAF, USCG, RAF and U.S. Marines Blue Angels support aircraft. By Jean-Pierre Brisard and Bob May - Premier Aircraft Design.
Posted Nov 22, 2009 18:49 by bob.may@premaircraft.com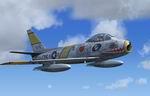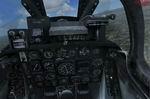 42.21Mb (14664 downloads)
F-86 Sabre for FSX (updated. 17 paint schemes are provided. There's a detailed and realistic looking virtual cockpit for a great flying experience. I've also created a 2D panel with a combination of default and slightly modified default gauges. With the hard wing version there's an expanded VR cockpit model of the entire aircraft (minus the landing gear). FS2004 Model and textures: Kirk Olsson This aircraft is modified from the previous update with panel corrected so no more error messages. VC/ Panel updates by Danny Garnier
Posted Nov 20, 2009 13:15 by GARNIER D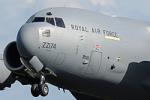 0.36Mb (5438 downloads)
Optional Vc Texture colors set NO.2 for the UKMIL Boeing C17 by www.ukmil.org.uk. This is a different variation in case you didnt like my first one. Just copy file and paste in the airplanes folder for aircraft...Paste in the folder named texture and overwrite existing file or backup existing file if you wish to revert back this aircraft shares textures out of aforementioned folder titled Texture. . Or just copy to particular livery folder you wish to use it in as individual VC. Best displayed in red or white VC Light. Blaq Ace.
Posted Nov 18, 2009 12:56 by mdgoins