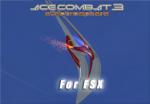 26.70Mb (11857 downloads)
On the 10th aniversary of Ace Combat 3 Electrosphere, a package is released containing 13 of the most iconic planes in this ace combat series, that will enable you to fly them in Flight Simulator. From the R-100 Series to the UI4054 Aurora, all planes are reproduced with precision and with flight dynamics based on the model's specifications (as real as it gets), though some are a bit tweaked to enable stable flight. Hope you have fun! Release video here: www.youtube.com/youdontknowxpand Tested in FSX Acceleration, models exported with FS9 SDK.
Posted Sep 2, 2009 08:35 by Ricardo Batalha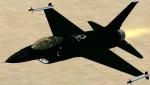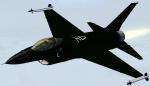 6.53Mb (2967 downloads)
This is a repaint of Kirk Olsen's F-16 in Black Ops. It Features the Lawrence Cav. (fictional) Patch on the pilot's left shoulder. Also features repainted Aim 9M missiles. It is Off-black so that I was able to make it not look flat and thus has the markings of the non-repainted ones.
Posted Sep 1, 2009 13:40 by Jonathan Lawrence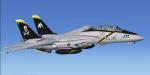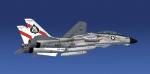 8.90Mb (11924 downloads)
These are repaints for Dino Cattaeno's FSX F-14D Tomcat V1.06, this two pak contains VF-41 BlackAces circa 1976 and VF-103 Jolly Rogers circa 2004 - both have bump maps and custom specular maps -enjoy * repaints by Bruce Fitzgerald
Posted Aug 29, 2009 20:43 by Bruce Fitzgerald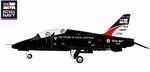 1.73Mb (2384 downloads)
FS2004/FSX Ukmil BAE Hawk T1 XX301 Royal Navy Textures only. These textures depict 100 Years of Naval Aviation Scheme.By UKMil.
Posted Aug 28, 2009 11:26 by ukmil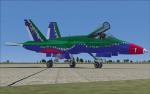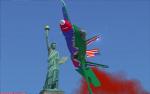 41.44Mb (2856 downloads)
A Fictional Demonstration Team Textures for the FSX Acceleration F18.
Posted Aug 27, 2009 08:04 by Hotzoner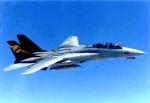 29.87Mb (18749 downloads)
Sound Set for F-14D I have spent thousands of hours in and around real world F-14's. Christoffer Petersen's freeware sound set is as close to the real aircraft I have found yet. This is being uploaded with the kind permission of Christoffer for those who have downloaded Dino Cattaneo's amazing V1.06 Tomcat. Philip Wilson. Original Author: Christoffer Petersen
Posted Aug 23, 2009 15:53 by Philip Wilson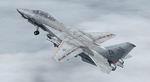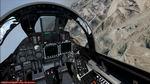 27.98Mb (101689 downloads)
FSX Acceleration/P3D Grumman F-14D Tomcat Package v1.06. The Grumman F-14 Tomcat is a supersonic, twin-engine, two-seat, variable-sweep wing aircraft. The F14 was the United States Navy's primary maritime air superiority fighter, fleet defense interceptor and tactical reconnaissance platform from 1974 to 2006. This package contains an entirely new visual model, with self shadowing, bump mapping and photoreal hi-res textures, working virtual dynamic cockpit, 3D gauges and completely new flight model. Acceleration package required. Designed by Dino Cattaneo and others. (for those without FSX Acceleration see Tomcat Update above)
Posted Aug 22, 2009 04:21 by Dino Cattaneo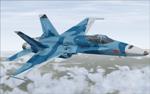 3.67Mb (3527 downloads)
FSX US Navy F/A-18C Fighting Omars Textures only for the FSX Acceleration F-18.
Posted Aug 22, 2009 04:17 by Ray Gagnon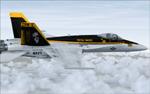 3.52Mb (3771 downloads)
FSX Acceleration F/A-18C US Navy Vigilantes Royal Maces Textures only. Repaint of VFA-27 Royal Maces F/A-18C Hornets using FSX Acceleration default F-18.
Posted Aug 22, 2009 04:15 by Ray Gagnon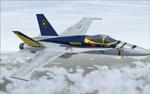 4.00Mb (3064 downloads)
FSX Acceleration F/A-18C US Navy Vigilantes Textures only. Repaint of VFA-151 Vigilantes F/A-18C Hornets using FSX Acceleration default F-18. Textures only.
Posted Aug 22, 2009 04:13 by Ray Gagnon