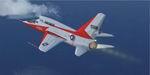 0.10Mb (1910 downloads)
This is an update for FS X acceleration of the F-107 by Paul Clawson. I have updated the flight dynamics and the panel so it works in FS X. It has a working virtual cockpit. You need the original aircraft for this update to work. Bob Chicilo.
Posted Oct 18, 2008 07:12 by Bob Chicilo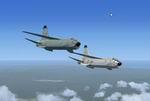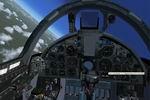 73.22Mb (29268 downloads)
FSX Vought F-8E Crusader Package. Flotilles :12F-14F. Multi livery package with full dynamic virtual cockpit. Liveries include variants of USAF, French Air Force, US Navy, Blue Angels. Designers. Laborie Roland, Laurent correia, - Jean Pierre Langer - Jean Pierre Bourgeois Claude Yves Marie et Roland Peltre. FSX Compatible. Thumbnails added. I found this great bird in my FS2004 collection & as it works fine in my FSX SP2 I have prepared thumbnails to make it easier for FSX users. 'Allow' Gauge. Credit to authors. Thumbnails for FSX by Danny Garnier. 75MB
Posted Oct 16, 2008 17:47 by Garnier D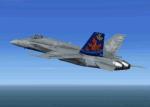 2.00Mb (2583 downloads)
FSX Accel F/A-18 RCAF - 425 Sqn, 2006 Demo aircraft. Textures only for the FSX Accel F/A-18. Repaint by Andy Nott (AGNT)
Posted Oct 16, 2008 15:24 by Andy Nott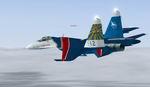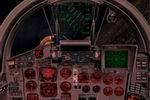 60.34Mb (131669 downloads)
This is a Sukhoi Su-27 Flanker package for FSX. Have you ever wanted to fly the SU-27, but couldn't find one for FSX? Now you CAN find a Su-27. This SU-27 model can perform the 'cobra', a manueuver that allows the pilot to take a snap missile shot at an enemy fighter above or behind him. Pressing the 'I' key activates the weapons system. This package includes a Su-27 with a 2D panel. Sorry, no VC. No Russian jet collection is complete without a Su-27. Please note: This file is for FSX ONLY. It will not work in FS2004. This is the Su-27B/UB/Su-30MKK Package, originally for FS9/FS9.1 by Bill Wolfgen (Bear Studios). Adapted for FSX & uploaded by Braden Peters.
Posted Oct 14, 2008 17:47 by Braden Peters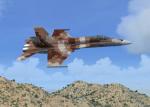 1.98Mb (5428 downloads)
FSX Accel F/A-18 US Navy NSAWC - Brown Splinter Pattern. This repaint requires the FSX Accel F/A-18. Repaint by Andy Nott (AGNT)
Posted Oct 13, 2008 18:06 by Andy Nott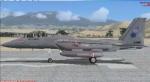 0.90Mb (2778 downloads)
50th Anniversary of Supersonic Flight F-15E Strike Eagle Repaint Texture Package: The 50th anniversary of supersonic flight, 14 Oct 1947-1997, was celebrated by Chuck Yeager (pilot) with LtC Troy Fontaine (backseat) flying an F-15D Eagle but was repainted by me as a two seater "E" model. This package contains the repainted textures only for Kazunori Ito's jet, which has a VC but no gauges, and can be obtained
Posted Oct 12, 2008 00:08 by Dana Eng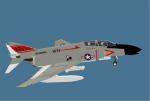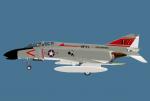 0.36Mb (1063 downloads)
Textures only for the F-4B by Kazunori Ito adapted by Wayne Farrell for FSX. This repaint is based on VF-31 Tomcaters CAG. Repaint by Earl Triplett.
Posted Oct 11, 2008 21:26 by Earl Triplett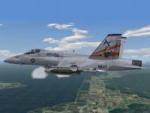 2.29Mb (2444 downloads)
Textures only for FSX Acceleration F/A-18 Hornet. Textures By Rajiv DeYoung
Posted Oct 10, 2008 08:48 by Rajiv DeYoung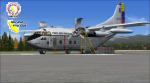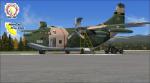 12.69Mb (30002 downloads)
FARCHILD C-123 K "PROVIDER" FSX / Acceleration /Xp Tested The version 3 of legendary transport - veteran of Vietnam war well known from cinema " Air America " (M.Gibson&R.Downey). In the new version the completely changed visual model with animation by the pilots and animation by a unloading of cargo. Is completely processed VC - completely working levers and animation,gauges high dpi, completely animation co-pilot. Panel. 3 textures - Air America, FAV, USAF (camo). Are added 4 custom effects - drop of cargo box, drop of pigs with the parachute (remember a cinema?), start of engines and effect of a dust at motion on ground airfields. Autor - Vladimir Zhyhulskiy. updated for fsx by the nor-cal prop club
Posted Oct 9, 2008 22:25 by Ted
1.26Mb (2504 downloads)
FSX Acceleration F/A-18. RAAF - 20 Years of RAAF Hornets - A21-26. This repaint requires the FSX Accel F/A-18. Repaint by Andy Nott (AGNT)
Posted Oct 9, 2008 08:39 by Andy Nott