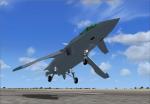 5.30Mb (13717 downloads)
XSF-37A Aurora tailless experimental aircraft. (Fictional) The Aurora is a experimental aircraft that has no vertical stabilizer. This makes it very unstable in tight turns, so be carefull.rnIt has an helmet visor HUD that can be put aside if it obstructs the outside view. This can be done by grabbing the hud with the mouse and drag sidways.rnTo see it again just drag the button (periscope) that's in the lights panel (left panel).rnIt's wings are based in a turtle legs.rnHope you have fun with this aircraft!rnMade by Ricardo Batalha.
Posted Apr 18, 2009 11:10 by Ricardo Batalha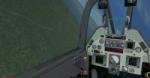 15.69Mb (8436 downloads)
Atlas Cheetah C package for FS2004/FSX. The aircraft is depicted in the colours of the South African Airforce. The aircraft was designed as close as possible to the real aircraft. The package consist of the model, panel, sound, VC and is fully animated. All the gauges are designed in xml format, and are described in a document. A number of sub panels are included and toggled from the main panel. Please read the instructions to operate the panel and aircraft optimally.
Posted Apr 18, 2009 11:10 by Thinus Pretorius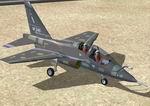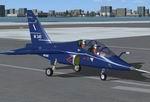 4.29Mb (9630 downloads)
Aermacchi M-346. This model features reflective metallic skin and full animations. Three liveries are provided, one factory livery for the Prototype Roll-Out , one 'fictitious' Frecce Tricolori , one in blue livery for the demonstrator. The latest, was flown in a recent air show in Pratica di Mare military airport, near Rome. The panel background is based on photographic material found on the net. Official instruments data are not available, so we used many of our old EFA gauges. Included in this model there is also a simplified Virtual Cockpit, with working essential flight instruments and animated flight controls. Capt. Capt. G.Quai
Posted Apr 18, 2009 04:49 by I. D'Attomo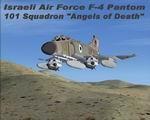 7.88Mb (6880 downloads)
This is a Repaint of Kazunori Ito's F-4 Phantom For Flight Simulator X . This Aircraft in a Israeli Air Force with the 101 Squadron tail colors " The Angel of Death Package Includes pictures and squadron history. This aircraft has a 2d panel only. No Virtual cockpit. Texture and updates by Mark Rooks of RDG Aircraft.
Posted Apr 12, 2009 05:51 by Mark Rooks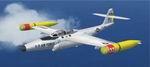 0.49Mb (1993 downloads)
This is an update for FSX acceleration of the F-89D Scorpion by Kazunori Ito. I have updated the flight dynamics, added afterburners, given it a panel, and added a texture. No virtual cockpit. You need the original aircraft for this update to work. .
Posted Apr 6, 2009 05:41 by Bob Chicilo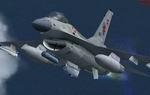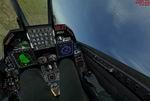 79.33Mb (110190 downloads)
The LOCKHEED MARTIN F-16 Fighting Falcon (VIPER) by Kirk Olsson adapted to use in FSX by Danny Garnier. This is Kirk Olsson's superb VIPERDEN F-16 with most gauges replaced to it can be used in FSX. Now you have a working Virtual flight deck (VC) and 2d panel. 4 liveries. Please approve gauges when asked. All incompatible gauges replaced with FSX XML gauges. Full package. Updates by Danny Garnier
Posted Apr 5, 2009 10:00 by GARNIER D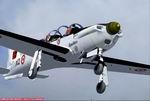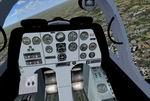 7.77Mb (15597 downloads)
EADS SOCATA TB 30 Epsilon Package. The Socata TB 30 Epsilon is a light military trainer aircraft produced by Socata (then part of Aerospatiale. It is a tandem two-seater with a metal airframe. The first prototype flew on 22 December 1977. Updated to work with FSX. VC and 2d Panel updated with FSX compatible XML default gauges. Glass is not visible. I could not fix this. Panel updates by Danny Garnier. Updated from the original FS2004 by Kylian BERNARD
Posted Apr 4, 2009 07:52 by GARNIER D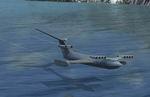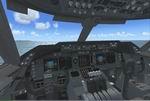 9.23Mb (21327 downloads)
Caspian Sea Monster Caspian Sea Monster or Ekranoplan is a ground effect vehicle. This is the FSX Caspian Sea Monster found in FSX Simobjects Boats folder and made flyable. This is a very basic AI model but it will give you a new FS experience and is great fun to 'fly'! It uses the default Boeing 747 VC and 2d panel. Many thanks to the talented Bob Chicilo for the flight dynamics and configurations. Bob is a master at making aircraft fly like they should. Microsoft for the AI model. Assembled for a bit of fun by Pete Daly
Posted Mar 28, 2009 07:20 by Pete Daly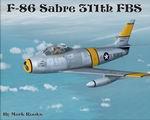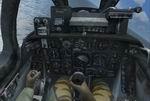 17.04Mb (7137 downloads)
This is a Repaint Kirk Olsson's F-86 Sabre Jet Updated for FSX and Painted in Korean War Era ( 1956-1957 ) United States Air Force 311th Fighter Bomber Squadron " The Sidewinders " This Aircraft is 1st Lt Robert ( Bob) Ford's F-86 Sabre. Based in Osan,(K55) Korea during the Korean War. This Package includes pictures and squadron history. This package includes the FSX compatible VC updated by the Nor Cal Prop Club. Textures and updates by Mark Rooks of RDG Aircraft.
Posted Mar 27, 2009 15:51 by Mark Rooks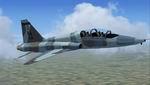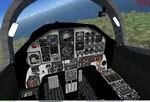 13.73Mb (12992 downloads)
Northrop T-38 Talon Updated to work in FSX. This old model was by FSD. Very good model at the time but it was developed in 2002! It is still a good model and I have revised the panel so that it can be used in FSX. XML gauges replaced in the VC and 2d panel the non compatible gauges. Not as good as the original by FSD but you can use it. Panel updates by Danny Garnier
Posted Mar 23, 2009 09:40 by GARNIER D