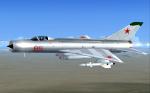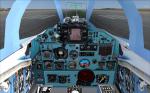 18.82Mb (1318 downloads)
This is an FSX/ Acceleration update of three Cold War Russian Sukhoi jet fighters, The Su-7, Su-9 and Su-11, originally designed by Brett Hoskins for FS2002/ 2004. The package features new VC and 2D panels, corrected smoke effect and FDE optimization to make the models flyable in FSX. The Su-7 VC is only static with non-functional gauges, the two others are fully functional with all Russian gauges. Thanks to Brett Hoskins for the terrific original models, to Aaron Swindle for the sound and to Erwin Welker for the camera views. All FSX updates and panel configurations by Michael Pook.
Posted Dec 4, 2016 08:37 by Michael Pook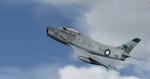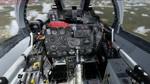 52.96Mb (1387 downloads)
FS2004/fsx SectionF8 F-86E Pakistan Air Force donation for China package. This is a fantasy livery created just for fun and visual pleasure based on the outstanding SectionF8 F86 Sabre. Full model included.
Posted Dec 3, 2016 08:01 by Liao Yitong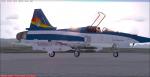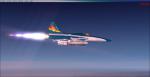 22.52Mb (699 downloads)
This is a repaint of the famous Shin Kazama's F-20 Tigershark from the famous anime Area 88. Textures only for the Iris F-20 Tigershark
Posted Dec 2, 2016 00:25 by carss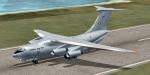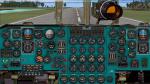 13.82Mb (1831 downloads)
The Ilyushin IL-76 is a transport aircraft introduced in 1974 and used for commercial and military purposes. Original design by Varnavskiy Sergey. Adaptation to FSX, panels for wide and standard screen (no VC), gauges including GPWS callout by Philippe Wallaert. See instructions in the readme.txt file for installation and configuration. Nice flights!
Posted Nov 30, 2016 02:37 by Philippe Wallaert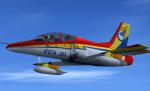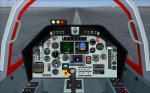 30.35Mb (1719 downloads)
The Hongdu JL-8 (Nanchang JL-8), also known as the Karakorum-8 or K-8 for short, is a two-seat intermediate jet trainer and light attack aircraft designed in the People's Republic of China by China Nanchang Aircraft Manufacturing Corporation. Its export variant, K-8 Karakorum, is co-produced by the Pakistan Aeronautical Complex for the Pakistan Air Force. This package is primarily a panel update of the VC and the 2D panel to make it flyable in FSX. It features seven great liveries, new smoke effect and slightly altered FDE for easier take-off. The model was designed by Pierre Marchadier and the textures by Jonathan Hilaire "Rooster". Original upload for FS2004 by Ramex, so all credits and thanks go to them. Also thanks to Philippe Wallaert for some of his gauges. New VC and 2D panel configuration as well as smoke and FDE enhancement by Michael Pook.
Posted Nov 28, 2016 11:01 by Michael Pook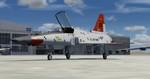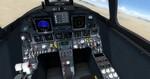 243.90Mb (5988 downloads)
FSX/P3D (>v4) IRIS F-20 Tigershark is a fantastic new rendition of one of our earliest products. Originally developed back in 2004, this new version of the Tigershark brings with it a brand new look. A superb flight model designed from the ground up to provide you with a stable and fun to fly airframe capable of Mach 2+ speeds. An amazing package generously donated as ex payware product - now freeware! Remodelled from top to bottom and featuring brand new flight modelling, audio and a new virtual cockpit, this product has been designed for flat out, full throttle fun! The aircraft has been designed as a 'what if' product, based around the concept of the F-20 had it gone into service. I fixed/turned off the [GPWS] and added the standard flightsim GPS 500 into the panel.cfg.
Posted Nov 26, 2016 18:58 by T.Marson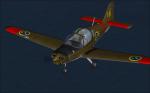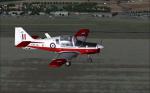 19.34Mb (1993 downloads)
Tim 'Piglet' Conrad's Beagle Bulldog in FSX native, MDL X format, materials and animations. Developed by Scottish Aviation from the Beagle Pup light aircraft, the prototype Bulldog first flying in 1969. Main user was the RAF, with others going to Nigeria, Kenya, Jordan, Ghana, Sweden,(as the SK-61) and Malta. Several are also on the Civil register. This plane has full FS animations, shiney tex's and V-Cockpit with some custom gauges. Includes RAF, Maltese, And Swedish paint schemes, the Swedish scheme having its own SK-61 model. Works in P3D v4 also
Posted Nov 25, 2016 01:33 by LLS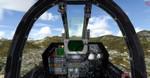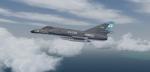 81.06Mb (3612 downloads)
FSX/P3D Dassault Breguet Super Etendard updated package. Vc, sound, effects and multiple textures. Original aircraft by Lucas Romain & Frank Safranek. VC update and gauges by Philippe Wallaert.
Posted Nov 19, 2016 00:02 by Rodolfo Valery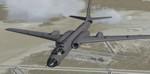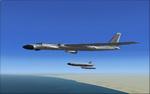 56.16Mb (2896 downloads)
Updated glass, materials and weapons, adding working soviet/PRC ASM models( Kelt, Kipper, Kennel, Kingfish and Silkworm) as well as bomb loads on payload visibility conditions except: Badger-A has RDS-37 H-bomb on dropable object visibility condition and will not show except with weapons loaded from a saved flight(included) RDS-6 'Tatyana' atomic weapon is on payload condition. Kennel, Kingfish and Silkworm are CFS2 objects by Rey Sanford, worked over to FSX with effects and flight solution by Y.T. Free-fall russian conventional bombs are CFS2 objects by Laszlo Becz, converted by Y.T. Dropable from saved flight(included). Original Tu-16 model with VC by Alphasim (www.virtavia.com)
Posted Nov 16, 2016 03:59 by LLS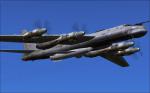 5.28Mb (1763 downloads)
An updated model, adding an AS-3 Kangaroo ASM model to simulate a Tu-95KD-20 Bear-C. The missile is on a dropable object visibility condition, and thus, is only visible from a saved flight(included) The missile really does fly, and detonates at the bottom. FSX native Tu-95 Bear-H required, for FSX only, see readme file.
Posted Nov 16, 2016 03:41 by LLS