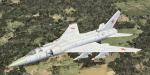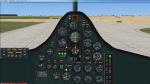 7.53Mb (1291 downloads)
The TU-128 was launched in the sixties and was the heaviest and fastest fighter at this time. Original design by Dimitri Samborski and Oleg Tchernikov. Adaptation to FSX, 2D panels for wide and standard screen, gauges and GPWS callout by Philippe Wallaert. Has a non functionnal VC (if someone can help!). See instructions in the readme.txt file. Enjoy!
Posted Jul 24, 2016 12:37 by Philippe Wallaert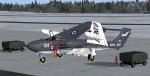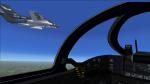 3.61Mb (1397 downloads)
FSX/Accelaration features for a flyable version with VC for the De Havilland Sea Vixen ai-package from MAIW (Requires jyai_sea_vixens_fsx_1.zip). Even the package from Military Ai Works is supposed to be used for ai-planes on ground or for ai-traffic those models are very pretty detailed and has excellent animations. With my features you will have at least two different flyable models with a 2D panel and a very good VC from Alphasim's freeware Supermarine Swift. Eleven cameras including wingman views are included in my addon. FSX-features and configuration by Erwin Welker
Posted Jul 24, 2016 03:23 by Erwin Welker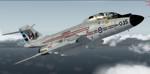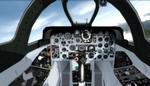 83.80Mb (4188 downloads)
McDonnell F-101B Voodoo Package. This is an update of Henk Schuitemaker's awesome revision of the Alphasim freeware McDonnell F-101B Voodoo for FSX/P3D, to include some more paints and with reflective and specular shine. It is a complete package and includes two models; CFB2 is the initial production model as first delivered to both the USAF and those delivered new to the Royal Canadian Air Force, starting in 1959. CFBR is the later production model (blocks 115 and 120) with infra-red sensor ahead of the cockpit. Starting in 1961, the majority of aircraft were brought up to the later standard so this represents the final appearance of the Voodoo in US and Canadian service. Model by Alphasim, updated for FSX by Henk Schuitemaker, additional updates by Dave Quincey
Posted Jul 16, 2016 04:20 by uploader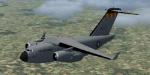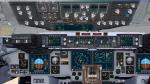 5.20Mb (3767 downloads)
Boeing C 17 2 big cargo jet package. Credits: original model by JR Lucariny. I have added a new 2D panel (no VC) in 16/9 or 4/3 based on Boeing C17 panel, added GPWS callout, updated some gauges. Please read instructions for installation and configuration in the readme.txt file. Enjoy!
Posted Jul 14, 2016 01:53 by Philippe Wallaert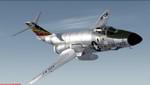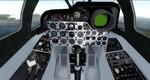 65.80Mb (3036 downloads)
FSX/P3D McDonnell F-101 1-str Package. This is an updating of Henk Schuitemaker's FSX conversion of the freeware Alphasim/Virtavia F-101A/C and RF-101A/C models. It contains updated textures for F-101A/C, 81st TFW repaints, plus a set of RF-101 textures. Individual spec panels have been added and alpha channels enabled on the models. The texture sets have been revised to give a more realistic metallic finish where appropriate. The package has been tested in FSX Acceleration and P3D by Dave Quincey, Henk and Jens-Ole Kjolberg
Posted Jul 13, 2016 06:59 by uploader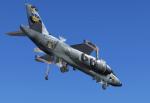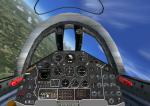 21.20Mb (2652 downloads)
FSX/Acceleration VFW Fokker VAK-191B VTOL fighter bomber prototype. Great Britain, Italy and Germany began 1961 a common develepment of a VTOL fighter project. Some years later the three countries seperated the common development and continiued in different projects. Germanys VAK-191B made its first flight in 1971, Germany's parallel supersonic project EWR VJ-101 made its first flight in 1963, Italys Fiat G.95 supersonic project was abandoned in 1986 and Britains Hawker P.1127 led via the Kestrel finally to the Harrier; the only one which went into production. Today the VAK-191B is displayed in the Deutsche Museum Munich at the historical airport Oberschleissheim together with the VTOL supersonic fighter prototyp EWR VJ-101 and the VTOL-transporter prototype Do-31E3. My package provides the VAK-191B prototype and the proposed fighter bomber with weapons and a fictional camo paint scheme. The FS model has 59 moving parts and has an excellent and easy to fly VTOL flight behavior. The VTOL option comes from the great RCB-gauges from Rob Barendregt. This is a whole airplane with 2D-panel and VC, regarding to the original instrument panel. FSDS 3.5 model and panel by Erwin Welker.
Posted Jul 7, 2016 03:41 by Erwin Welker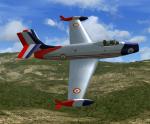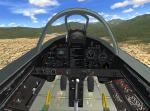 9.58Mb (1496 downloads)
FS2004/FSX Dassault MD.450 Ouragan The Dassault MD.450 "Ouragan" (meaning "Hurricane") became France's first home-grown operational, jet-powered, military combat fighter, eventually being produced in several hundred examples during her active tenure. While not a wholly exceptional "fighter" when compared to her contemporaries, the type served particularly well in the fighter-bomber role and saw extensive combat actions with India, El Salvador and Israel. GMAX mdl by A.F.Scrub
Posted Jul 6, 2016 15:19 by A.F.Scrub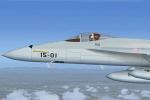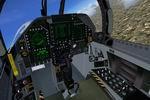 34.41Mb (7186 downloads)
The McDonnell Douglas / Boeing F / A-18 Hornet is a twin-engine multirole fighter fourth generation of American origin with all-weather capability, to be embarked on aircraft carriers. Model by Daisuke Yamamoto and Hiroaki Kubota, texture for F/A 18 Hornet FAE by Juan Villamor.
Posted Jul 3, 2016 10:46 by Juan Villamor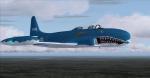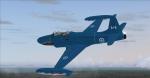 3.24Mb (750 downloads)
FS 2004/FSX Lockheed T-33A C-FRGA textures only for Tim Conrad's T-33A
Posted Jun 26, 2016 19:40 by Hartmut Hekmann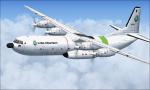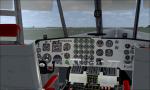 69.90Mb (4319 downloads)
I have reworked the overhead and the flight engineer 2d panels and added more switches and warn lights to them! I have reconfigured some gauges in the VC, reworked a bit the flight behavior, added three fictitious textures, the new model modification by LLS and a "Flight engineer mod" as a selection to this version! Please take a look in the respective "Read me" file to get more info! Many thanks to Tim Conrad for his great C-133 sim, Philippe Wallaert and all the other unknown guys for the xml gauges I could use in the main and VC panel, LLS for the new FSX model modification, Dietmar Loleit for the TCAS, Halcyon Skies for the great C-133 main/overhead photos and Ken LaRock for the really nice C-133 flight engineer station photo (Sorry, I have forget him last time)! This is the whole aircraft, only tested in FSX + Acceleration!
Posted Jun 26, 2016 12:35 by Andiroto